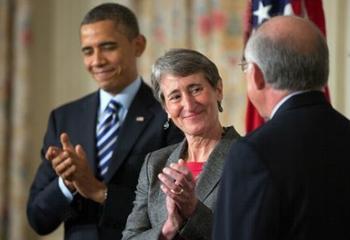 WASHINGTON, DC, February 6, 2013 (ENS) – Sally Jewell, who now heads outdoors retailer REI, the nation's largest consumer cooperative, has been nominated as the next Secretary of the Interior.
President Barack Obama named his choice to oversee 500 million acres of public land today at the White House, saying a fond farewell to current Interior Secretary Ken Salazar, who is going back to Colorado.
Obama listed Salazar's accomplishments over the past four years. "He's established seven new national parks, 10 new national wildlife refuges. He has opened more public land and water for safe and responsible energy production, not just gas and oil but also wind and solar, creating thousands of new jobs and nearly doubling our use of renewable energy in this country."
He has helped to forge what is probably the strongest working relationship with tribal leaders that the federal government has seen in modern times," said Obama. "And when the unexpected has happened – like the Gulf oil spill or Hurricane Sandy – he has been on the ground making sure that people get help right away and we deal with these challenges as professionally as possible."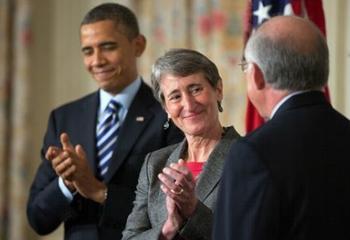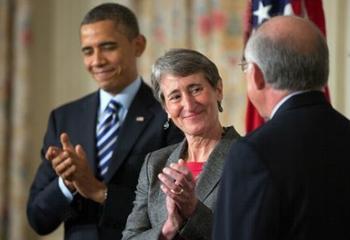 The President selected Jewell, a former banker and oil industry engineer, because "she is an expert on the energy and climate issues that are going to shape our future."
"She is committed to building our nation-to-nation relationship with Indian Country," said Obama.
"She knows the link between conservation and good jobs. She knows that there's no contradiction between being good stewards of the land and our economic progress; that in fact, those two things need to go hand in hand," the President said.
Obama appreciates Jewell's executive ability, saying, "Sally has helped turn a stalling outdoor retailer into one of America's most successful and environmentally conscious companies. Last year, REI donated almost $4 million to protect trails and parks, and 20 percent of the electricity used in their stores comes from renewable sources."
Obama said, "She has shown that a company with more than $1 billion in sales can do the right thing for our planet."
Obama joked about how little time Jewell might spend at her desk, knowing that she enjoys outdoor adventures, particularly climbing, snowboarding, kayaking. She has climbed Vinson Massif, the highest mountain in Antarctica.
"I'm willing to bet that she will be the first Secretary of the Interior who frequently hikes Mailbox Peak in her native Washington State and who once spent
a month climbing mountains in Antarctica, which is just not something I'd think of doing," Obama said.
Now a Seattle resident, Jewell was born in England as Sally Roffey; she moved to the United States at the age of four when her father, an anesthesiologist, took a fellowship at the University of Washington. In 1978, the same university awarded her a degree in mechanical engineering.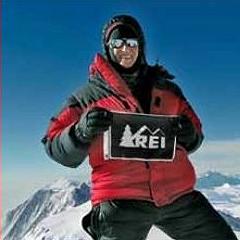 Jewell worked for Mobil oil company on oil fields in Oklahoma from 1978 through 1981, when she joined Rainier Bank, which was hiring engineers to help them understand how to go about making loans to oil companies.
She worked in banking for 20 years, staying with Security Pacific, which acquired Rainier Bank, until 1992, and working for WestOne Bank from 1992 through 1995, and for Washington Mutual from 1995 through 2000.
In 1996, she joined the board of REI and in 2000 was named chief operating officer, then CEO in 2005.
Jewell has sat on the boards of Premera, the National Parks Conservation Association, and the University of Washington Board of Regents. She helped found the Mountains to Sound Greenway Trust.
Jewell was named the Puget Sound Business Journal CEO of the Year in 2006. In 2009, Jewell received the National Audobon Society's Rachel Carson Award for her leadership in and dedication to conservation.
At the White House today, Jewell said, "I have a great job at REI today, but there's no role that compares than the call to serve my country as Secretary of the Department of Interior. I'm humbled and I'm energized by this opportunity, and I look forward to getting to know members of the Senate as they consider my nomination in the coming weeks."
Copyright Environment News Service (ENS) 2013. All rights reserved.
© 2013, News Editor. All rights reserved.