Rallies Across the Country Protest Gulf Oil Spill
WASHINGTON, DC, June 8, 2010 (ENS) – On this World Oceans Day, the BP oil spill in the Gulf of Mexico is in its 50th day with the wellhead broken by the Deepwater Horizon explosion and sinking in April still spewing oil. Americans of all walks of life are angry and frustrated that the spill continues to foul the gulf, killing birds and animals and killing the fishing and tourism industries as well.
Today, grassroots groups MoveOn.org and 350.org are coordinating hundreds of events across the United States to protest the BP oil disaster and call for clean energy solutions.
Some 190 emergency oil spill meet-ups, actions, and candlelight vigils are being held to demand an end to America's dependence on oil, call for stepped up efforts to end the spill, and stand in solidarity with those affected in the gulf coast communities.
"Horror, grief, and frustration – these are the emotional reactions we're hearing from members all over the country who just want something done to stop the BP oil disaster and help the affected communities in the Gulf," said Justin Ruben, executive director of MoveOn.org.
"These vigils are an indication of how many people in this country recognize the devastation that has been wrought on the Gulf coast – its residents, economy, and environment – and the risk we face of this calamity repeating itself unless we make a real commitment to get off oil," Ruben said.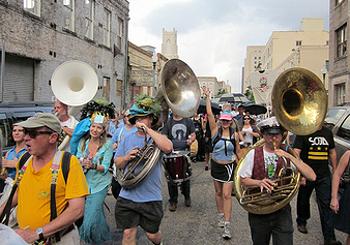 Parade protesting the BP oil spill in New Orleans, Louisiana. June 5, 2010 (Photo by Infrogmation)
Protests of the ongoing oil spill have been taking place for weeks in many cities – New Orleans, Miami, Orlando, Houston and Atlanta, but today the anger at BP spilled out across the country.
Activist Bill McKibben said, "The ugly slick in the gulf reminds us all that fossil fuel is, at heart, dirty stuff. Even if you get it to the refinery and burn it in your car, it's dirty stuff, driving the change in climate now setting record temperatures around the globe."
"The one silver lining that can come from this oily cloud is a new commitment to move us fast towards clean energy," said McKibben, founder of 350.org, a U.S.-based international campaign seeking solutions to the climate crisis.
The group's focus is on the number 350, as in parts per million of carbon dioxide in the atmosphere. "If we can't get below that, scientists say, the damage we're already seeing from global warming will continue and accelerate," the group says on its website. "350 is more than a number – it's a symbol of where we need to head as a planet."
BP's Deepwater Horizon oil spill is now partly contained by a steel cap and riser pipe that is diverting thousands of barrels of oil a day to a ship on the surface. The cap was put in place on Thursday night and BP is moving oil and gas up the pipe. Over the last four days the amount of captured oil has gone from about 6,000 barrels a day up to almost 15,000 barrels a day.
Still, some Deepwater Horizon oil is escaping into the waters of the gulf, but no one knows exactly how much because the flow rate from the damaged wellhead has not yet been determined.
Rumors today of a second oil leak from another rig operating in same area of the gulf were greatly exaggerated.
Taylor Energy confirmed today that it is continuing its ongoing well intervention program, using the Diamond Ocean Saratoga rig, with full approval from the Unified Command that is handling the Deepwater Horizon spill.
As a result of the destruction of an oil production platform caused by a mudslide triggered by Hurricane Ivan in 2004, Taylor Energy said in a statement today.
As a result of deploying three subsurface containment domes and performing six successful well interventions, the initial average observed sheen volume of nine gallons per day has been substantially reduced, Taylor Energy said.
"The effort is continuing as directed by the Unified Command." said Will Pecue, president of Taylor Energy. "We have been working consistently and successfully with MMS [federal Minerals Management Service] and the U.S. Coast Guard to address the resulting environmental impacts of one of the 10 most intense hurricanes ever recorded by the National Weather Service."
Unidentified aircraft took photos this weekend that incorrectly reported an oil leak coming from the drilling rig Ocean Saratoga, setting off a spate of rumors.
At the time of these photos, Taylor Energy was conducting marine operations on-site with a 180 foot dynamically positioned workboat for a regularly scheduled subsea containment system drainage.
The tanks mistakenly characterized as containing dispersants on the boat's deck, were in fact tanks to store and transport the collected oil as it was pumped from the underwater storage system.
Copyright Environment News Service (ENS) 2010. All rights reserved.
Environment News Service (ENS) © 2010 – 2012 All Rights Reserved.