Rainforest Leaders to Sign Sustainablity Action Plan in 2012
BRAZZAVILLE, Republic of Congo, June 4, 2011 (ENS) – Leaders of more than 35 nations covering the world's three major rainforest regions agreed Friday to prepare an action plan on sustainable management of forests for signature next year at the Rio+20 Summit meeting in Brazil.
The heads of state and government from nations across the Amazon, the Congo and the Borneo-Mekong forest basins met in Brazzaville May 31 through June 3 at the Summit of the Three Rainforest Basins. The gathering was backed by the United Nations as part of activities marking the International Year of Forests 2011.
In their Joint Declaration, the leaders said they "share a vision of a cooperation that holistically incorporates economic, environment, and socio-cultural aspects, with a view to promoting harmonious and sustainable development of their respective forests."
The leaders directed their ministers to draw up an action plan "advocating for conservation, sustainable management and rehabilitation and restoration of tropical forests ecosystems and their biodiversity; promoting sustainable trade in forest services and products, including forest genetic resources; and strengthening of forest governance, including access and benefit sharing; forest law, environmental governance and trade."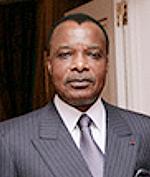 President of the Republic of Congo Brazzaville Denis Sassou Nguesso (Photo courtesy Office of the President)
The conference was convened by President of the Republic of Congo Brazzaville Denis Sassou Nguesso, who said he is aware that tropical forests will be destroyed by illegal logging and climate change if nothing is done to protect them.
UN Secretary-General Ban Ki-moon told the leaders in Brazzaville, "From access to clean water to agricultural productivity, from soil conservation to flood control, forests are central to economic development, poverty reduction and food and nutrition security."
"By reducing deforestation and forest degradation we can make significant progress in addressing the combined threats of climate change, biodiversity loss and land degradation," Ban said in a message delivered by Abdoulie Janneh, executive secretary of the UN Economic Commission for Africa.
"Nearly two decades ago, one of the major outcomes of the Earth Summit were the Rio Forest Principles," the secretary-general said in his message. "Next year, governments will reconvene in Rio for the United Nations Conference on Sustainable Development. Your discussions can provide useful input for Rio+20 as well as this year's climate change conference in Durban."
Ban urged, "Let us re-commit to the management, conservation and sustainable development of all types of forests for our collective future, while we still have time."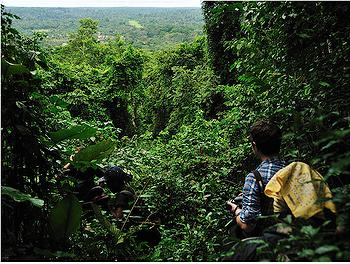 Hikers explore the Ituri forest in the Democratic Republic of Congo (Photo by Walt Everly)
In addition to the national leaders, delegates came to Brazzaville from intergovernmental agencies and funding organizations, international NGOs, and the International Tropical Timber Organization, an industry association.
"WWF is encouraged by the joint declaration that emerged from the Brazzaville Summit, paving the way for a strong, cooperative agreement to be signed no later than RIO + 20, in Brazil, in 2012," said Lasse Gustavsson, WWF executive director of conservation.
The Rio+20 Summit comes 20 years after the landmark 1992 Earth Summit in Rio de Janeiro where leaders of more than 100 nations signed the Convention on Climate Change and the Convention on Biological Diversity, endorsed the Rio Declaration and the Forest Principles, and adopted Agenda 21, a plan for achieving sustainable development in the 21st century.
Gustavsson said now it is up to the new generation of leaders to use their agreement at the Brazzaville Summit to protect the three largest expanses of tropical rainforest.
"The governments must now use the momentum gained at the summit to continue to move towards development of green economies and to strengthen their commitments, set concrete targets and take action to preserve their forests from further deforestation and degradation," he said.
"With south-south leadership on forest conservation, these forests can continue to provide livelihoods and cultural identity to tens of millions of people. Their leadership will help prevent and mitigate the impacts of climate change," Gustavsson said.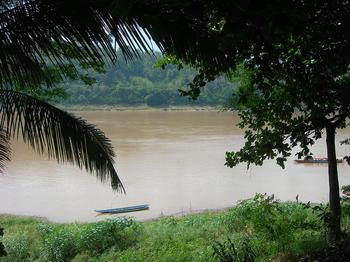 Rainforest along the Mekong River in Laos (Photo by Erik Theisen)
"Only a small fraction of what governments and aid agencies spend on the forest sector each year goes to help communities living in and near forests manage their resources," says Julia Marton-Lefevre, director general of the International Union for the Conservation of Nature. "If we want to combat global poverty and stop the loss of biodiversity, these communities must have a say in decisions on how forests – which are, after all, their lifeline – are being used and managed."
Today, over 1.6 billion people are dependent on forests for their livelihoods, according to a new report from the UN Environment Programme to be released Sunday to mark World Environment Day. Rich in biodiversity, forests are also essential in supplying water to nearly half of the world's largest cities.
Yet despite these vital services, the world is fast losing its forests, with some 5.2 million hectares being cut down each year, the UNEP report finds.
The "Forests in a Green Economy" report details the economic, environmental, health and social benefits of investing in forests and how better management of the "lungs of the Earth" can help achieve sustainability for communities across the world. Developing a Green Economy will be a key theme at the Rio+20 Summit in 2012 the UN General Assembly decided during a debate on June 2.
In the three major tropical rainforest basins, the rate of rainforest losses is not increasing but declining, the UN's Food and Agriculture Organization and the International Tropical Timber Organization said in a different report released at the Brazzaville Summit.
In the three tropical forest basins – the Amazon Basin, the Congo Basin and the Borneo-Mekong Forest Basin of Southeast Asia – the rate of forest loss fell by 24 percent from the 1990s to the period from 2000 through 2010, the report shows.
In total, the three basins reported an average annual loss in the 1990s of 7.1 million hectares per year which fell to an average annual loss of 5.4 million hectares per year between 2000 and 2010.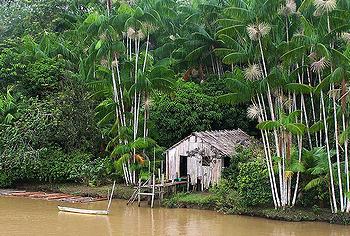 House on the Amazon river between Manaus and Belem, Brazil (Photo by Adam Peleg)
The Amazon Basin suffered the largest net loss of forests, about 3.6 million hectares per year between 2000 and 2010, followed by Southeast Asia, which lost one million ha annually.
In the Congo Basin, the conversion of forests to agricultural land was much slower, with a net loss of forests amounting to around 700,000 ha over the period 2000-2010.
Less than 15 percent of the total forest areas in the three basins is covered by a forest management plan, and only 3.5 percent of the total forest area is managed in a sustainable way. Just over one percent has undergone certification.
FAO and the ITTO emphasized that the potential value of the many goods and services provided by rainforests in the three basins outweighs the benefits that can be obtained from any alternative land use.
"Recent studies have found, for example, that the value of tropical forest services – such as carbon sequestration, biodiversity conservation and soil and water protection – could reach many thousands of dollars per hectare," wrote Eduardo Rojas-Briales, FAO assistant director-general forestry and Emmanuel Ze Meka, ITTO executive director in their foreword to the report.
"Unfortunately, markets to remunerate such services, where they exist, remain in their infancy," they wrote. "In the face of economic and social pressure to convert forest land to other purposes, it is essential that all the values of tropical forests are recognized and adequately recompensed to promote their retention and sustainable management."
The Amazon Basin of South America, the Congo Basin in Central Africa and the Borneo-Mekong Basin in South-East Asia make up 80 percent of the world's rainforests and contain two-thirds of its biodiversity.
Participants from the Congo Basin: Angola, Burundi, Cameroon, Congo, Gabon, Equatorial Guinea, Central African Republic, Democratic Republic of Congo, Rwanda, Sao Tome & Principe, Chad.
Participants from the Amazon Basin: Bolivia, Brazil, Colombia, Ecuador, French Guiana, Guyana, Peru, Suriname, Venezuela.
Participants from the Mekong-Borneo Basin: Brunei, Burma, Cambodia, China, Indonesia, Laos, Malaysia, Papua New Guinea, Philippines, Singapore, Thailand, Vietnam.
Other tropical countries: Argentina, Belize, Costa Rica, Cote d'Ivoire, Ghana, Guatemala, Guinea, Honduras, India, Liberia, Madagascar, Mexico, Mozambique, Nicaragua, Nigeria, Panama, Paraguay, Tanzania, Uruguay.
Other partner countries: South Africa, Australia, Canada, Russia, Finland, France, Great Britain, Italy, Japan, Monaco, United Nations, Norway, United States.
Copyright Environment News Service (ENS) 2011. All rights reserved.
Environment News Service (ENS) © 2011 – 2012 All Rights Reserved.