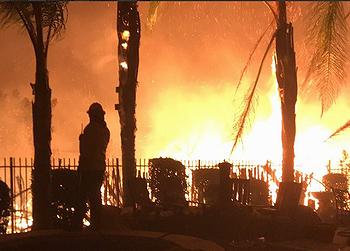 SACRAMENTO, California, November 9, 2018 (ENS) – California fire officials ordered the evacuation of large parts of the seaside city of Malibu this morning as a racing wildfire jumped the U.S. 101 Freeway west of Los Angeles and headed toward the community famous for its celebrity homes, some of the world's most expensive real estate.
Currently, another major fire is raging in the northern part of the state, and two large wildfires are burning in Southern California. All three fires are growing, threatening lives and property.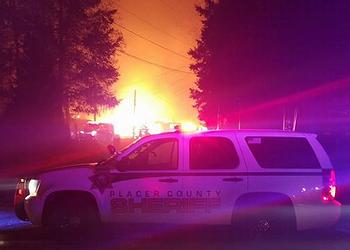 The Camp Fire near Chico has charred more than 70,000 acres, nearly 110 square miles, and thousands of buildings with no sign of containment since it ignited Thursday morning.
Firefighters worked Thursday night to prevent the Camp Fire from burning into Chico, but it has reached the outskirts of the city of 90,000 residents.
About 90 miles north of Sacramento, the town of Paradise, once home to 27,000 people, is now a wasteland of blackened, ruined houses after the Camp Fire devoured everything in its path. Residents were forced to evacuate so quickly that some fled on foot.
The fire is considered roughly five percent contained. Three firefighters have been injured during containment efforts.
"The town is devastated, everything is destroyed," California Department of Forestry and Fire Protection (Cal Fire) spokesperson Capt. Scott Maclean told reporters. "There's nothing much left standing."
Maclean said the Camp Fire nearly quadrupled in size overnight. The fast-moving Camp Fire now covers more than 70,000 acres and threatens at least 15,000 buildings.
This morning, California Governor's Office of Emergency Services Director Mark Ghilarducci said the Camp Fire has claimed lives, but he could not yet state the number of fatalities.
Two more fires north of Los Angeles have forced the evacuation of roughly 75,000 homes.
Early Friday morning, following a letter of request Thursday from Acting Governor Gavin Newsom, Ghilarducci secured a grant from the Federal Emergency Management Agency, FEMA, to ensure the availability of vital resources to suppress the Woolsey Fire burning in Ventura and Los Angeles Counties. The grant enables local, state and tribal agencies to recover eligible costs.
"These statewide weather conditions are predicted to remain in California for several days," said Newsom in his letter of request for financial help to President Donald Trump and FEMA. "As such, these fires will continue to grow and pose further threat to the health and safety of residents throughout California."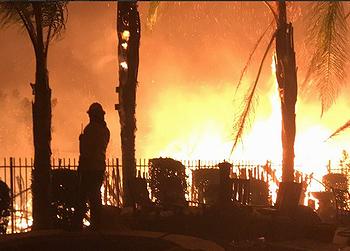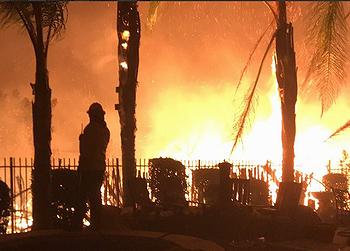 The fast-moving Woolsey Fire jumped the 101 Freeway at Chesebro Road at about 5:15 this morning and is burning on the south side of the freeway, according to the Ventura County Fire Department. The jump forced the freeway to close again in both directions at Liberty Canyon Road, says the California Highway Patrol.
The Woolsey Fire has burned some 8,000 acres and is threatening structures and critical infrastructure in and near the communities of Bell Canyon, Oak Park, Thousand Oaks, Simi Valley, Hidden Hills and Agoura.
The Ventura County Fire Department tweeted this morning that 30,000 residents are under mandatory evacuation orders, multiple structures have been destroyed and and road closures are in effect.
Detailed fire and shelter information for Ventura County can be found at www.vcemergency.com.
The Governor's Office of Emergency Services, OES, working with Ventura and Los Angeles fire departments, has mobilized multiple strike teams and firefighters, including aircraft, fire engines, dozers and water tenders.
California Governor-elect Gavin Newsom, who is serving as Acting Governor while Governor Jerry Brown is traveling, Thursday issued an emergency proclamation for Butte County due to the effects of the Camp Fire.
Newsom today issued an emergency proclamation for Los Angeles and Ventura counties due to the effects of the Hill and Woolsey fires, which have destroyed homes, threatened critical infrastructure and caused the evacuation of residents.
The OES has activated the State Operations Center in Mather, California to its highest level and is coordinating with other local, state and federal emergency response officials to address emergency management needs, including the Camp Fire in Butte County, the Hill and Woolsey fires in Ventura County, the Nurse Fire in Solano County and fires in several other counties, including Lassen and Mendocino.
Copyright Environment News Service (ENS) 2018. All rights reserved.