Quebec Establishes Greenhouse Gas Cap-and-Trade Regime
MONTREAL, Quebec, Canada, December 15, 2011 (ENS) – The province of Quebec has adopted a regulation establishing a cap-and-trade system for greenhouse gas emission allowances in an effort to help control climate change.
Based on the rules established by the Western Climate Initiative, Quebec's cap-and-trade system is expected to help the province achieve its greenhouse gas reduction target of 20 percent below 1990 levels by 2020.
"Cap-and-trade systems for emission allowances are recognized as one of the most effective and least costly economic tools for reducing greenhouse gas emissions," declared Pierre Arcand, minister of sustainable development, environment and parks, announcing the regulation today at a news conference in Montreal's Biosphere.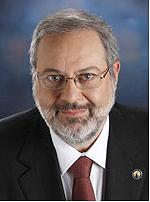 Quebec Environment Minister Pierre Arcand (Photo courtesy Office of the Minister)
"By adopting this regulation, Quebec acquires the means to achieve the transition toward a green, sustainable and prosperous economy," he said.
Arcand said Quebec thus officially steps to the starting line, next to California, which approved its own state-wide cap-and-trade system on October 20.
The move comes in the same week that the Conservative government of Prime Minister Stephen Harper announced it would use its "legal right" to withdraw Canada from the Kyoto Protocol, which limits greenhouse gas emissions.
Arcand, a member of Quebec's Liberal government, called the Canadian government's move "utterly regrettable."
"Quebec's action is especially important that it fits into the context of denial of urgency and commitment to inaction by the federal government has abandoned its responsibility to combat climate change and prefers to focus on fossil fuels," said André Bélisle, president of the Association québécoise de lutte contre la pollution atmosphérique, a nonprofit clean air group. "Fortunately, there are still states, provinces, cities and companies that want to move forward in contrast to the attitude of the Harper government."
But the Quebec Employers Council expressed concern over the new regulation, while at the same time expressing support for the government's desire to make Quebec a model in the fight against climate change.
"Quebec employers support the principle of a virtual carbon market, a system that has already been established in Europe and can help reduce emissions of greenhouse gases by setting clear rules for the all industrial sectors according to the polluter-pays model, provided it takes account of past efforts of businesses in Quebec," said Council Chairman Yves-Thomas Dorval.
"However, it seems rushed and risky for the government to impose a similar model on companies operating in Quebec when no other jurisdiction in North America, except California, has confirmed its intention to accede to such a system, especially at a time when the province needs to maintain a competitive business environment to attract more investment," said Dorval.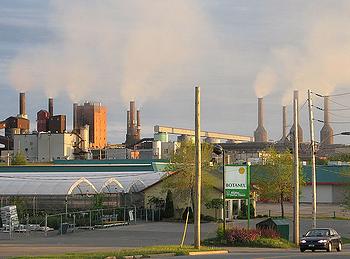 Rio Tinto Alcan's aluminium smelter in Shawinigan, Quebec. (Photo by Bouchecl)
From Vancouver, Matt Horne, director of the Pembina Institute's climate change program, said, "It is encouraging to see Quebec moving ahead with its cap-and-trade regulations to reduce greenhouse gas pollution. The province is adding to the base of North American jurisdictions sending a signal that there will be a market for urgently needed clean energy solutions. Quebec's actions will hopefully spur other North American jurisdictions to move forward."
The new system's first year of implementation begins on January 1, 2012. Considered a year of transition, it will allow emitters and participants to familiarize themselves with how the system works.
Over the course of the year, emitters will be able to make any adjustments that may be necessary to meet their obligations under the system for capping and reducing greenhouse gas emissions, which will come into force on January 1, 2013.
Industrial establishments subject to the system are those that emit 25,000 tonnes or more of CO2 equivalent per year.
The government sets a cap on greenhouse gas emissions for all regulated emitters. This cap will be lowered as the years go by.
Each year, those companies will receive from the government a free allocation of emission rights, called allowances, corresponding to the amount of greenhouse gases they may emit, based on their historical emissions and level of production.
The number of free allowances allocated to companies per unit of production will diminish by around one to two percent starting in 2015.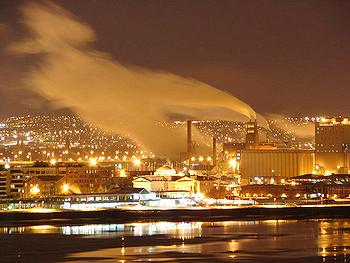 Pulp and paper mill in Quebec City (Photo by Claude)
Companies whose greenhouse gas emissions are greater than the number of units allocated will have to modernize by adopting clean technologies, or else buy emission rights at government auctions or on the carbon market.
Companies whose greenhouse gas emissions are less than their allocation will be able to sell their excess carbon credits to other companies on the carbon market.
Unlike traditional regulation, where emitters are obliged to respect a strict standard, a greenhouse gas emissions cap and trade system offers companies flexibility in planning their short, medium and long term investments.
Companies that need to can buy emission allowances on the market until they are ready to modernize or replace their equipment. Innovative companies that have lowered their greenhouse gas emissions below their annual allocation can sell their excess emission rights, allowing them to recover part of their investments or invest in further optimizing their facilities.
Starting in 2015, companies that import or distribute in Quebec fuels that are used in the transportation and building sectors, and whose combustion generates an amount of greenhouse gases greater than or equal to 25,000 tonnes of CO2 equivalent per year, will also be subject to the capping and reduction of their emissions.
Horne said, "Quebec will need to strengthen their rules over time if the province is going to meet its climate change commitments. Most important is the need to ensure that the regulations create an adequate incentive to reduce greenhouse pollution. The current minimum auction prices – $10 per tonne in 2013 and $15 per tonne in 2020 – raise concern that the incentive may not be adequate."
In April 2008, Quebec joined the Western Climate Initiative, a group of American states and Canadian provinces that have decided to adopt a common approach to addressing climate change, in particular by developing and implementing a North American system for capping and trading greenhouse gas emission rights.
For all WCI participating members, the adoption of a regulation establishing a cap-and-trade system for greenhouse gas emission allowances is the first of two main steps toward the emergence of a regional North American carbon market.
The second step will consist of concluding a series of recognition agreements among the different partners to link their systems together.
"The results of the international conference on climate change at Durban show clearly that regional initiatives like the WCI play a key role in efforts to reduce greenhouse gas emissions worldwide," said Minister Arcand. "Quebec is one of the leaders in the fight against climate change, and that is something to be proud of."
Copyright Environment News Service (ENS) 2011. All rights reserved.