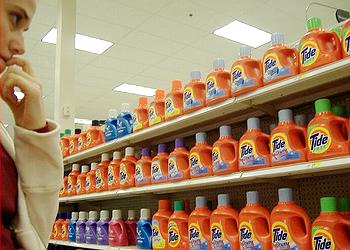 SACRAMENTO, California, January 25, 2013 (ENS) – Procter & Gamble, makers of Tide and Tide Free & Gentle detergents, has agreed in a California court to reduce the levels of the chemical 1,4 dioxane in its laundry products.
The Oakland-based nonprofit organization As You Sow filed a lawsuit against Procter & Gamble for high levels of 1,4 dioxane in their detergents without a warning label in violation of Proposition 65, the California law governing toxic chemical exposure in consumer products.
On January 22, a California Superior Court Judge signed the consent judgment on the case, resolving As You Sow's claims against Procter & Gamble.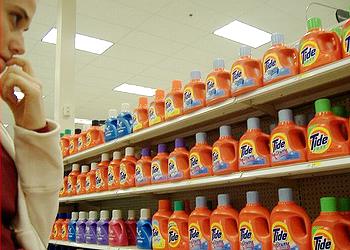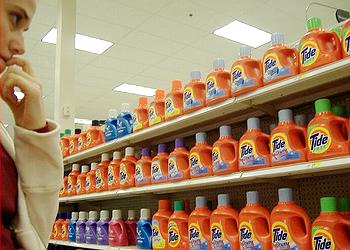 In the consent judgment, the company agreed to reformulate its detergents to reduce levels of 1,4 dioxane to below 25 parts per million.
Procter & Gamble will complete the reformulation process by September of 2013. The women's groups say it is unlikely that old versions of the product will remain on the shelves long after September.
Although Procter & Gamble signed the agreement in California, the company is likely to distribute the new reformulated products nationwide.
The chemical, 1,4 dioxane, often called dioxane, is a solvent stabilizer classified as a known carcinogen in California under Proposition 65. The U.S. EPA calls the chemical a "probable carcinogen."
1,4-dioxane is a byproduct of ethoxylation, the process of adding ethylene oxide – a known breast carcinogen – to petroleum-based chemicals in order to make them less harsh.
The federal Agency for Toxic Substances classifies 1,4 dioxane as "reasonably anticipated to be human carcinogen" and says, "Exposure to 1,4-dioxane occurs from breathing contaminated air, ingestion of contaminated food and drinking water, and dermal contact with products such as cosmetics that may contain small amounts of 1,4-dioxane. Exposure to high levels of 1,4-dioxane can result in liver and kidney damage."
Women's Voices for the Earth, the women's environmental health advocacy group that has been calling on Procter & Gamble to remove the carcinogen, claimed a public health victory.
"We're glad that P&G is finally taking responsibility for this toxic contamination in their products," said Alexandra Scranton, director of science and research with Women's Voices for the Earth.
"It's obvious that it is possible for companies to manufacture products without 1,4 dioxane. We believe all companies should do the same to protect public health."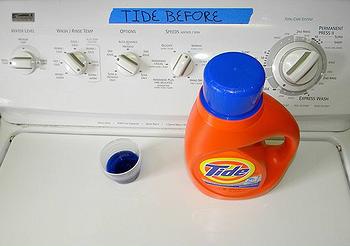 In November of 2011, Women's Voices for the Earth published the report "Dirty Secrets: What's Hiding in your Cleaning Products?" with independent testing results revealing 1,4-dioxane at 89 parts per million in Tide Free & Gentle and 63 ppm in Tide.
Tens of thousands of people then called on the company to demand they make their top-selling detergents safer by removing the chemical.
"When we learned that Tide Free & Gentle – a product marketed to mothers as a healthier choice for their children – contained high levels of a carcinogen, we knew women would be outraged," said Cassidy Randall, campaign and outreach manager for Women's Voices for the Earth who led the organization's campaign against the company.
"Of course women expect Tide to work well. But they also expect it to do so without putting their family's health at risk. They called P&G out on that, and the company listened."
In the past, Proctor & Gamble has defended its use of dioxane. "1,4 dioxane is pretty common in our environment in general, it's found in food, drinking water, air, and in a wide range of consumer products, from shampoo and body washes to cleaning products," Procter & Gamble spokesperson Suzette Middleton told "Forbes" last March.
"It comes in as a trace contaminant or a byproduct developed in the process of making these products," Middleton said. "With the amount that we know is in our laundry products, you would have to wash and wear over 1,000 loads of laundry every day to approach the safety levels set by various organizations and regulatory agencies."
"We're in full compliance with California law," Middleton said. "That [Prop 65] law talks about labeling vs. amounts, but even from a labeling perspective we're under the limits they set."
But the women's groups were not persuaded. Lori Alper, a mother of three and a blogger who belongs to Women's Voices for the Earth, began a Change.org petition in February, 2012, asking Procter & Gamble to remove 1,4 dioxane from Tide detergents. The petition received more than 78,000 signatures.
"It's so gratifying to know that my petition brought more than 78,000 voices together to alert the public that Tide contained a cancer-causing chemical and motivated P&G to make a change," said Alper, blogger at Groovy Green Livin. "I wanted to show people that we can make a difference when we believe in something, and I'm glad that P&G finally listened to consumers and took action to reduce 1,4-dioxane."
In 2008, testing sponsored by the U.S. Organic Consumers Association found dioxane in almost half of the organic personal-care products tested.
Since 1979 the U.S. Food and Drug Administration has conducted tests on cosmetic raw materials and finished products for the levels of 1,4-dioxane.
The chemical has been found in raw ingredients at levels up to 1,410 parts per million, and at levels up to 279 ppm in off-the-shelf cosmetic products.
Levels of 1,4 dioxane exceeding 85 ppm in children's shampoos indicate that close monitoring of raw materials and finished products is warranted. While the FDA encourages manufacturers to remove 1,4-dioxane from their products, it is not required by federal law.
Copyright Environment News Service (ENS) 2013. All rights reserved.