Prince of Wales Warns Climate Crash Could Dwarf Financial Crisis
LONDON, UK, May 24, 2011 (ENS) – The Prince of Wales Monday denounced a short-sighted "determination to ignore the facts" about the environment and continue with business as usual.
Speaking as he accepted an honorary degree from London Business School, the Prince warned that ignoring threats such as climate change poses the risk of a crash far greater than the recent financial collapse.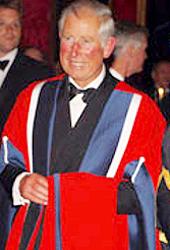 The Prince of Wales accepts an honorary degree from London Business School, May 23, 2011 (Photo courtesy The Prince of Wales)
A fresh look at the economy is needed to avert environmental catastrophe, as well as an acceptance that capitalism must change and adapt to meet the challenge, he indicated.
It is now widely accepted that the credit crunch was the result of a collective failure to understand "the levels of systemic risk in the financial system," said the Prince.
"This we can address relatively easily," he said. "But there is another systemic risk which is, to my mind, much more serious in the long term: the threat of increasing and accumulating environmental collapse and with it the devastating consequences for us, as a species, but also for the myriad others which shape this planet with us and on which we depend for our survival."
"Our myopic determination to ignore the facts and to continue with business as usual is, I fear, creating the risk of a crash which will be far more dramatic, and far harder to recover from, than anything we have experienced over the past few years," he warned.
Continuing to use up the planet's resources at the current rate mankind is doing was not a sustainable, long-term way to advance economic growth, he argued. "Capitalism depends upon capital, but our capital ultimately depends upon the health of nature's capital."
The Prince was awarded the honorary degree for his contribution to sustainable business practices.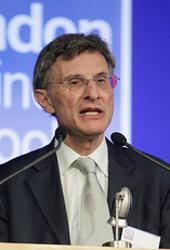 Sir Andrew Likierman (Photo courtesy London Business School)
Professor Sir Andrew Likierman, dean of the business school, said, "His Royal Highness has sought to galvanize business leaders to look at and do things differently, to tackle social and economic problems at the same time as developing flourishing businesses."
For decades, the Prince of Wales has shown a personal interest in environmental issues, sustainable development, responsible stewardship of natural resources and global co-operation to protect our common environmental heritage.
In October 2007, he launched The Prince's Rainforests Project to find practical solutions to slow tropical deforestation and combat climate change.
The Prince's Rainforests Project aims to help the world community recognize the true value of forests by identifying ways to value, and then pay for, the ecosystem services rainforests provide.
As he told the European Parliament in Brussels in January, "In the simplest terms, we have to make the rainforests worth more alive than dead."
With this aim in mind, the Prince's Rainforests Project is engaging with rainforest nations, governments, businesses and nongovernmental organizations to find the solutions to deforestation.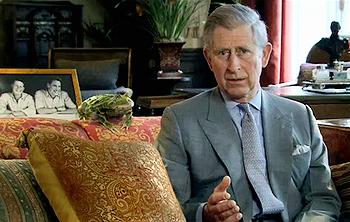 The Prince of Wales in a Prince's Rainforests Campaign video message
The project is backed by 13 large companies: Shell, Rio Tinto Zinc, McDonald's, Morgan Stanley, Goldman Sachs, Sun Media, Sky, Deutsche Bank, Man Group, KPMG, Barclays Bank, Finsbury and the European Climate Exchange.
Prince Charles is urgent about rainforest protection. In a video message to raise public awareness featuring advocates as diverse as his sons, Princes William and Harry; soccer star Pele; comedian Robin Williams; the Dalai Lama and a giant rainforest frog, Prince Charles said, "Climate change is the greatest threat facing mankind. Every year, destruction of the Earth's rainforests releases more carbon dioxide into the atmosphere than all of the world's cars, planes and ships put together. We must act now. Future generations are depending on it."
The Prince's Rainforests Project is now part of the International Sustainability Unit, also created by The Prince of Wales. The ISU works to facilitate consensus on how to resolve some of the key environmental challenges facing the world – such as food security, ecosystem resilience and the depletion of natural capital.
On the home front, the Prince's Countryside Fund is a collaboration of businesses working together to secure a sustainable future for British agriculture and the wider rural economy.
The fund has three core objectives: to improve the sustainability of British farming and rural communities; reconnecting consumers with countryside issues; and to support faming crisis charities through a dedicated emergency funding system.
Beneficiaries include The Farmer Network, which will use its grant to train eight people in hill farming skills, and Upper Teesdale Agricultural Support Service, which will give IT training to 24 farmers to help them manage their businesses more efficiently, as well as providing advice to 450 hill farming businesses.
The fund has been backed by companies including: ASDA Stores; Bird's Eye; Dairy Crest Group; E.H. Booth & Co; Hovis; Jordans & Ryvita Company; Marks & Spencer; McDonald's; Muller Dairy (UK); Samworth Brothers; United Biscuits; Waitrose and Walkers. These companies place The Prince's Countryside Fund logo on certain products in return for their contributions.
As well as providing farmers with grants, the charity uses the financial support of businesses to build up an emergency fund for when a crisis hits, for example an outbreak of livestock disease.
Copyright Environment News Service (ENS) 2011. All rights reserved.