Pregnant California Women Carry World's Highest Flame Retardant Levels
SAN FRANCISCO, California, August 10, 2011 (ENS) – The highest levels of banned chemicals used in flame retardants ever reported among pregnant women anywhere in the world has been documented in California women.
The research team, led by scientists at the University of California, San Francisco, say the high levels they recorded in the blood serum of pregnant women from Northern and Central California are a likely result of the state's strict flammability regulations.
"These important results, showing that pregnant women in this California population are exposed to high levels of certain flame retardants, is a key part of our work to understand and address multiple chemical exposures that occur during this sensitive time period," said senior author Tracey Woodruff, PhD, director of the UCSF Program on Reproductive Health and the Environment, part of the UCSF Department of Obstetrics and Gynecology and Reproductive Sciences.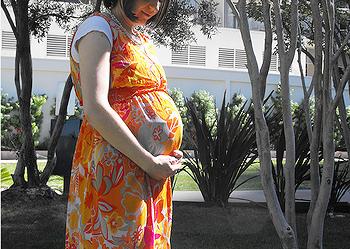 Pregnant California woman (Photo credit unknown)
Polybrominated diphenyl ethers, PBDEs, were added to consumer products, such as electronics and foam in furniture beginning in the 1970s. The chemicals slow ignition and the rate at which a fire grows, according to the U.S. Environmental Protection Agency.
People today continue to be exposed to these chemicals. As products like crib mattresses, carpet padding and upholstered furniture age and break down, PBDEs are released into the air and dust. California homes have some of the world's highest levels of PBDE chemicals in their household dust, the researchers said.
"Prenatal exposure to polybrominated diphenyl ethers (PBDEs) may disrupt thyroid function and contribute to adverse neurodevelopmental outcomes," said the UCSF researchers.
The EPA warns that these chemicals may cause liver, thyroid, and neurodevelopmental toxicity, and, based on animal studies, the agency has classified one type of PBDE, decabromodiphenyl ether, as a possible human carcinogen.
The U.S. Agency for Toxic Substances says that while "there is no definite information on health effects of PBDEs in people," studies on rats and mice that ate food containing PBDEs showed thyroid and the liver effects.
"Preliminary evidence suggests that high concentrations of PBDEs may cause neurobehavioral alterations and affect the immune system in animals," the agency says on its website.
The San Francisco research team found high levels of PBDEs, as well as the products that result when the flame retardants break down in the body, in 25 second-trimester pregnant women from Northern and Central California seeking care in San Francisco.
Acknowledging that the data are preliminary, the San Francisco researchers report their observation that higher PBDE levels in the pregnant women were associated with thyroid hormone disruption.
The study abstract is available online today in the journal "Environmental Science and Technology," a publication of the American Chemical Society.
"While our study group was small, the higher chemical exposure in pregnant women is particularly concerning and warrants further research. PBDEs can disrupt the thyroid system and have been linked to neurodevelopmental problems in children following prenatal exposure," said Ami Zota, ScD, MS, lead author and a postdoctoral fellow working with Woodruff.
California banned use of pentaBDE and octaBDE, the two commercial mixtures of the PBDE flame retardants, in 2004 and is phasing out others.
The European Union also enacted a ban on pentaBDE and octaBDE in Europe that took effect in 2004.
"Despite the ban, blood levels of flame retardant chemicals are two times higher for California residents than for people in the rest of the country, likely because our state has the most restrictive flammability requirements nationally," said Zota.
"The state's standards were achieved mainly by adding PBDEs to polyurethane foam-containing products used in the home and office," she said.
Zota points out that research has not shown that adding these types of chemicals can produce the intended benefit of saving lives, particularly compared to other interventions such as state laws requiring fire-safe cigarettes which extinguish rapidly when left unattended.
The 25 women in the study group were racially diverse and predominately lower-income. The researchers excluded participants who, at the time of the study, were smoking, using illegal drugs, taking thyroid medication or had fetal health issues.
The data also support previous findings that indicate low-income populations are likely to have higher exposures to PBDEs, according to the researchers, possibly due to the presence of poorly manufactured furniture, deteriorated PBDE-treated furniture foam and poorer housing quality.
A separate UCSF study published in January found that the bodies of virtually all U.S. pregnant women carry multiple chemicals, including PBDEs and others banned since the 1970s. That research was the first time that the number of chemicals to which pregnant women are exposed had been counted.
The new work was supported by the Passport Foundation Science Innovation Fund, the Learning Disabilities Association of America, and the National Institute of Environmental Health Sciences.
Co-authors include June-Soo Park, Yunzhu Wang, and Myrto Petreas, all of the California Department of Toxic Substances Control in Berkeley, and R. Thomas Zoeller at the University of Massachusetts, Amherst.
Copyright Environment News Service (ENS) 2011. All rights reserved.
Environment News Service (ENS) © 2011 – 2012 All Rights Reserved.