Poll: More Americans Optimistic About Environment Under Obama
PRINCETON, New Jersey, March 15, 2010 (ENS) – Since President Barack Obama took office, Americans have grown more satisfied with the overall quality of the environment in the United States, according to the latest Gallup Poll.
Positive ratings of the current quality of the environment have increased by five to eight points compared to a year ago among all three party groups – Democrats, Republicans and independents.
Forty-six percent of respondents rated the environment "excellent" or "good," up from 39 percent in March 2009. Despite these shifts, the majority (53 percent) continue to rate current environmental conditions as only "fair" or "poor."
This trend comes from Gallup's annual Social Series Environment survey, with the latest installment conducted March 4-7, 2010. For the poll, phone interviews were conducted with a random sample of 1,014 national adults, aged 18 and older.
"The current ratings are the most positive Gallup has measured since 2002," wrote Gallup's Lydia Saad today in her analysis of the poll.
By contrast, Gallup found no meaningful change in Americans' responses to a separate question asking whether environmental conditions are getting better or getting worse.
Forty-one percent believe conditions are improving, the same as last year. Roughly half, 48 percent, now say they are getting worse, similar to the 51 percent saying this a year ago.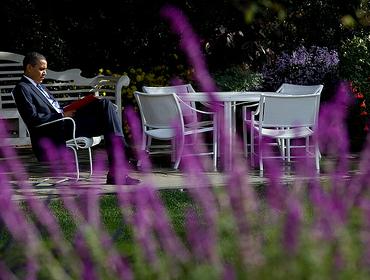 President Barack Obama reads in the White House Rose Garden. (Photo by Pete Souza courtesy the White House)
The public's environmental outlook in the last two surveys – dating to March 2009, just after the inauguration of Barack Obama as president – is far more optimistic than what Gallup found in the decade prior to his taking office.
"Public optimism about the environmental outlook surged among independents and Democrats in surveys bracketing the shift in presidential administrations from George W. Bush's to Obama's," wrote Saad. "Republicans' views did not change."
Republicans' perceptions of environmental quality had declined between 2008 and 2009 before rising slightly this year. Democrats' views were flat between 2008 and 2009, while the views of independents have grown slightly more positive each year.
With more Americans today than in 2008 believing the environment is in good shape and improving, Saad wrote that the pollsters were not surprised to find a decline over the same period in the percentage of people worried about the environment.
Currently, Americans are split roughly into thirds, according to the degree to which they worry about environmental quality – 34 percent say they worry a great deal, 34 percent worry a fair amount, and 31 percent worry only a little or not at all.
However, the highly worried group is down from 40 percent in 2008, and from a high of 43 percent in 2007.
Overall, Democrats worry most about the environment, and Republicans least. Independents show the greatest decline in worry since 2008 – down nine points, from 41 percent to 32 percent. This compares with three-point and four-point drops among Republicans and Democrats, respectively.
The percentage of Americans forecasting that the environment will be the most important problem facing the country in future decades dropped somewhatthis year – from 14 percent in 2007 and 2008 to 11 percent today. It remains higher than in the several years prior to 2007.
At no time in the past decade have more than a small percentage of Americans cited the environment as the most important problem facing the country today.
Americans are more upbeat about environmental conditions in the United States today than they were two years ago, the poll found.
This has happened in two stages, wrote Saad. The first was seen a year ago, when increased percentages of Democrats and independents thought the environment was getting better. This year, Gallup finds gains in positive evaluations of current environmental conditions among all three party groups.
Copyright Environment News Service (ENS) 2010. All rights reserved.
Environment News Service (ENS) © 2010 – 2012 All Rights Reserved.