POET and Royal DSM Partner to Produce Cellulosic Bio-ethanol
SIOUX FALLS, South Dakota, January 24, 2012 (ENS) – An American ethanol producer and a Dutch life and materials sciences company Monday announced a joint venture to demonstrate commercial cellulosic bio-ethanol production and license the technology by 2013.
POET, LLC, one of the world's largest ethanol producers, based in Sioux Falls, South Dakota, and Royal DSM, a sciences company based in Heerlen, The Netherlands, will each hold a 50 percent share in the joint venture, which will be headquartered in Sioux Falls.
Starting in the second half of 2013, POET-DSM Advanced Biofuels, LLC will produce cellulosic ethanol from corn crop residue through a biological process using enzymatic hydrolysis followed by fermentation. The residue consists of the cobs, leaves, husks and some stalk left in the field after the corn is harvested.
The first commercial demonstration of the technology will be at Project Liberty, which is being constructed next to POET's existing corn ethanol plant in Emmetsburg, Iowa. POET cites an independent lifecycle analysis showing that bio-ethanol produced at Project Liberty will reduce carbon emissions by 111 percent compared with gasoline.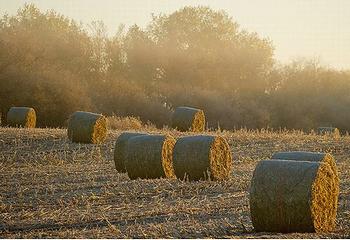 Baled corn residue waiting to become cellulosic ethanol (Photo courtesy POET LLC)
Initially, the joint venture intends to invest about $250 million in the Project Liberty project, one of the first U.S. commercial-scale cellulosic ethanol plants. Project Liberty is expected to use 770 tons of corncobs, leaves, husks and stalks per day of operation to make cellulosic ethanol.
In view of its joint venture with DSM, POET does not plan to utilize the $105 million loan guarantee it was awarded by the U.S. Department of Energy to finance Project Liberty on September 23, 2011. Upon the closing of the joint venture, POET will officially decline the guarantee without drawing any funds.
Jeff Broin, POET founder and CEO, said, "This joint venture brings together two companies leading the transition from a fossil-based economy to a bio-based economy."
"The partnership has set an ambitious goal," said Broin, "to make cellulosic bio-ethanol competitive with corn ethanol, which is the most competitive liquid transportation fuel on the market today. We believe that the joint venture positions us well to meet our ambitious cellulosic ethanol production goals."
The initial capacity of the Project Liberty plant is expected to be 20 million gallons in the first year, growing to about 25 million gallons per year.
POET-DSM Advanced Biofuels, LLC, intends to replicate and license the technology to additional plants to be built at the other 26 corn ethanol facilities in POET's network and also license it to other producers in the United States and around the world.
The U.S. Environmental Protection Agency estimates that as many as 350-400 new bio-refineries will have to be constructed in the United States by 2022 to meet the volume requirement of 16 billion gallons a year of cellulosic bio-ethanol mandated under the National Renewable Fuel Standard.
If the POET-DSM technology is replicated at POET's network of 27 existing corn ethanol plants, it could produce up to one billion gallons of cellulosic bio-ethanol a year.
In an analysis of the Renewable Fuel Standard, the U.S. EPA projected 7.8 billion gallons of cellulosic bio-ethanol would be produced from corn crop residue by 2022.
Beyond that, the U.S. Departments of Energy and Agriculture have estimated that more than one billion tons of biomass is available in America that could produce enough cellulosic bio-ethanol to replace a third of the country's gasoline demand.
The joint venture is expected to be profitable in 2014, the first full year of production, and to deliver substantial revenues in the longer term, the executives said Monday.
Feike Sijbesma, DSM CEO and chairman of the DSM Managing Board, said, "This cooperation is a milestone in realizing DSM's strategy. By leveraging the unique opportunities in life sciences and materials sciences we can contribute our heritage of over a century in both biotechnology and chemistry to this joint venture with a biofuels leader. Together we shall deliver the key to unlock the cellulosic bio-ethanol opportunity."
DSM began as a small coal mining company in 1902 in the coal-rich region around Heerlen in southeastern Netherlands. The company has evolved into a multi-national that produces food and dietary supplements, personal care products, feed, pharmaceuticals, medical devices, automotive, paints, electrical and electronics, life protection, alternative energy and bio-based materials.
DSM already has a unique position in the development of cellulosic ethanol as the only company offering both yeast and enzyme solutions to increase conversion rates to make the technology commercially viable.
Sijbesma said, "As the world is facing unprecedented challenges with a growing population making an ever bigger claim on the planet's resources, we need to accelerate the transition to a bio-based economy and this joint venture is a significant step in that direction."
Copyright Environment News Service (ENS) 2012. All rights reserved.