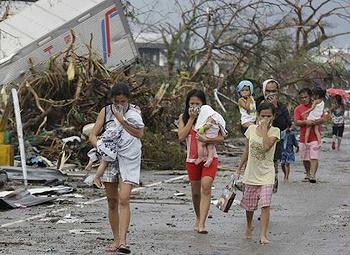 MANILA, Philippines, November 10, 2013 (ENS) – Super Typhoon Yolanda, known outside the Philippines as Haiyan, battered parts of the Philippine archipelago on Friday, making landfall six times before blowing westward on Saturday over the South China Sea towards northern Vietnam and southern China.
The worst storm in Philippine history blasted through the country, packing winds of 235 kilometers per hour (147 miles per hour) with gusts of 275 kph (170 mph). Yolanda's storm surge caused ocean waters to rise up to six meters (20 feet).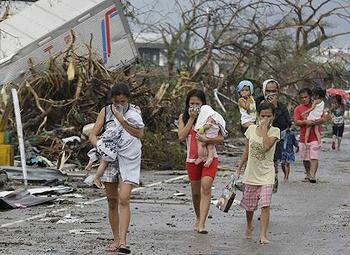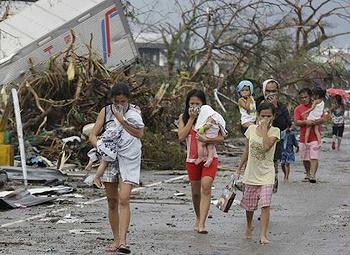 Only today did the scale of the devastation become apparent.
The National Disaster Risk Reduction and Management Council, NDRRMC, said that as of Sunday evening local time, 229 people were confirmed dead with 45 reported injured and 28 others missing.
NDRRMC reported that 982,252 families or 4,459,468 people in 1,741 villages in 343 towns and 39 cities in 36 provinces were affected.
Other estimates, still unconfirmed, put the death toll as high as 10,000 dead in Tacloban City alone. Officials said the death toll could rise when search and rescue crews reach parts of the country isolated by landslides and floods.
President Benigno Aquino III and seven members of his Cabinet today visited some of the areas hit hardest by Super Typhoon Yolanda to personally inspect the extent of the damage.
They toured Tacloban City in Leyte and Roxas City in Capiz, both devastated by the typhoon.
NDRRMC head Eduardo del Rosario reports that Tacloban City is 95 percent devastated.
Leyte Governor Dominic Petilla told told local officials at a meeting Saturday night that there about 10,000 people died on the island of Leyte, most by drowning and from collapsed buildings, GMA News reported.
Apparently frustrated with Tacloban City local officials for their lack of typhoon preparedness and response, President Aquino walked out of a disaster council briefing in Tacloban today, according to Manila's government-run radio station dzRB Radyo ng Bayan.
In an earlier media briefing, the President criticized Tacloban officials for being unprepared for the typhoon.
"I hate to say it, but it seems it was not very prepared compared to other areas," he said.
In most hard-hit areas the casualty count was lower, and Aquino said the local officials will "have to explain" the high number of deaths.
"Any casualty is an issue with me," said the President.
In Tacloban City looters desperate for food, fuel and water invaded grocery stores and gas stations.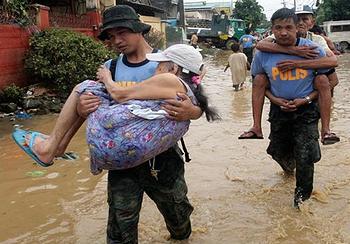 To maintain peace and order Philippine National Police chief Director General Alan Purisima dispatched a group of police personnel to Tacloban City.
"It's important at this time to not just give relief to our fellow Filipinos. It's also important to keep the peace in these areas," Deputy Presidential Spokesperson Abigail Valte said in her briefing over dzRB Radyo ng Bayan.
The Philippine Armed Forces reported another special flight to Tacloban carried medical volunteers, telecom technicians and an air traffic controller.
Valte said that the
Aquino earlier gave assurances that the government has enough funds to address the needs of the victims, including relief goods and restoration of communication lines in hard hit areas.
Still, the Aquino government is accepting help from the international community. "From what I understand, Israel offered personnel," the President said after getting a briefing on the situation at the National Disaster Risk Reduction and Management Council headquarters in Camp Aguinaldo. "These may include rescue teams, humanitarian missions, and medical emergency missions."
Aquino said Health Secretary Enrique Ona told him New Zealand may send a mobile hospital that will complement a similar facility the Philippine government already has
The President said, "There are other countries that have already pledged their personnel, equipment and assistance."
U.S. Secretary of State John Kerry said the United States is prepared to send assistance as requested.
"Having so recently had my own visit to the Philippines prevented by another powerful storm, I know that these horrific acts of nature are a burden that you have wrestled with and courageously surmounted before," said Kerry. "Your spirit is strong. The United States stands ready to help, our embassies in the Philippines and Palau are in close contact with your governments, and our most heartfelt prayers are with you."
Copyright Environment News Service (ENS) 2013. All rights reserved.