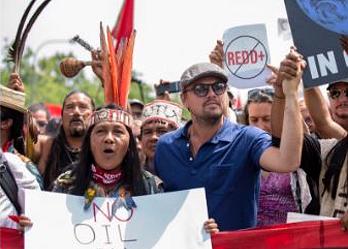 WASHINGTON, DC, April 30, 2017 (ENS) – Calling for jobs, climate justice and climate action, more than 200,000 people jammed the streets of the nation's capital on Saturday in record 90-degree temperatures. The People's Climate March proceeded down Pennsylvania Avenue to surround The White House, chanting "Keep it in the soil, can't drink oil!" and "Water is life."
At least 370 sister marches across the country and around the world attracted tens of thousands more.
All People's Climate March demonstrators were there send a message to President Donald Trump on his 100th day in office, and to the climate deniers in his administration – even if you don't care about the climate, we do.
Native American ceremonies, debates, open microphones, social events and musicians enlivened the People's Climate March activities.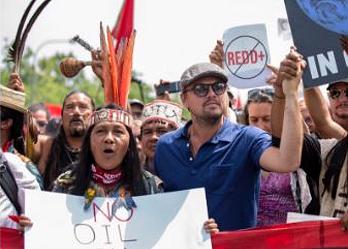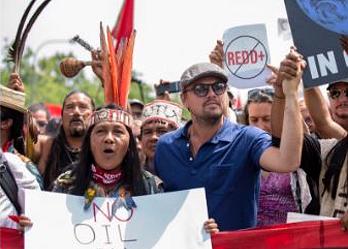 The event drew celebrities such as actor Leonardo DiCaprio and former Vice President Al Gore, a climate activist for many years.
DiCaprio tweeted, "Donald Trump is a threat to the future of our planet, the safety of our communities, the health of our families. Join the People's Climate March."
Sister marches took place Saturday across the world: in Japan, the Philippines, New Zealand, Uganda, Kenya, Germany, Greece, United Kingdom, Brazil, Mexico, Costa Rica, and many other places.
In the United States, early counts estimated that more than 50,000 people took to the streets at hundreds of events in nearly all 50 states, from the town of Dutch Harbor in Alaska's Aleutian Islands to Miami, Denver, Los Angeles, Chicago, New York and other American cities.
"This march grew out of the relationship building among some of the country's most important progressive organizations and movements," said Paul Getsos, national coordinator for the Peoples Climate Movement.
The first People's Climate March was held on Sunday, September 21, 2014, in New York City to advocate global action against climate change. With an estimated 311,000 participants, the New York event was the largest climate change march to date.
"In 2014, the march was planned as a singular moment to pressure global leaders to act on climate change," said Getsos on Saturday. "There was a simple demand – act."
He said Saturday's march was planned before the 2016 election as a strategic moment "to continue to build power to move our leaders to act on climate while creating family-sustaining jobs, investing in frontline and indigenous communities and protecting workers who will be impacted by the transition to a new clean and renewable energy economy."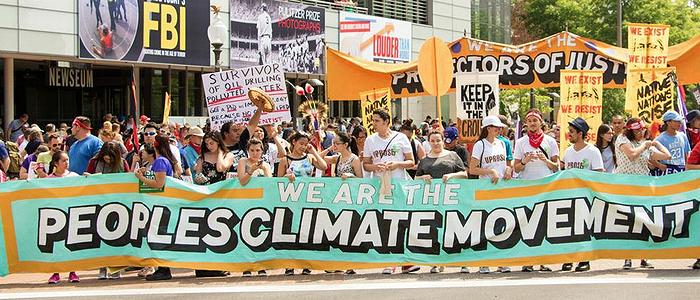 In Washington, the march extended for over 20 blocks down Pennsylvania Avenue, with tens of thousands more demonstrators surging along the mall to push back on the Trump administration's policies and stand up for "climate, jobs and justice."
"The solidarity that exists between all of us is the key to having a strong, fair economy and a clean, safe environment," said Kim Glas, executive director, BlueGreen Alliance. "We can tackle climate change in a way that will ensure all Americans have the opportunity to prosper with quality jobs and live in neighborhoods where they can breathe their air and drink their water. Together we will build a clean economy that leaves no one behind."
The day's activities in the nation's capital began at sunrise with a water ceremony led by indigenous peoples at the Capitol Reflecting Pool. Participants included Cheyenne River Sioux tribal members who traveled 1,536 miles by bus from Eagle Bend, South Dakota to attend the ceremonies.
At a news conference, representatives from front line communities spoke about the impact that climate change and pollution are already having on their lives.
They called out the Trump administration for worsening the climate crisis.
They called for a new renewable energy economy that created good paying, union jobs, and prioritized low-income and people of color communities.
"When our communities are most threatened by climate, the solutions we build must allow us to have control of our resources and the energy we produce in an equitable and truly democratic way," said Angela Adrar, executive director, Climate Justice Alliance.
"They must create meaningful work that allows people to grow and develop to their fullest capacity. They must allow us to retain culture and traditions from our ancestors and give us the freedom of self-determination we so deserve so that we can thrive. This does not come easy and it must come with resistance and visionary opposition," said Adrar. "Our existence depends on it."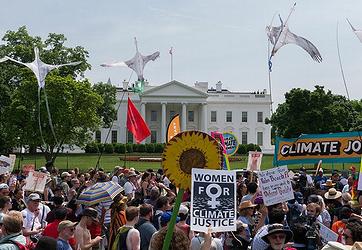 Dozens of giant parachute banners filled the streets, while puppets danced overhead. Some contingents carried sunflowers, a symbol of the climate justice community, while others raised their fists in resistance.
The march began at 12:30 pm, and by 2:00 p, organizers had succeeded in their goal of completely surrounding the White House.
Marchers sat down silently in the streets to recognize the damage caused by the Trump administration over the last 100 days and those who are losing their lives to the climate crisis.
They then created a movement heartbeat, tapping out a rhythm on their chests while drummers kept the time. The heartbeat was meant to show that while march participants came from many different backgrounds and communities, their hearts beat as one.
It was a heartbeat of resistance, one that began with the Women's March the day ofter Trump's inauguration and will continue through the People's Climate March to May Day and beyond.
"Six months ago, my kids woke up to half a foot of water in our living room," said Cherri Foytlin, director of BOLD Louisiana and spokesperson for the Indigenous Environmental Network. "Now, Trump wants to open up the Gulf Coast to even more offshore drilling. But we have a message for him, we are not afraid, and we will not stop fighting. With 100 and 500 year storms now coming every year, we are fighting for our lives."
After the heartbeat, marchers rose up with a collective roar and continued down to the Washington Monument for a closing rally.
President Trump was in the White House at the time of the demonstration, as he did not leave for Harrisburg, Pennsylvania until 5 pm, but he did not tweet about the People's Climate March.
The Peoples Climate Movement, a coalition of over 900 organizations representing many of the major social justice, labor and environmental groups in the country, has pledged to keep the momentum going from supporting the May Day marches on Monday to organizing at the local level.
"Today's actions are not for one day or one week or one year," said Getsos. "We are a movement that is getting stronger everyday for our families, our communities and our planet. To change everything, we need everyone."
Copyright Environment News Service (ENS) 2017. All rights reserved.