Patagonia Music Collective Fans Fund Environmental Nonprofits
VENTURA, California, March 1, 2011 (ENS) – "Buy a song, benefit the environment," is the latest refrain at the outdoor apparel company Patagonia. Today, the company launched a new website in partnership with a group of world-class musicians to help protect and restore the environment.
The Patagonia Music Collective at www.patagonia.com/music, features a wide variety of music from pop to roots, reggae to indie rock, jazz to alt-country, and supports a wide diversity of environmental action.
Each musician or group has donated an exclusive song for purchase on iTunes and has selected a nonprofit environmental group to receive the net proceeds.
"My hope is that fans see their favorite artists supporting the environment and want to get involved themselves," said Patagonia founder and owner Yvon Chouinard.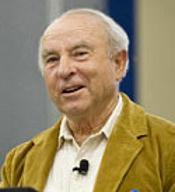 Patagonia owner and outdoorsman Yvon Chouinard (Photo courtesy DCVB)
"The groups these musicians are supporting are the ones that are ultimately going to save the planet. Patagonia's hopeful other musicians will see that by just donating a song they can easily provide their favorite enviro group with a new stream of financing," said Chouinard, a lifelong rock climber and a surfer, kayaker, falconer and fly fisherman.
By featuring previously unavailable music from both established and rising artists, the Patagonia Music Collective aims to engage fans of all musical tastes in environmental giving.
The Patagonia Music Collective will launch with 22 tracks bundled into two volumes of 11 tracks each. It will continue as a long-term project, with one new benefit track and three emerging tracks to be released each subsequent week.
The exclusive tracks will be sold at $.99 each, with net proceeds going directly to the environmental organizations of the artists' preference. Benefit compilation albums will be available at Patagonia stores worldwide.
Musician and singer Bonnie Raitt said, "Any endeavor that combines great music with fund raising for quality environmental organizations gets my attention. When Patagonia approached us to be involved we were excited to team up. I've been a supporter of Earthjustice for almost a decade, because, as their slogan states, 'the Earth needs a good lawyer.'"
Other participating musicians include Pearl Jam, Jack Johnson, Jon Cleary, Maroon 5, Philip Glass, Zac Brown Band, moe., The Bad Plus, Blitzen Trapper, Mason Jennings, John Scofield, Piers Faccini, Switchfoot, Brett Dennen, Sun Kil Moon, Umphrey's McGee, Ben Solee, RaRa Riot, Spoek Mathambo, Taj Mahal, Toad the Wet Sprocket, Drive By Truckers, Bobby Long, String Cheese Incident, Ki: Theory, Moondoggies, Vusi Mahlesela, Disco Biscuits, O.A.R., Ziggy Marley, Los Lobos, Dawes, Abigail Washburn, Big Head Todd & the Monsters, Brandi Carlile, Laura Jansen, Medeski Martin & Wood, Robert Randolph and the Family Band and many more.
The diversity of environmental groups that will benefit from the Patagonia Music Collective project is as great as the range of musical styles represented.
Hawaii-based singer Jack Johnson is directing the proceeds from his song, "To the Sea" to the Kokua Hawai'i Foundation he started that supports environmental education in the schools and communities of Hawai'i.
Ziggy Marley is supporting the Jamaica Environment Trust with the proceeds from his song, "A Fire Burns for Freedom."
Purchases of Pearl Jam's song "Oceans" will support Conservation International Marine Programs, while fans who download Piers Faccini's song "Until Silence Reads the Lines" will be contributing to the UK-based Environmental Justice Foundation.
"Musicians have been interested in partnering with Patagonia on our environmental work for years, but we didn't have the right platform to work together effectively," said Rob BonDurant, Patagonia's vice president of marketing, "The Music Collective provides us with a way to partner directly with enviro-minded artists and to engage their fans in environmental efforts. It's truly a new model for green giving."
The Patagonia Music Collective is not a record label, nor is it simply a downloads-for-charity campaign, says BonDurant. He defines the endeavor as a perpetually evolving program that allows musicians to direct money to specific environmental causes while giving listeners rare access to previously unavailable music.
"I have been excited to work with Patagonia since I traveled down to Chile a couple years ago to work on music for the film 180 Degrees South," explains Mason Jennings. "Hanging out with Yvon Chouinard and other environmentalists and hearing how they think about life and the work that Patagonia is doing to give back to the environment was truly inspiring."
The tracks will be available at www.patagonia.com/music, through a dedicated iPhone app and a web widget at participating artists' websites. Fulfillment will be handled by iTunes. The program will roll out internationally in Japan, the UK, Canada, and elsewhere this June.
Copyright Environment News Service (ENS) 2011. All rights reserved.