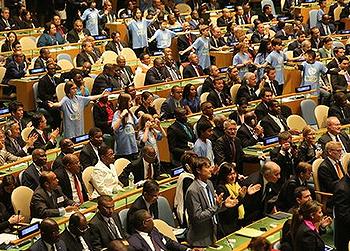 NEW YORK, New York, October 6, 2016 (ENS) – The Paris Agreement on climate change is set to enter into force on November 4, less than a year after it was adopted by world leaders. With the ratifications deposited Wednesday, enough countries have approved the accord so that it can take effect.
The Agreement was adopted in Paris, France at the UN climate conference in December 2015. In order to enter into force, at least 55 Parties accounting for at least 55 percent of global greenhouse gas emissions are required, the Agreement enters into force 30 days later.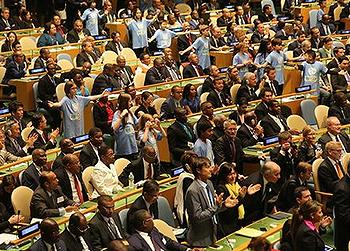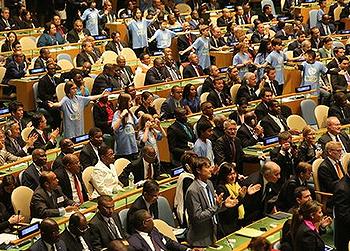 "What once seemed unthinkable, is now unstoppable," said UN Secretary-General Ban Ki-moon as he accepted the latest instruments of ratification that pushed the agreement over the threshold.
"Strong international support for the Paris Agreement entering into force is a testament to the urgency for action, and reflects the consensus of governments that robust global cooperation, grounded in national action, is essential to meet the climate challenge," Ban said.
Ban, who will step down as secretary-general on December 31, has made adoption of the world's first global climate agreement a priority of his 10 years as UN leader.
Over the past decade, Ban has visited communities from the Arctic to the Amazon, and has witnessed how climate impacts are already devastating lives, livelihoods and prospects for a better future.
Speaking to the European Parliament in Strasbourg, France on Monday, Ban said entry of the Paris Agreement into force will help stem the flood of refugees across the world.
"If we closely analyse the root causes, the drivers of migrants and refugees," said Ban, "you will certainly find many reasons; they are political instability, war, persecution… but one of the very important reasons is that people do not find their places sustainable for their living, because of the impact caused by climate change."
Addressing climate change, he said, "will definitely reduce and lessen the possibility of people having to flee or leaving their country for better opportunities. It is important for a sustainable development for the people and for this planet."
The UN's top climate official today praised nations across the globe for acting swiftly to bring the landmark Paris Climate Change Agreement into force.
"This is a truly historic moment for people everywhere," said Patricia Espinosa, executive secretary of the UN Framework Convention on Climate Change, UNFCCC.
The two key thresholds needed for the Paris Climate Change Agreement to become legal reality have now been met," she said.
"The speed at which countries have made the Paris's Agreement's entry into force possible is unprecedented in recent experience of international agreements and is a powerful confirmation of the importance nations attach to combating climate change and realizing the multitude of opportunities inherent in the Paris Agreement," said Espinosa.
On Wednesday, Ban reminded world leaders that the work of implementing the agreement still lies ahead, saying, "Now we must move from words to deeds and put Paris into action. We need all hands on deck – every part of society must be mobilized to reduce emissions and help communities adapt to inevitable climate impacts."
The Agreement seeks to limit global temperature rise above pre-industrial levels to well below two degrees Celsius, and to strive for 1.5 degrees Celsius.
The pact was signed in New York on April 22, Earth Day, by 175 countries at the largest, single-day signing ceremony in history.
It will enter into force 30 days after at least 55 countries, accounting for 55 percent of global greenhouse emissions, deposit their instruments of ratification, acceptance or accession with the secretary-general.
The requirements for entry into force were satisfied Wednesday when Austria, Bolivia, Canada, France, Germany, Hungary, Malta, Nepal, Portugal and Slovakia, as well as the European Union, deposited their instruments of ratification with the Secretary-General.
Earlier this week, New Zealand and India signed onto the Agreement, following the 31 countries which joined at a special event at the United Nations on September 21 during the UN General Assembly's general debate.
Early in September, the world's two largest greenhouse gas emitters, China and the United States, joined the Agreement.
Wednesday in the Rose Garden at the White House, President Barack Obama said, "Today, the world meets the moment. And if we follow through on the commitments that this agreement embodies, history may well judge it as a turning point for our planet."
"Now, the Paris Agreement alone will not solve the climate crisis. Even if we meet every target embodied in the agreement, we'll only get to part of where we need to go," said Obama. "But make no mistake, this agreement will help delay or avoid some of the worst consequences of climate change. It will help other nations ratchet down their dangerous carbon emissions over time, and set bolder targets as technology advances, all under a strong system of transparency that allows each nation to evaluate the progress of all other nations."
"By sending a signal that this is going to be our future – a clean energy future – it opens up the floodgates for businesses, and scientists, and engineers to unleash high-tech, low-carbon investment and innovation at a scale that we've never seen before," Obama said. "So this gives us the best possible shot to save the one planet we've got."
Mindy Lubber, president of the non-profit Ceres, said, "The world must ratchet up global investment in clean energy by an additional $1 trillion a year to achieve the Paris Agreement goals. Global investment in clean energy is currently tracking at about $300 to $350 billion a year, which is far short of the Clean Trillion target we need to hit every year to avoid catastrophic climate warming."
Based in Boston, Massachusetts, Ceres mobilizes investor and business leadership to build a sustainable global economy.
"We have much more to do to navigate the transition to a sustainable economy, but today represents a major step forward," Lubber said.
In Strasbourg, France, European Commissioner for Climate Action and Energy Miguel Arias Cañete said, "Our collective task is to turn our commitments into action on the ground. And here Europe is ahead of the curve. We have the policies and tools to meet our targets, steer the global clean energy transition and modernise our economy. The world is moving and Europe is in a driver's seat, confident and proud of leading the work to tackle climate change."
The Paris Agreement will enter into force in time for the Climate Conference (COP 22) in Morocco in November, where countries will convene the first Meeting of the Parties to the Agreement. Countries that have not yet joined will participate as observers.
Copyright Environment News Service (ENS) 2016. All rights reserved.