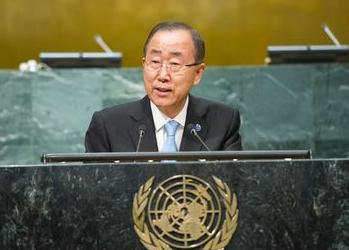 NEW YORK, New York, September 21, 2016 (ENS) – The Paris Agreement on Climate Change is set to become law this year after a ceremony at the United Nations in New York today saw 60 countries worth 47.5 percent of global emissions complete their formal accession to it and 14 others commit to doing so before year's end.
One of the two thresholds for entry into force has now been met. The Paris Agreement will take effect 30 days after 55 countries, representing 55 percent of global emissions, deposit their instruments of ratification, acceptance or accession with the secretary-general.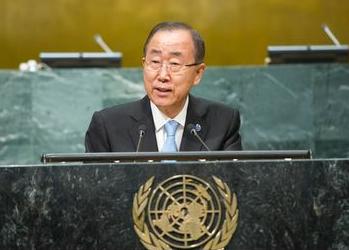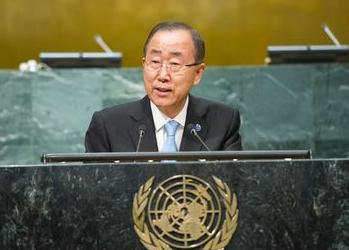 "This momentum is remarkable," said outgoing UN Secretary-General Ban Ki-moon. "It can sometimes take years or even decades for a treaty to enter into force. It is just nine months since the Paris climate conference. This is testament to the urgency of the crisis we all face."
In early September, the world's two largest emitters, China and the United States, joined the Paris Agreement, providing impetus for other countries to quickly complete their domestic ratification or approval processes.
Ban, who completes 10 years in office on December 31, has made a strong, ambitious climate agreement one of the hallmarks of his tenure.
The Paris Climate Agreement marked a watershed moment in taking action on climate change. Adopted by 195 parties to the UN Framework Convention on Climate Change, UNFCCC, last December in Paris, the Agreement calls on countries to combat climate change and to accelerate and intensify the actions and investments needed for a sustainable low carbon future, and to adapt to the increasing impacts of climate change.
The early entry into force of the Paris Agreement would trigger the operational provisions of the agreement and accelerate efforts to limit global temperature rise to well below 2 degrees Celsius, and to build climate resilience.
Even as the agreement was adopted, countries recognized that present pledges to reduce emissions were still insufficient to reach these goals. The Paris Agreement mandates regular meetings every five years, starting in 2018, to review progress and to consider how to strengthen the level of ambition.
Patricia Espinosa, executive secretary of the UN Framework Convention on Climate Change, UNFCCC, said, "This is an extraordinary momentum by nations and a clear signal of their determination to implement Paris now and raise ambition over the decades to come."
Countries depositing their instruments of ratification at today's event (31) are: Albania, Antigua and Barbuda, Argentina, Bangladesh, Belarus, Brazil, Brunei Darussalam, Dominica, Ghana, Guinea, Honduras, Iceland, Kiribati, Madagascar, Mexico, Mongolia, Morocco, Namibia, Niger, Panama, Papua New Guinea, Senegal, Singapore, Solomon Islands, Sri Lanka, Swaziland, Thailand, Tonga, Uganda, United Arab Emirates, and Vanuatu.
The 14 countries announcing their commitment to join the Agreement in 2016 are: Austria, Australia, Bulgaria, Cambodia, Canada, Costa Rica, Cote d'Ivoire, European Union, France, Germany, Hungary, Kazakhstan, New Zealand, Poland, and the Republic of Korea.
On April 22 this year, 175 world leaders signed the Paris Agreement, the most to ever sign a treaty on a single day. By the end of this week, 190 will have signed the Agreement, including Armenia, Chile, Kyrgyz Republic, Malawi, Moldova, Nigeria, Togo, Turkmenistan, Yemen and Zambia.
Paula Caballero, global director, Climate Program, World Resources Institute, said, "The world has banded together around a zero-carbon, climate resilient future, pushing us much closer to bringing the Paris Agreement into full effect."
"With 31 more countries joining, it is abundantly clear that support for the Paris Agreement is unwavering. The global community is rallying behind swift and ambitious action to combat climate change," she said. "The fact that Paris Agreement will likely enter into force this year took everyone by surprise. This rapid pace reflects a spirit of cooperation rarely seen on a global scale.