One-Third of World's Food Lost or Wasted
ROME, Italy, May 12, 2011 (ENS) – One-third of the food produced for human consumption in the world each year is lost or wasted, amonting to 1.3 billion metric tonnes, according to new research commissioned by the UN Food and Agriculture Organization.
Every year, the researchers learned, consumers in rich countries waste about 222 million metric tonnes of food, almost as much as the entire net food production of sub-Saharan Africa. Fruits and vegetables, roots and tubers have the highest wastage rates of any foods.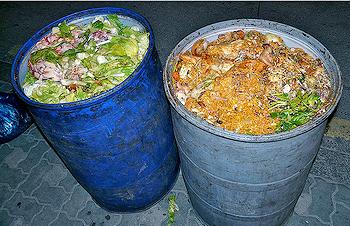 Wasted food, Seoul, Korea, March 2009 (Photo by temp13rec)
At the same time, 925 million people are hungry, and poor nutrition plays a role in at least half of the 10.9 million child deaths each year, according to FAO estimates from 2010.
Food loss and waste amount to a major squandering of resources, including water, land, energy, labor and capital and needlessly produce greenhouse gas emissions, contributing to global warming and climate change.
For this report, FAO hired the services of the Swedish Institute for Food and Biotechnology to carry out two studies on the extent and effects, causes and prevention of food losses and food waste – one for high and medium-income countries, and one for low-income countries.
Their report was prepared for Save Food! an international congress being held in Dusseldorf, Germany May 16-17 at the trade fair of the international packaging industry Interpack2011.
Save Food! aims to raise public awareness of global food losses and waste, and of the impact of these on poverty and hunger in the world, as well as on climate change and on the use of natural resources.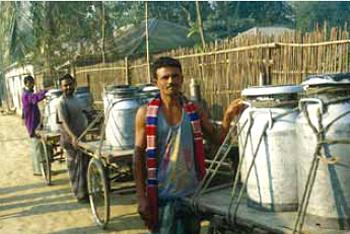 Transporting milk to market without refrigeration in hot and humid Bangladesh (Photo by G. Diana courtesy FAO)
The report distinguishes between food loss and food waste.
Food losses occur most often in developing countries, due to poor infrastructure, low levels of technology and low investment in the food production systems.
At the central wholesale market in Lahore, Pakistan, for instance, bananas are traded in unsanitary conditions, causing health hazards since food is handled and piled on the ground close to the gutter, the report states, adding, "This kind of market environment also causes food waste, since the unsanitary conditions and rough handling cause deterioration of fragile fresh products."
In developing countries 40 percent of food losses occur at post-harvest and processing levels, while in industrialized countries more than 40 percent of losses happen at retail and consumer levels.
Food waste is more a problem in industrialized countries, where it is most often caused by retailers and consumers throwing edible foodstuffs into the trash.
Per capita waste by consumers is between 95-115 kilograms (209-253 pounds) a year in Europe and North America, while consumers in sub-Saharan Africa and South and Southeast Asia each throw away only 6-11 kg (13-24 pounds) a year.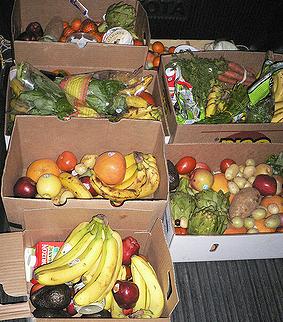 Fruits and vegetables recovered from a Los Angeles supermarket dumpster (Photo by Eric Einem)
The report offers several practical suggestions on how to reduce losses and waste.
In developing countries the food supply chain could be strengthened by assisting small farmers to link directly to buyers. Both private and public sectors should also invest more in infrastructure, transportation and in processing and packaging, the report recommends.
In middle-income and high-income countries food losses and waste are due to consumer behavior and lack of communication between different actors in the supply chain.
"Perhaps one of the most important reasons for food waste at the consumption level in rich countries is that people simply can afford to waste food," the report states.
At retail level, large quantities of food are wasted due to quality standards that over-emphasize appearance, the report finds.
But the researchers point to surveys showing that consumers are willing to buy produce not meeting appearance standards as long as it is safe and tastes good. Customers have the power to influence quality standards and should do so, the report says.
Farm produce could be sold closer to consumers in farmers' markets and farm shops, without having to conform to supermarkets' appearance standards, the authors suggest.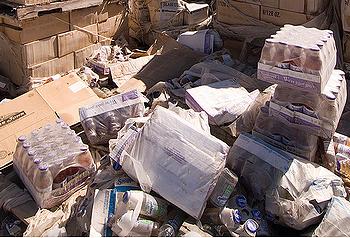 Tons of food discarded in a remote location in the Mohave Desert, California (Photo by Troy Paiva )
Good uses for foods that would otherwise be thrown away should be found. "Commercial and charity organizations could work with retailers to collect, and then sell or use products that have been disposed of but are still good in terms of safety, taste and nutritional value," the report recommends.
Consumers in rich countries are generally encouraged to buy more food than they need. "Buy three, pay two" promotions are one example, while the oversized ready-to-eat meals produced by the food industry are another. Restaurants frequently offer fixed-price buffets that spur customers to heap their plates.
At the same time, consumers in rich countries fail to plan their food purchases properly, the report finds. That means they often throw food away when "best-before" dates expired.
Education in schools and political initiatives are possible starting points to changing consumer attitudes, the report suggests. "Rich-country consumers should be taught that throwing food away needlessly is unacceptable."
"They should also be made aware that given the limited availability of natural resources it is more effective to reduce food losses than increase food production in order to feed a growing world population," the authors advise.
A separate report on food packaging for developing countries also prepared for the Save Food! congress notes that appropriate packaging is a key factor impacting losses occurring at almost every stage of the food chain.
Copyright Environment News Service (ENS) 2011. All rights reserved.