Old Tires, Carpets Become Engine Parts in New Ford Vehicles
DEARBORN, Michigan, July 15, 2011 (ENS) – Recycled tires, carpet and blue jeans are helping to reduce the environmental footprint of new Ford vehicles, the automaker said today.
"When it comes to finding a way to use more renewable and recyclable content in our vehicles, Ford and our suppliers are looking at every part of a vehicle," said Dr. Cynthia Flanigan, technical leader, research and innovation. "As long as an application makes sense and upholds strict quality standards, we'll look to get these sustainable materials inside our vehicles."
Ford and supplier Recycled Polymeric Materials (RPM) have found a way to give discarded tires new life as environmentally-friendly seals and gaskets for Ford vehicles.
The gaskets and seals are derived from 25 percent post-consumer particulate from recycled tires and 17 percent bio-renewable content from soy.
In total, more than 2.2 million pounds (997,903 kilos) of rubber from recycled tires has been made into RPM seals and gaskets and more than 210,000 used tires have been recycled.
In addition, 150,000 pounds (68,038 kilos) of soy has been used to create the seal and gasket materials.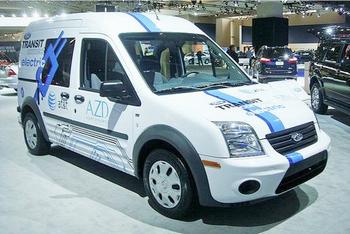 2011 Ford Transit Connect electric van incorporates recycled materials (Photo credit unknown)
The sustainable gaskets were first introduced to Ford in 2008 and are now used in 11 vehicle models. Ford Motor Company vehicles that feature the sustainable seals and gaskets include: Ford Escape, Ford Fiesta, Ford Focus, Ford Mustang, Ford Taurus, the Ford Transit Connect electric van, and the Lincoln MKS, as well as Ford's F-150, F-250 and F-350 pickup trucks and the Ford Flex crossover wagon/SUV.
Ford's "Reduce, reuse and recycle" commitment is part of the company's broader global sustainability strategy to reduce its environmental footprint while accelerating the development of advanced, fuel-efficient vehicle technologies.
Over the past several years Ford has focused on increasing the use of recycled plastics and bio-based materials, provided these materials are environmentally favorable and meet the company's durability and performance requirements.
Examples include soy foam seat cushions, wheat straw-filled plastic, recycled resins for underbody systems, recycled yarns on seat covers, post-consumer cotton from blue jeans made into interior padding and natural-fiber plastic for interior components.
"Our team continues to develop new technologies that reduce our environmental footprint," said Dr. Debbie Mielewski, technical leader, plastics. "We have already been successful in incorporating soy foam seats on all North American vehicles and are actively expanding the research front into a variety of new plastics and rubber areas."
On some models, Ford is using cylinder head covers made of a nylon resin from Wellman Engineering Resins made from 100 percent recycled carpet.
During 2010, Ford's use of Wellman's nylon resin EcoLon® saved more than 4.1 million pounds (1.86 million kilos) of carpet from landfills and reduced oil consumption by more than 10,238 barrels of oil.
The cylinder head covers are manufactured by Dana Holding Corporation.
"By working with Wellman and Dana, Ford has found a way to bring green applications to a new, unique location in our vehicles," said Brett Hinds, Ford manager, engine design. "This single use has made an incredible impact, and we're continuing to look for ways to expand the use."
The cylinder head covers are used on the 3.0-liter Duratec engine in Ford Fusion and Escape. They can also be found on the 5.0-liter engine, which powers Ford's Mustang and F-150 models.
"We didn't have to make compromises for this application," said Ford's engine sealing supervisor Roy Ford. "With a fixed raw material cost that delivers cost savings compared to oil, along with the green benefit, this application adds to the ways Ford is minimizing our impact on the environment."
Ford says about 85 percent of the materials used on Ford vehicles by weight are recyclable, and 95 percent of all vehicles retired from use each year are processed for recycling.
Copyright Environment News Service (ENS) 2011. All rights reserved.
Environment News Service (ENS) © 2011 – 2012 All Rights Reserved.