Oil Spills from Container Ship Grounded on New Zealand Reef
TAURANGA, New Zealand, October 6, 2011 (ENS) – A slick of heavy fuel oil five kilometers (three miles) long extends northward from the damaged container ship Rena, which ran aground on the Astrolabe Reef about 2:20 am on Wednesday.
Fuel is leaking from the Liberian-flagged vessel, which is stranded on Astrolabe Reef about 11.5 nautical miles from the Tauranga coast at the north end of New Zealand's North Island.
The 32-year-old, 236-metre, 47,000 tonne vessel was heading towards the Port of Tauranga from Napier, carrying about 1,700 metric tonnes of fuel. Two of its cargo holds are flooded and several breaches have been identified in the hull, according to Maritime New Zealand, which is handling the incident.
There are no reported injuries to the 25 crew, who will remain on board for the time being.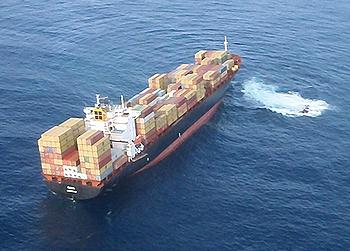 The cargo ship Rena grounded on Astrolabe reef (Photo courtesy Maritime New Zealand)
"We have been advised that the vessel is carrying four containers of ferrosilicon. This substance, which is a solid matter, has the potential to cause risk if it comes into contact with water. It can give off hydrogen which can cause a fire risk," warned Maritime New Zealand.
Transport Minister Steven Joyce warns there is a risk the damaged ship could break up. A spokeswoman for the minister told NZ Newswire the situation is "probably going to get worse."
Regional Harbour Master Carl Magazinovic has directed all unauthorized vessels to stay at least one kilometer (0.62 miles) clear of the Astrolabe Reef and the grounded ship until further notice.
Magazinovic said "sightseeing vessels" have attempted to approach the grounded ship, potentially causing safety issues and disrupting response efforts.
"This situation is expected to continue for some time so we will be monitoring movement of vessels around the area, and anyone found breaching the exclusion zone could face a fine of up to $20,000," he said.
An Incident Command Centre has been established at Mount Maunganui.
National On Scene Commander Rob Service said an observation flight this afternoon identified a significant oil slick. It is still unknown how much oil had spilt from the vessel.
The spill response escalated this afternoon, following confirmation that dispersant applied to the oil slick is proving to be ineffective.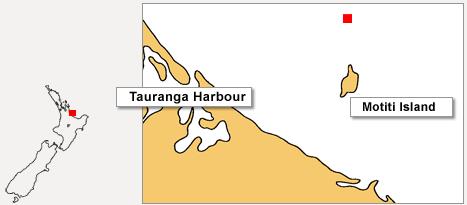 Red square marks the location of the grounded cargo ship Rena (Map courtesy Maritime New Zealand)
Service said despite initial indications that dispersant testing had proved effective, further analysis had confirmed the Corexit 9500 was not dispersing the oil. Other dispersant options are being considered.
The response team is preparing for an on-water recovery operation, which would scoop oil off the water by teams on vessels using specialized equipment.
"Extra equipment and people will be arriving overnight and tomorrow to run a recovery operation. We must also prepare for a potential shoreline cleanup," said Service.
Reports of oil heading towards a marine reserve surrounding Tuhua (Mayor) Island were incorrect, said Service. An observation flight this afternoon confirmed no oil in the vicinity of the island.
Maritime New Zealand says the vessel's fuel tanks are still intact with the majority of the 1,700 cubic metres of fuel oil on board held within them. The heavy fuel oil leaking from the vessel appears to be from pipes.
As a precautionary measure, fuel in tanks on the port side has been transferred to the starboard side. Pumps are in operation to remove water from the cargo holds.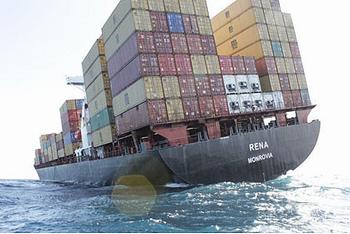 The Rena could break up, warns Transport Minister Steven Joyce (Photo courtesy MNZ)
The ship's captain is in discussion with the ship's owner and salvage experts to assess how best to move the ship off the reef – this is expected to take some time.
Svitzer has been appointed as the salvor and salvors are on board the vessel examining how best to resolve the situation. "Their priority at this stage is to remove the fuel from the vessel to prevent it causing further damage," Service said.
"We are aware this situation is causing concern, particularly for Bay of Plenty residents," he said. "The situation is being managed in accordance with the National Oil Spill Contingency Plan and international best practice."
"Our professional and expert Maritime New Zealand team is being further supported by international advisors with extensive experience in oil spill response," he said.
"We will have shoreline assessment teams on Papamoa Beach tomorrow, doing pre-clean surveys, which means identifying vulnerable areas and assessing cleanup options," said Service. "There will also be wildlife teams on the shores of Motiti Island and Maketu Peninsula, identifying any affected wildlife."
There are petrels, little blue penguins and a seal colony in the area. An oiled wildlife response is being mobilized in Tauranga following reports of four dead birds found in the water near the grounded vessel.
Oiled Wildlife Response Coordinator Kerri Morgan, from Massey University, said the team has now activated its response plans. An oiled wildlife response center will be set up at the Tauranga Wastewater treatment plant. A further base will be set up on Motiti Island.
Morgan said around 20 responders, including veterinarians, are expected to be settled on the island tonight, ready to respond at first light tomorrow.
The cause of the grounding is under investigation by Maritime New Zealand. The Transport Accident Investigation Commission will be conducting a separate investigation.
Copyright Environment News Service (ENS) 2011. All rights reserved.