Ohio Governor Cracks Down on "Dangerous Wild Animal" Owners
COLUMBUS, Ohio, October 21, 2011 (ENS) – Ohio Governor John Kasich today signed an executive order instructing state agencies to use "existing but underused legal powers" to deal with "dangerous wild animals."
The order comes after a man panicked local residents by releasing tigers, lions, leopards, bears, wolves and other animals from cages on his property in Zanesville, Ohio before shooting himself.
Terry Thompson, 62, released 56 animals from his Muskingum County Animal Farm on Tuesday before committing suicide.
Sheriff's deputies hunted down and killed 48 of the animals at large, including 18 endangered Bengal tigers, 17 lions and eight bears.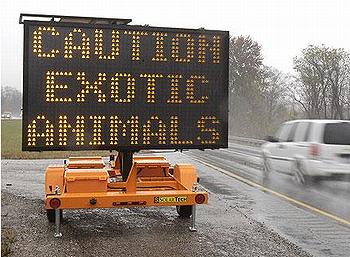 Police posted warning signs for motorists while the hunt took place, October 19, 2011 (Photo credit unknown)
The hunt across the Ohio countryside lasted nearly 24 hours. Schools were closed, residents were warned to remain inside and emergency signs warning motorists to stay in their cars were posed while the animals were on the loose.
Three leopards, a young grizzly bear and two Celebes macaque monkeys were recaptured and sent to the Columbus Zoo where they are now in quarantine. Zoo officials are appealing to the public for funds for the "relocation, care and rehabilitation" of the animals.
Ohio is one of seven states that does not restrict ownership of such exotic animals. The others are North and South Carolina, Alabama, West Virginia, Nevada and Wisconsin.
Under Governor Kasich's executive order, the Ohio Department of Natural Resources, DNR, will review existing permits to ensure proper compliance and perform onsite inspections "to the fullest extent possible with existing resources." Additional resource needs will be identified for future enforcement.
The Ohio Department of Agriculture will impose a temporary moratorium on the sale of dangerous wild animals by auction houses, the executive order states. The Department will work with the U.S. Department of Agriculture, local law enforcement, veterinarians and humane societies to identify and shut down unlicensed auctions.
Led by the DNR, a task force including representatives of the Columbus Zoo, the Humane Society of the United States, county prosecutors, and veterinarians has been crafting a new legal framework for the General Assembly's consideration that would give Ohio the authority to regulate dangerous wild animals. That task force will complete its work and submit its report by November 30.
Saying that, "A safe and appropriate location to house confiscated or impounded dangerous wild animals is essential to enforcing existing animal cruelty and public health laws, as well as future Ohio laws regulating these animals," the executive order provides that Ohio will "work with zoos to identify their ability to accept animals that are confiscated or impounded and help meet their needs."
Ohio will establish toll-free hotline and website and work with local law enforcement agencies, veterinarians, county humane societies, and other stakeholders to identify potential problem locations where dangerous wild animals are kept so authorities can ensure all existing laws and regulations are being followed and enforced.
The Humane Society of the United States warns that "lax laws in Virginia" would hardly keep such incidents from occurring there. The organization is calling on Virginia Governor Bob McDonnell to issue an emergency order or otherwise direct the Virginia Department of Natural Resources to adopt regulations on the sale and possession of dangerous wild animals.
In view of the Zanesville incident, the World Wildlife Fund today again called for a national ban on the private ownership of tigers, as the group has for years. Currently, federal law regulates the interstate transport of big cats, but states regulate their ownership.
The nonprofit group estimates that there are 5,000 tigers in captivity in the United States, more than there are in the wild across the world, where an estimated 3,200 tigers remain.
"The tragedy in Ohio was a public safety nightmare and highlights the urgent need for a ban on privately-owned tigers in this country," said Leigh Henry, senior policy advisor for species conservation.
"In addition to safety issues, captive tiger populations can have a direct effect on the demand for illegal tiger parts around the world, resulting in increased poaching," said Henry. "We have a responsibility to close these loopholes, protect the public and save one of the most magnificent species on the planet."
Copyright Environment News Service (ENS) 2011. All rights reserved.