Officials Seize 1.3 Tonnes of Illegal Ivory at Nairobi Airport
NAIROBI, Kenya, May 6, 2011 (ENS) – Illegal ivory destined for West Africa and purported to be from two non-existent embassies based in Nairobi was seized last night at the Jomo Kenyatta International Airport.
The 115 pieces of elephant ivory weighing 1.3 metric tonnes were packed in 14 metal boxes disguised as diplomatic baggage.
Following a tip from a member of the public, the ivory was detected and seized at about 9:30 pm by a joint security team that included the Kenya Airports Police Unit, the Kenya Revenue Authority Customs Department, and the Kenya Wildlife Service.
The contraband, which was destined for Lagos, Nigeria had been brought to the airport by unidentified people.
Out of the 14 boxes, three were labelled as being from the Embassy of Papua New Guinea while 11 were labelled as being from the Embassy of the Kingdom of Brunei.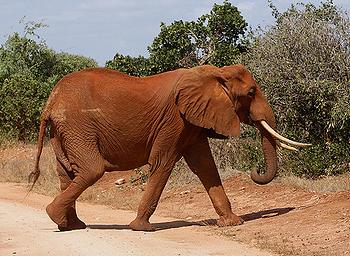 Tusker in Kenya's Tsavo National Park, September 2010 (Photo by Rasemarie)
A joint team of law enforcement agencies is investigating to establish the true origin of the consignments and the suspects behind them. This includes DNA testing of the ivory to determine its actual origin.
According to our records, the number of elephants illegally killed in Kenya in 2010 was 187 while this year it was 80 elephants at the end of April.
International trade in ivory was banned in 1989 by the Convention on International Trade in Endangered Species, but seizures have risen sharply in the past five years.
In response to the challenges of poaching and illegal trafficking in wildlife trophies, Kenya Wildlife Service is implementing wide-ranging reforms.
Kenya Wildlife Services Director Julius Kipngetich says the Service plans to introduce sniffer dogs at the Port of Mombasa as part of measures to curb the illegal shipping of ivory.
"We are also strengthening linkages with other law enforcement agencies and international cooperation," said KWS Corporate Communications Manager Paul Udoto.
Udoto said KWS would like to express its sincere appreciation to the other law enforcement agencies involved in this operation and the support from the public which led to the seizure.
At the same time, KWS would like to reiterate its call for the fast tracking of the passing of the new wildlife policy and legislation to provide for more deterrent sentences, and inter-agency collaboration to fight the crimes.
Poaching of elephants in central and eastern Africa has intensified in recent years, with much of the illegal ivory exported to Asia.
Late night's interception of the ivory shipments at the airport follows a seizure of 2.03 metric tonnes of ivory by Thai Customs officials at Bangkok seaport on March 30. This ivory had been shipped through the Port of Mombasa hidden in a shipment of frozen fish.
The amount of ivory seized in Bangkok may be equated to at least 123 elephants killed, but Udoto says it is not clear "if all the animals were poached in Kenya if at all."
The 247 tusks, some up to two meters long, were found during an X-ray scan of a shipping container labeled as frozen mackerel among 100 boxes in a boat at Bangkok Port on the Chao Phraya river.
Copyright Environment News Service (ENS) 2011. All rights reserved.
© 2011 – 2012, . Environment News Service (ENS) © 2021 All Rights Reserved.