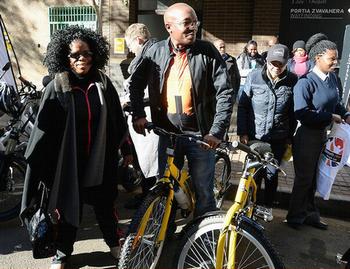 JOHANNESBURG, South Africa, October 6, 2014 (ENS) – Ecomobility – an integrated form of mobility that combines walking and cycling with riding public transit – is the focus of Johannesburg's 2014 Transport Month. All during October, activities planned throughout this city of 752,000 residents encourage car-free transportation.
Under the theme "Towards Ecomobility – Walk, Cycle and Use Public Transport," events will make it easier for residents to find substitutes for petrol-powered vehicles as the City charts its way to a car-free future.
Transport Month is led by Christine Walters, a member of the Mayoral Committee for Transport.
"It's all systems go," said Walters, referring to the City's readiness for Transport Month. "This is another important step towards a future in which we will not need a car to get around."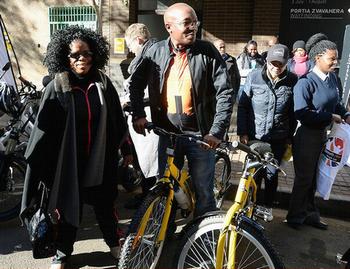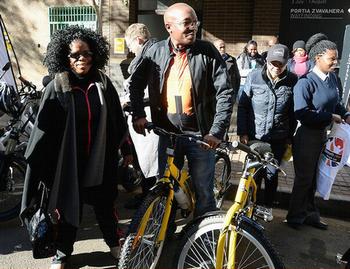 Johannesburg launched Transport Month with a green transport summit, held at the University of Johannesburg on October 1.
Addressed by top local and international experts, the Go Mobility Summit was focused on burning natural gas rather than gasoline. It was part of the city's efforts to reduce dependence on fossil fuels, reduce air pollution and carbon emissions and enable local job creation and income generation initiatives.
Walters emphasized the City's commitment to using natural gas as an alternative fuel source in its own fleet, and to promoting its use within the minibus taxi industry as well as among other public transport operators and private vehicles.
"The objective of doing this is to reduce the City's dependence on fossil fuels, reduce air pollution and carbon emissions and enable local job creation and income generation initiatives," said Walters.
In another Transport Month initiative, Johannesburg officials want to create "Corridors of Freedom." In these high-density residential developments residents will live near places of work, schools, shopping malls and places of leisure; the only means of transport will be bicycles or the Rea Vaya bus rapid transit (BRT) system.
Such a lifestyle, local officials believe, will improve the quality of life of residents and contribute to healthy living and longer life expectancy.
On Saturday, October 4, the City partnered with Absa City Festival by providing dedicated Rea Vaya BRT services, including carrying rugby fans from park-and-ride facilities to Ellis Park Stadium for the Lions vs All Blacks rugby match.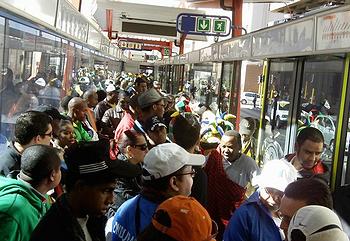 Rea Vaya, which means "we are going," has opened in phases starting in August 2009. Rea Vaya links the Johannesburg central business district and Braamfontein with Soweto. Opened over the fierce objections of Johannesburg's taxi drivers, City officials are using Transport Month as an avenue for popularizing the Rea Vaya BRT.
As part of the City's commitment to improving public transport safety, a safety awareness campaign in partnership with the taxi industry will be conducted at the Baragwanath Taxi Rank in Soweto later in the month.
The city's women will play an important role as the City hosts a Women in Transport and Construction Seminar on October 21. The seminar will focus on motivating women in emerging companies by identifying opportunities in the transport sector.
A highlight of Transport Month is coming up on October 23, when the first dedicated cycling and walking pathways in Orlando, Soweto will be inaugurated in partnership with the national government of South Africa.
A popular public transport adventure, during which teams compete to visit places of interest using public transport, will be held again this year under the name of "Kasi to Kasi."
Another Transport Month highlight will be the Ecomobility Weekend in Maboneng, a privately developed urban neighborhood on the eastern side of Johannesburg. From October 24-26 certain streets will be closed and visitors encouraged to use public transport to get to the retail, restaurants and entertainment venues of the precinct.
On November 1, the City will stage an "open street" event in Kaalfontein and officially launch the recently improved sidewalks in this area.
Transport Month 2014 will serve as a dress rehearsal for next year's transport-related activities, when Johannesburg will host the second Ecomobility World Festival, which seeks to promote a car-free environment.
Copyright Environment News Service (ENS) 2014. All rights reserved.