Oceanic Plastic Trash Troubling Enough Without Exaggeration
CORVALLIS, Oregon, January 5, 2011 (ENS) – There is a "troubling" amount of plastic trash floating in the Pacific Ocean, warns an Oregon State University scientist, but she is debunking claims that the Great Pacific Garbage Patch between California and Japan is twice the size of Texas.
Angel White, an assistant professor of oceanography at Oregon State, says claims that the patch has been growing tenfold each decade since the 1950s and that the oceans are filled with more plastic than plankton are "grossly exaggerated."
"There is no doubt that the amount of plastic in the world's oceans is troubling, but this kind of exaggeration undermines the credibility of scientists," White said Tuesday.
"We have data that allow us to make reasonable estimates; we don't need the hyperbole," she said. "Given the observed concentration of plastic in the North Pacific, it is simply inaccurate to state that plastic outweighs plankton, or that we have observed an exponential increase in plastic."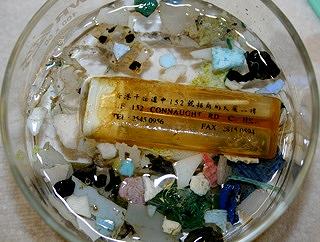 Plastic trash, including a lighter from Hong Kong, found on the C-MORE expedition to the North Pacific Gyre. (Photo courtesy C-MORE)
White took part in one of the few expeditions solely aimed at understanding the abundance of plastic debris and the impact of plastic on microbial communities.
The expedition, which took place August 25 through September 5, 2008 was part of research funded by the National Science Foundation through C-MORE, the Center for Microbial Oceanography: Research and Education, based at the University of Hawaii in Honolulu.
If you look at the actual area of the plastic itself, rather than the entire North Pacific Gyre in which it cycles, the "cohesive" plastic patch is actually less than one percent of the geographic size of Texas, White says.
"The amount of plastic out there isn't trivial," White said. "But using the highest concentrations ever reported by scientists produces a patch that is a small fraction of the state of Texas, not twice the size."
One recent claim that the Great Pacific Garbage Patch is as deep as the Golden Gate Bridge is tall is completely unfounded, White said.
The relationship between microbes and plastic is what drew White and her C-MORE colleagues to their analysis. On their expedition, they discovered that photosynthetic microbes were thriving on many plastic particles.
While plastic may be beneficial to some organisms, it can also be toxic, White confirms, and she is concerned that floating debris may allow invasive species to migrate into sensitive habitats.
"On one hand, these plastics may help remove toxins from the water," she said. "On the other hand, these same toxin-laden particles may be ingested by fish and seabirds. Plastic clearly does not belong in the ocean."
"If there is a takeaway message, it's that we should consider it good news that the garbage patch doesn't seem to be as bad as advertised," White said, "but since it would be prohibitively costly to remove the plastic, we need to focus our efforts on preventing more trash from fouling our oceans in the first place."
Keeping plastic trash out of the oceans is a primary goal of the Plastic Pollution Coalition's 2011 international campaign.
"This campaign presents four strong challenges for change which will have an immediate impact on our environment," said Daniella Russo, executive director of the Plastic Pollution Coalition. "The window of opportunity is now."
At an event November 6, 2010 known as TedxGreatPacificGarbagePatch forum, the coalition gathered 150 leaders, artists, activists and scientists in Santa Monica, California and coordinated 75 watch parties and satellite events across the United States and on every continent.
Emerging from the event were the four challenges that the coalition says limit plastic debris in the oceans.
The first challenge is to individuals and businesses to refuse disposable plastics. Social activist and media personality Erica Williams told forum participants that nothing justifies the use of disposable plastics. "These objects, created to be used for only a few moments, stay with us forever at a tremendous cost to the planet and the environment," she said.
The second challenge is to manufacturers of virgin resin product, plastic packaging and plastic products to take responsibility for their products, develop alternatives, and voluntarily cap non-biodegradable virgin resin product.
The third challenge is to policymakers and political leaders worldwide to develop policies that curb the irresponsible use of plastics.
The fourth challenge is to all nations threatened by plastic pollution to united against the onslaught of plastic to the environment, economic well-being and public health.
Stuart Beck, permanent representative to the United Nations from the Pacific island nation of Palau, told participants at the TEDxGreatPacificGarbagePatch event, "Plastic pollution is destroying our ocean, our planet, and ultimately our own individual bodies and health. The time has come to a put a stop to it."
"We need to make these changes together," said Russo. "We promise to work with individuals, businesses, and government policymakers to ensure we stop the devastating, toxic plastic pollution of our oceans, our environment and our bodies."
Copyright Environment News Service (ENS) 2011. All rights reserved.