Obama's New Fuel Economy Standards Require 49.6 mpg by 2025
WASHINGTON, DC, November 16, 2011 (ENS) – The U.S. Environmental Protection Agency and the U.S. Department of Transportation today formally unveiled their joint proposal to set stronger fuel economy and greenhouse gas emissions standards for model year 2017-2025 passenger cars and light trucks.
The proposed Corporate Average Fuel Economy, or CAFE, standards are projected to require 40.1 miles per gallon in model year 2021, and 49.6 mpg in model year 2025, on an average industry fleet-wide basis for cars and trucks combined.
The EPA's proposed greenhouse gas standards, which are harmonized with the CAFE standards, are projected to require emissions of no more than 163 grams/mile of carbon dioxide, CO2, in model year 2025. This CO2 standard is equivalent to 54.5 mpg if this level of emissions were achieved solely through improvements in fuel efficiency, the EPA says.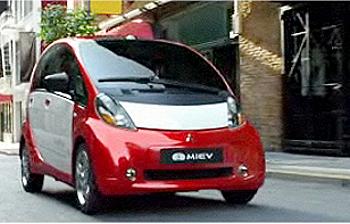 The 2012 Mitsubishi i-MiEV electric car is the fuel economy leader according to the latest EPA figures, released November 16, 2011 (Photo courtesy Mitsubishi)
Cars, SUVs, minivans, and pickup trucks are currently responsible for nearly 60 percent of U.S. transportation-related petroleum use and greenhouse gas emissions.
These proposed standards will cut oil consumption by four billion barrels and cut two billion metric tons of greenhouse gas emissions over the lifetimes of the vehicles sold in those years, the agencies said.
U.S. Transportation Secretary Ray LaHood said, "These unprecedented standards are a remarkable leap forward in improving fuel efficiency, strengthening national security by reducing our dependence on oil, and protecting our climate for generations to come. We expect this program will not only save consumers money, it will ensure automakers have the regulatory certainty they need to make key decisions that create jobs and invest in the future."
"We are pleased that we've been able to work with the auto industry, the states, and leaders in the environmental and labor communities to move toward even tougher standards for the second phase of the President's national program to improve fuel economy and reduce pollution," said LaHood.
Mitch Bainwol, president and CEO of the Alliance of Automobile Manufacturers, said, "This proposal continues the approach of establishing a single, national fuel economy program for fuel economy and greenhouse gas emissions, which is the right overall direction."
The Alliance of Automobile Manufacturers is a trade association of 12 car and light truck manufacturers including BMW, Chrysler, Ford, General Motors, Jaguar Land Rover, Mazda, Mercedes-Benz, Mitsubishi, Porsche, Toyota, Volkswagen and Volvo.
"The proposed regulations present aggressive targets," Bainwol said, "and the administration must consider that technology breakthroughs will be required and consumers will need to buy our most energy-efficient technologies in very large numbers to meet the goals."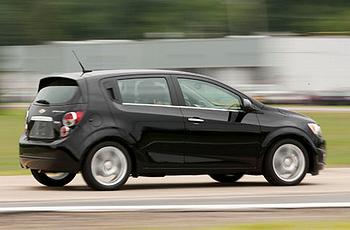 The fuel-efficient 2012 Chevrolet Sonic gets 40 mpg on the highway and achieves zero-to-60 mph in 8.2 seconds. (Photo courtesy Chevrolet)
EPA Administrator Lisa Jackson said, "By setting a course for steady improvements in fuel economy over the long term, the Obama administration is ensuring that American car buyers have their choice of the most efficient vehicles ever produced in our country. That will save them money, reduce our nation's oil consumption and cut harmful emissions in the air we breathe."
Consumers now have many choices when shopping for fuel-efficient vehicles because automakers have invested billions of dollars in new technologies already, said Bainwol.
"Today, on dealers' lots, there are more than 265 models that achieve 30 plus miles per gallon, with more coming," he said. "Sales of these and even more fuel-efficient vehicles will be critical to achieve these policy goals."
Today's action builds on the success of the first phase of the Obama administration's national program, which covers the model years 2012-2016. These earlier CAFE standards raise fuel efficiency equivalent to 35.5 mpg by 2016 and result in an average light vehicle tailpipe CO2 level of 250 grams per mile.
Combined with 2011 fuel economy standards and the standards in effect for 2012-2016, "Today's proposal represents the most significant federal action ever taken to reduce greenhouse gas emissions and improve fuel economy," the EPA says.
In total, these actions would reduce greenhouse gas emissions by half and result in model year 2025 light-duty vehicles with nearly double the fuel economy of model year 2010 vehicles.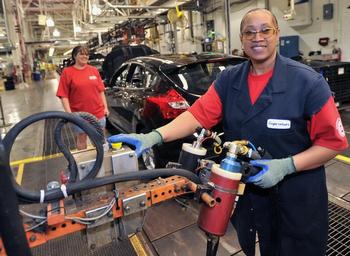 2012 Ford Focus assembly line worker Elainna Sammons at the Michigan Assembly Plant (Photo by Sam VarnHagen courtesy Ford)
Automakers say the newly proposed CAFE standards will create more jobs.
"Sales of autos are inextricably linked to jobs," said Bainwol. "Today, eight million jobs depend on autos in the U.S., and not only jobs in states like Michigan, Ohio and Indiana, but also in Tennessee, Alabama and South Carolina. Aluminum for autos comes from Pennsylvania, carpeting comes from North Carolina and electronic components come from California. In fact, suppliers stretch across this country. So as we set national policy, we need to remember that fuel economy is also an economic issue."
Small Business Majority founder and chief executive John Arensmeyer said his members are behind the new CAFE standards.
"Our poll of more than 1,200 small business owners across the country found 87 percent of small business owners overwhelmingly support adopting strong standards now, and 80 percent support requiring the auto industry to increase mileage to 60 mpg by 2025 – an even stronger standard than the one the Obama Administration has announced."
Support from small businesses for increasing fuel economy standards is high in states with large auto manufacturing sectors, including Michigan (73 percent) and Ohio (75 percent), Arensmeyer said.
There is also strong support (71 percent) in the influential automotive market of California, which is preparing to update its Clean Cars Program aimed at reducing carbon emissions from cars sold in the state, he said.
California plans to issue its proposal for model year 2017-2025 vehicle greenhouse gas standards on December 7 and will finalize its standards in January.
Arensmeyer said, "Small business owners say stronger gas mileage standards will help American automakers innovate, improve efficiency and compete in the global economy."
There will be an opportunity for the public to comment on the proposal for 60 days after it is published in the Federal Register. In addition, the Department of Transportation and the EPA plan to hold several public hearings around the country.
Click here for a Fact Sheet on the newly proposed CAFE standards.
Copyright Environment News Service (ENS) 2011. All rights reserved.