Obama's 2011 Budget Trims Environment, Fattens Energy Spending
WASHINGTON, DC, February 1, 2010 (ENS) – The Obama Administration today sent to Congress an overall budget of $3.8 trillion in fiscal year 2011 that projects a record budget shortfall of $1.6 trillion.
There are 126 terminations, reductions, and other areas of savings identified that will save approximately $23 billion next year, according to the White House Office of Management and Budget.
Addressing the nation today, President Barack Obama emphasized "common sense" spending cuts such as the removal of "$115 million from a program that pays states to clean up mines that have already been cleaned up."
"We're also cutting a Forest Service economic development program that strayed so far from any mission that it funded a music festival," Obama said, "and we're saving $20 million by stopping the refurbishment of a Department of Energy science center that the Department of Energy does not want to refurbish."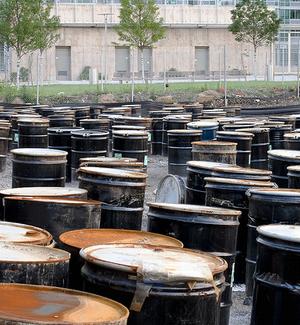 Brownfield remediation barrels in Long Island City, New York (Photo by Mitch Waxman)
"Other cuts, though, are more painful, because the goals of the underlying programs are worthy," the President said. "We eliminate one program that provides grants to do environmental clean up of abandoned buildings. That's a mission I support, but there are other sources of private and public funds to achieve it."
The budget supports job creation with $100 billion in further stimulus spending, along with higher taxes on the wealthy in an effort to cover part of the deficit.
Three of the federal agencies that handle environmental issues had their budgets cut – the Department of the Interior, the Department of Agriculture and the U.S. Environmental Protection Agency – while the Department of Energy budget was increased by $1.8 billion.
The administration's $12.2 billion budget request for the Department of the Interior contains $750 million in reductions and terminations of lower priority programs and elimination of one-time funding. The 2011 budget is $38.7 million below the level enacted by Congress for 2010.
The President's Budget provides $26 billion for the Department of Agriculture amounts to what Agriculture Secretary Tom Vilsack said today is "a bottom line reduction to our discretionary budget authority of over $1 billion."
The U.S. Environmental Protection Agency budget request for Fiscal Year 2011 is $10 billion, an overall budget reduction for the agency of $278 million.
"This budget cuts spending while promoting clean air, land and water, growing the green economy and strengthening enforcement," said EPA Administrator Lisa Jackson on a teleconference call with reporters today.
The biggest reductions are $200 million from the State Revolving Funds and $175 million from the Great Lakes Restoration Initiative, and the elimination of $157 million for Targeted Water Infrastructure Grants.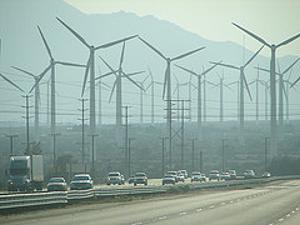 Smog envelopes wind turbines in North Palm Springs, California. (Photo by Poormanc)
No EPA employees could lose their jobs due to the cuts in the proposed budget. Instead, the number of EPA full time employees would increase by 154 staff positions, according to EPA spokesperson Enesta Jones.
"To meet our environmental challenges and ensure fiscal responsibility, we're proposing targeted investments in core priorities, Jackson said, emphasizing seven priorities she outlined earlier as being central to her management strategy – cleaning up communities, improving air quality, building strong state and tribal partnerships, taking action on climate change, protecting America's waters, assuring the safety of chemicals, and expanding the conversation on environmentalism and working for environmental justice.
Environmentalists approve of the clean energy sections of this budget.
Sierra Club Executive Director Carl Pope said, "Taking the agencies off the Bush administration's starvation diet has allowed Lisa Jackson to put the 'P' back in EPA, helped Ken Salazar turn around a very troubled Interior Department, and allowed many other agencies to once again carry out the most basic elements of their missions."
Wesley Warren, director of programs with the Natural Resources Defense Council, said, "With this budget, President Obama is starting to usher in a clean energy economy. That means more jobs, less carbon pollution and a more secure nation. His budget promotes America's energy independence by reducing our reliance on foreign oil, starting the transition away from dirty fossil fuels, and investing in conservation and clean power like wind and solar."
"Cutting harmful greenhouse pollution and ramping up renewable energy will secure our nation and foster innovation that will make our economy more competitive," Warren said. "Now it's up to Congress to deliver on the President's funding priorities for a cleaner, more secure America."
The Energy Department's Fiscal Year 2011 budget request of $28.4 billion, a 6.8 percent or $1.8 billion increase from FY 2010, supports the President's commitment to respond in a considered, yet expeditious manner to the challenges of rebuilding the economy, maintaining nuclear deterrence, securing nuclear materials, improving energy efficiency, incentivizing production of renewable energy, and curbing greenhouse gas emissions that contribute to climate change, said Energy Secretary Steven Chu.
The Energy Department budget eliminates more than $2.7 billion in tax subsidies for oil, coal and gas industries. This step is estimated to generate more than $38.8 billion dollars in revenue for the federal government over the course of the next 10 years.
It terminates the Ultra-Deepwater exploration program, saving $50 million, and cancels the planned expansion of the Strategic Petroleum Reserve, saving $71 million.
"The President's budget cuts wasteful spending while making wise investments in innovation and clean energy that will put Americans back to work, save families money and keep our nation competitive in the global marketplace," said Secretary Chu. "This budget supports new approaches to energy research and invests in the next generation of scientists and engineers, and it will spark new clean energy projects nationwide, including restarting the American nuclear power industry."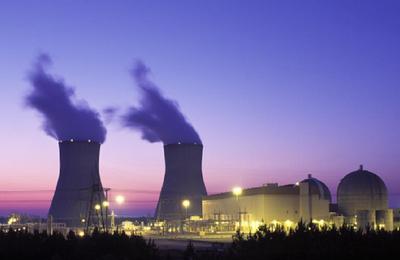 The two unit Vogtle nuclear power plant near Augusta, Georgia is licensed to 2040. Planning for two additional units is underway. (Photo courtesy NRC)
It is this budget's support for a renaissance of the nuclear power industry that has environmentalists up in arms. The budget proposes to increase to $54.5 billion, from $18.5 billion currently allotted, the amount of federal loan guarantees that can be accessed by companies planning to build new nuclear power plants.
Pope of the Sierra Club called this provision "troubling," saying, "Due to the very high risk of default, we think it unwise to put taxpayers on the hook when the industry itself and even Wall Street refuses to do so. The loan guarantees are a bad deal for taxpayers and amount to a bailout for an industry already awash in subsidies."
"We believe that this money could be far better spent on cleaner, cheaper, safer, and faster ways to reduce emissions, such as increasing the amount of loan guarantees available to make commercial and residential buildings more energy efficient," Pope said.
The NRDC's Warren said, "Providing additional loan guarantees for the nuclear power industry would be a mistake. This is a mature industry that generates high-cost, non-renewable energy and dangerous waste. It should not receive additional taxpayer subsidies."
The nuclear industry was delighted with the loan guarantee budget request. License applications for 22 potential new reactors to be built over the next 10 to 20 years are under active review by the U.S. Nuclear Regulatory Commission.
Nuclear Energy Institute President and CEO Marvin Fertel said, "These loan guarantees will serve as a catalyst to accelerate construction of new nuclear plants, creating thousands of high-paying, long-term jobs in the process. By supporting new reactors, loan guarantees also will reinvigorate U.S. manufacturing capability for nuclear energy components."
Opponents of the loan guarantees sent more than 3,000 letters to President Obama in less than 48 hours challenging his State of the Union statement that nuclear power is safe and clean and demanding that the administration not increase subsidies for nuclear power development.
"President Obama needs to remember what Candidate Obama promised – no more taxpayer subsidies for nuclear power," said Michael Mariotte, executive director of the nonprofit Nuclear Information and Resource Service. "Renewables and energy efficiency provide both greater carbon emissions reductions and more jobs per dollar spent than nuclear. Unlike nuclear power, they are relatively quick to install, and are actually safe and clean."
Copyright Environment News Service (ENS) 2010. All rights reserved.