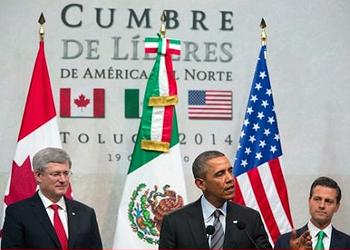 TOLUCA, Mexico, February 20, 2014 (ENS) – Without revealing any decision, President Barack Obama Wednesday made his strongest statement to date on the potential environmental impact of the controversial Keystone XL pipeline.
The cross-border pipeline proposed by the Canadian company TransCanada would carry heavy crude oil from the Alberta tar sands to refineries on the Gulf of Mexico. But to proceed it needs a Presidential Permit, which rests on the determination that it is in the U.S. national interest. "Our national interest will be served only if this project does not significantly exacerbate the problem of carbon pollution," Obama said last summer. On Wednesday, he went even further.
During a news conference at the close of the North American Leaders Summit hosted by Mexico's President Enrique Peña Nieto, and in the presence of Canada's Prime Minister Stephen Harper, President Obama said the climate impact of greenhouse gases associated with the controversial pipeline would "affect all of our decisions…"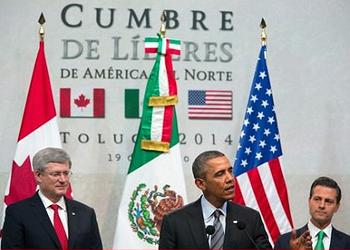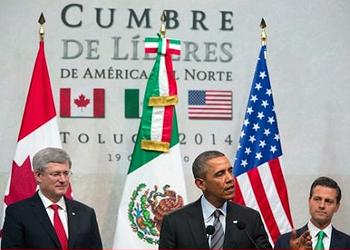 "I said previously that how Keystone impacted greenhouse gas emissions would affect our decision, but, frankly, it has to affect all of our decisions at this stage, because the science is irrefutable. We're already seeing severe weather patterns increase. That has consequences for our businesses, for our jobs, for our families, for safety and security. It has the potential of displacing people in ways that we cannot currently fully anticipate, and will be extraordinarily costly," said President Obama.
Emphasizing the shared interest of the United States and Canada in preventing such disasters, Obama said, "One of the wonderful things about North America is we have this amazing bounty of traditional fossil fuels, and we also have extraordinary businesses that are able to extract them in very efficient ways. And that's something that we should welcome because it helps to promote economic growth."
"But we only have one planet," said Obama, "and so I believe that ultimately we can both promote economic development and growth, recognizing that we're not going to immediately transition off of fossil fuels, but that we do have to point to the future and show leadership so that other countries who will be the main emitters fairly soon – China, India, other emerging markets – so that they can look at what we're doing and we have leverage over them in terms of them improving their practices as well."
"So this will be a joint effort. I'm very eager to consult with Stephen around those issues. And Keystone will proceed along the path that's already been set forth," Obama said.
At this point in the U.S. decision process, the State Department has gone through its review. There is now a comment period in which other agencies weigh in. All of that information will be evaluated by Secretary of State John Kerry, and then President Obama will make a decision.
Prime Minister Harper said, "President Obama and I had an exchange on this. My views in favor of the project are very well known. His views on the process are also equally well known. And we had that discussion and will continue on that discussion."
Also emphasizing the common interests of the two countries, Harper said, "On the issue of climate change, which is a shared concern, Canada and the United States have similar targets at the international level. We already cooperate in several sectors in terms of emissions reductions. But in terms of climate change, I think the State Department report already was pretty definitive on that particular issue."
In its final environmental review of the Keystone XL pipeline, issued January 31, the U.S. State Department acknowledged for the first time, that the pipeline could "significantly impact" climate change.
Unlike its previous reviews of the pipeline, the State Department's new Final Supplemental Environmental Impact Statement does not claim that the environmental impacts of the pipeline would be minimal.
Instead, the State Department FEIS says, "The total direct and indirect emissions associated with the proposed Project would contribute to cumulative global GHG [greenhouse gas] emissions."
The three North American leaders addressed other environmental issues, including clean energy, climate change, and protection of the Monarch butterfly, which summers in the United States and Canada but spends its winters in a shrinking area of Mexican forests.
President Nieto said in the joint press conference, "We have also agreed to foster sustainable development, working towards the mitigation of the effects of climate change."
"And in the area of sustainability, we have also agreed to work on the preservation of the Monarch butterfly. It is a landmark species in North America. This is a species present in our three countries, and we have agreed to work a taskforce with a presentation from our three countries to preserve the Monarch butterfly," said Nieto.
The three governments agreed to establish a working group to ensure the conservation of the Monarch butterfly, "a species that symbolizes our association."
After the day's meetings, the three leaders said in a joint statement, "Energy is a trilateral priority. Developing and securing affordable, clean and reliable energy supplies can drive economic growth and support sustainable development, as we shift towards a low carbon energy future."
"To build on recent progress in this area, our energy ministers will meet later in 2014 to discuss opportunities to promote common strategies on energy efficiency, infrastructure, innovation, renewable energy, unconventional energy sources, energy trade, and responsible resource development, including the development of relevant technical studies," they said.
The three leaders agreed to pursue "an ambitious and inclusive global agreement within the UN Framework Convention on Climate Change, while also collaborating through complementary mechanisms like the Major Economies Forum, the Climate and Clean Air Coalition, and the Energy and Climate Partnership of the Americas."
All world leaders are working towards a legally binding global climate change agreement to be signed by 2015 that would take effect in 2020.
In addition, the three leaders said, "we will intensify our efforts to promote an amendment to the Montreal Protocol to phase-down production and consumption of climate-damaging hydrofluorocarbons (HFCs)."
"We will continue to collaborate in the protection of our region's biodiversity and to address other environmental challenges, such as wildlife trafficking and ecosystems at risk," declared the three leaders.
The meeting took place on the 20th anniversary of the North American Free Trade Agreement, NAFTA, so much of the discussion was about trade, jobs and the economy. Prime Minister Harper said, "As time can tell us, this treaty was successful, and it started guaranteeing prosperity from one extreme to the other of the hemisphere. The volume of exchanges is fourfold now, and is over $30 billion. And we have now seen exponential growth and can hope for exponential growth in years to come."
Based on their view that NAFTA has been a success, the three leaders agreed to strengthen its environmental side agreement and work towards completion of a similar trade pact for the Pacific Rim countries, the Trans-Pacific Alliance.
Copyright Environment News Service (ENS) 2014. All rights reserved.
© 2014, News Editor. All rights reserved.