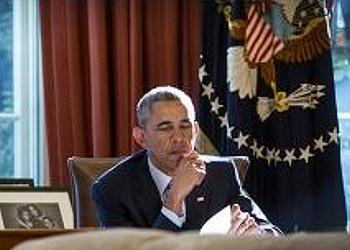 WASHINGTON, DC, February 24, 2015 (ENS) – President Barack Obama today fulfilled his promise to veto legislation that would remove the President's responsibility to decide whether a pipeline that crosses an international border is or is not in the national interest and give that power to Congress.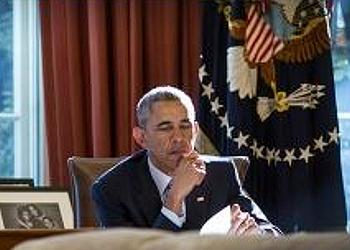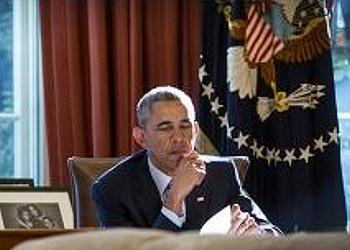 The bill sent to his desk by Congress, S. 1, the Keystone XL Pipeline Approval Act, authorizing the proposed TransCanada pipeline was pushed through the Republican-controlled Congress. Many lawmakers see jobs in the pipeline that would carry heavy crude oil from the Alberta tar sands to Nebraska to link with other pipelines to the refineries at the Gulf Coast.
In his brief veto letter to the Senate, President Obama said, "Through this bill, the United States Congress attempts to circumvent longstanding and proven processes for determining whether or not building and operating a cross-border pipeline serves the national interest."
"The Presidential power to veto legislation is one I take seriously. But I also take seriously my responsibility to the American people. And because this act of Congress conflicts with established executive branch procedures and cuts short thorough consideration of issues that could bear on our national interest – including our security, safety, and environment – it has earned my veto," Obama wrote.
A spokesman for Senate Majority Leader Mitch McConnell, a Kentucky Republican, said the Senate will vote on an override of the veto by March 3.
The Senate currently has 54 Republicans and 44 Democrats with two Independents.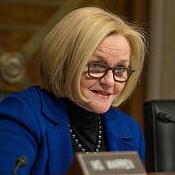 An override requires 67 votes to succeed, so 13 Democrats would have to vote with all the Republicans for an override. Several Senate Democrats have said they will vote to override the veto, including Senator Claire McCaskill of Missouri.
"When our own State Department review shows that this oil is coming out of the ground, it's only a question of how, then the decision to be made is this – what is the safest way to move it to market? Pipelines are better than barges or trains," said McCaskill. "That's common sense, and I will vote to override this veto."
A Democrat who applauded the President's veto is Senator Edward Markey of Massachusetts. "Vetoing this pipeline is a victory for the climate and common sense, but it won't stop the pipeline of bad policies from Congressional Republicans from flowing to the president's desk. Thankfully, President Obama is standing on the right side of history and is unafraid to wield the power of his veto pen."
"This pipeline is not in America's national interest, and the president should reject its construction when the full review process is allowed to be completed. We should not help some of the dirtiest oil in the world to be funneled through our country like a straw, just so much of it can be exported to foreign nations. That is a bad deal for our country, and a dangerous proposition for our climate."
House Speaker John Boehner, an Ohio Republican, called Obama's veto "a national embarrassment."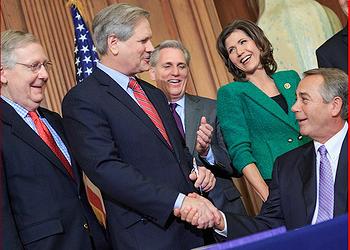 "It's embarrassing when Russia and China are plowing ahead on two massive pipelines and we can't get this one no-brainer of a project off the ground. The president is just too close to environmental extremists to stand up for America's workers. He's too invested in left-fringe politics to do what presidents are called on to do, and that's put the national interest first," said Boehner.
Boehner says building the pipeline will support 42,000 construction jobs, relying on a State Department report.
But the report says the project would provide jobs for about 35 permanent employees and 15 temporary contractors after construction.
Senator Barbara Boxer, a California Democrat, ranking member of the Environment and Public Works ommittee, applauded President Obama's decision, saying, the Keystone tar sands pipeline does nothing for our country and everything for Canadian special interests."
"Reports have shown the pipeline project will increase the dangers of spills like the ones that occurred in Arkansas and Michigan, and will result in pollution that causes serious illnesses like asthma and increases in carbon pollution – the main cause of climate change," said Boxer.
"Instead of building this pipeline, which will only create 35 permanent jobs, the Republican leadership should immediately focus on passing a long-term transportation bill that will support millions of jobs," she said.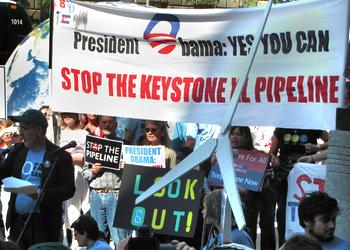 But Speaker Boehner says the fight is by no means over. "We are not going to give up in our efforts to get this pipeline built – not even close," he said today.
Environmental and landowner groups were pleased with President Obama's Keystone XL veto and are calling for him to reject the Keystone XL pipeline once and for all.
Jane Kleeb of the nonprofit group Bold Nebraska said, "President Obama just stood up with farmers, ranchers and Tribal Nations to protect our land and water. The President's veto comes at a time when Republicans will do anything Big Oil asks, even if it means putting our families at risk of water pollution. We call upon the President to use that same courage and leadership by rejecting the KXL permit once and for all."
Stephen Kretzmann, executive director of the nonprofit Oil Change International, said, "Fossil fuel funded politicians in Congress should take note – when the President of the United States says he is going to do something, he follows through. Because the President has also been clear that if the pipeline caused a significant increase in carbon emissions, it would not be found in the national interest, we look forward to his final rejection of this dirty and dangerous pipeline."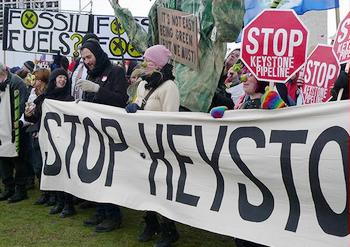 Valerie Love with the Center for Biological Diversity said, "The President did the right thing in vetoing this bill, but what we really need is an outright rejection. Millions of Americans have voiced their opposition to the pipeline, and are counting on the president to do what's best for people, wildlife and the climate."
May Boeve, executive director of the nonprofit 350.org, said, "This veto is conclusive proof that activism works. After four years of rallies, marches, sit-ins, and civil disobedience, we're thrilled to see President Obama take an important first step by vetoing this love letter to Big Oil. As the President himself has argued, Keystone XL would worsen climate change, threaten the safety of farmers and landowners in America's heartland, and create essentially no long-term jobs – all so a Canadian oil company gets to ship dirty tar sands to the rest of the world."
League of Conservation Voters President Gene Karpinski said the President's veto is part of his "incredible leadership on a wide range of environmental issues, including climate change, renewable energy, clean water, national monuments, and the Arctic Refuge…"
Karpinski said, a recent poll by the League of Conservation Voters shows "the American people overwhelmingly believe that if the president decides to reject the permit for Keystone XL, Congress should respect his decision and move on to other pressing issues."
"As the President put it so well in his State of the Union address, 'We must set our sights higher than a single pipeline,' said Karpinski. "We couldn't agree more and hope the Republican leadership will come to its senses and get serious about a clean energy future."
Copyright Environment News Service (ENS) 2015. All rights reserved.