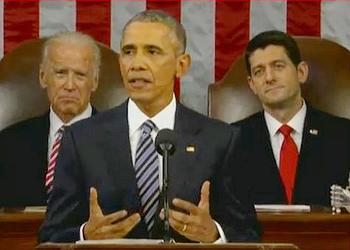 WASHINGTON, DC, January 12, 2016 (ENS) – In his last State of the Union address to the nation, President Barack Obama tonight focused on the big picture and the need to continue fighting climate change.
"How do we make technology work for us, and not against us – especially when it comes to solving urgent challenges like climate change?" he asked.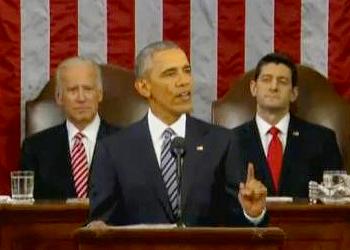 Answering his own question, Obama emphasized the efforts he has made to promote clean energy and check the worst consequences of planetary warming.
"Look," he challenged the remaining climate deniers in the Joint Session of Congress assembled to hear him speak, "if anybody still wants to dispute the science around climate change, have at it. You'll be pretty lonely, because you'll be debating our military, most of America's business leaders, the majority of the American people, almost the entire scientific community, and 200 nations around the world who agree it's a problem and intend to solve it."
Obama said fighting climate change is to the advantage of the planet and also helps the next generation of Americans, saying, "When we lead nearly 200 nations to the most ambitious agreement in history to fight climate change – that helps vulnerable countries, but it also protects our children."
"But even if the planet wasn't at stake; even if 2014 wasn't the warmest year on record – until 2015 turned out even hotter – why would we want to pass up the chance for American businesses to produce and sell the energy of the future?" asked Obama rhetorically.
"Seven years ago, we made the single biggest investment in clean energy in our history," said the President, referring to the $787 billion American Recovery and Reinvestment Act by which he started turning the Great Recession around.
"Here are the results," Obama said tonight. "In fields from Iowa to Texas, wind power is now cheaper than dirtier, conventional power. On rooftops from Arizona to New York, solar is saving Americans tens of millions of dollars a year on their energy bills, and employs more Americans than coal – in jobs that pay better than average."
"We're taking steps to give homeowners the freedom to generate and store their own energy – something environmentalists and Tea Partiers have teamed up to support. Meanwhile, we've cut our imports of foreign oil by nearly 60 percent, and cut carbon pollution more than any other country on Earth," said the President.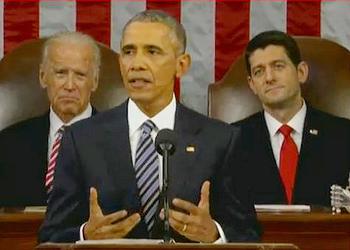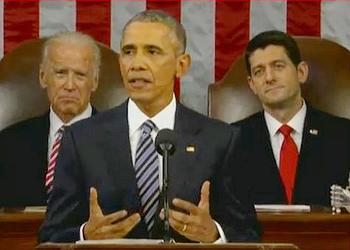 "Gas under two bucks a gallon ain't bad, either," he said, to chuckles from the audience.
In the final year of his presidency, Obama is determined to "accelerate the transition away from dirty energy."
"Rather than subsidize the past, we should invest in the future – especially in communities that rely on fossil fuels," said Obama. "That's why I'm going to push to change the way we manage our oil and coal resources, so that they better reflect the costs they impose on taxpayers and our planet. That way, we put money back into those communities and put tens of thousands of Americans to work building a 21st century transportation system."
"None of this will happen overnight, and yes, there are plenty of entrenched interests who want to protect the status quo. But the jobs we'll create, the money we'll save, and the planet we'll preserve – that's the kind of future our kids and grandkids deserve," Obama said.
The White House Press Office said later tonight that in his last year in office, Americans "will see the President unveil new efforts to address climate change and reduce our dependence on fossil fuels."
South Carolina Governor Nikki Haley gave the Republican response, but she did not once mention the climate or the environment.
"If we held the White House, taxes would be lower for working families, and we'd put the brakes on runaway spending and debt," she said. "We would encourage American innovation and success instead of demonizing them, so our economy would truly soar and good jobs would be available across our country."
But Obama had just told the nation that, "Anyone claiming that America's economy is in decline is peddling fiction."
President Obama had just said, "We're in the middle of the longest streak of private-sector job creation in history. More than 14 million new jobs; the strongest two years of job growth since the '90s; an unemployment rate cut in half. Our auto industry just had its best year ever. Manufacturing has created nearly 900,000 new jobs in the past six years. And we've done all this while cutting our deficits by almost three-quarters."
Governor Haley said a Republican administration would "reform education" and "end a disastrous health care program" and respect "religious liberty as a cornerstone of our democracy."
"We would recognize the importance of the separation of powers and honor the Constitution in its entirety. And yes, that includes the Second and Tenth Amendments," said Haley, giving notice that Republicans will continue to support gun rights over gun control.
Environmentalists were generally pleased with the thrust of Obama's remarks.
World Wildlife Fund Vice President for U.S. Government Relations Todd Shelton said, "Tonight, President Obama celebrated some major steps toward protecting our planet for future generations, and also underscored how far we have yet to go."
"Climate change is now a national and global priority, and the President announced he intends to double-down on his efforts to combat it," said Shelton. "His work to rein in power plant emissions and to secure an ambitious international climate agreement in Paris has laid the foundation for his climate legacy. To secure it, he must ensure the United States delivers on its Paris commitments."
"Average citizens, businesses, and governments are on a far better path to tackling the climate crisis than when President Obama first took office. Nearly every nation is now working to meet domestic emissions reduction targets and looking for new ways to close the gap between current pledges and the greater efforts the rapidly changing climate demands."
"But the work to ensure a more secure future for the U.S. and the planet is just beginning," said Shelton. "In his remaining months, we look to the President to use all available tools to close the emissions gap, including new partnerships with other nations that are stepping up to meet the global climate threat."
"Now more than ever, the country needs leaders from across the political spectrum who are prepared to build on the recent progress we've seen on the climate and the environment," said Shelton, urging the Republicans to join the Democrats in these goals.
"Over the coming year, the Administration should continue to accelerate our transition to a low-carbon economy, embrace opportunities to foster economic growth through clean energy, and move aggressively to protect precious natural areas like America's Arctic, not sacrificing them to oil and gas drilling," Shelton urged the White House. "That way, President Obama will ensure his vision lives on for this and future generations of Americans."
National Farmers Union President Roger Johnson said, "We are greatly appreciative of the Administration's focus on climate change. Their efforts to help mitigate climate change will give family farmers and ranchers a better shot at ensuring global food security. Family farmers and ranchers can employ numerous practices that reduce or sequester carbon when given the correct incentives," he said.
Environmental Defense Fund President Fred Krupp was similarly supportive of Obama's work to protect the environment.
"President Obama has built an impressive environmental legacy during his seven years in office. Tonight's State of the Union address showed that climate change and clean energy will continue to be priorities for this White House in 2016, and that's good news for all of us," said Krupp.
"The President is right that working for a clean energy future, including giving families the freedom to generate and store their own energy," said Krupp, "is an area where people should work together across the political spectrum."
Copyright Environment News Service (ENS) 2016. All rights reserved.
Environment News Service (ENS) © 2016 All Rights Reserved.