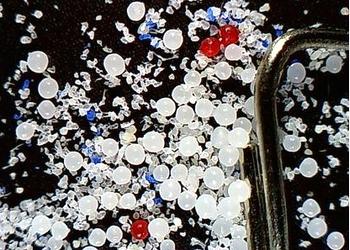 WASHINGTON, DC, December 29, 2015 (ENS) – President Barack Obama Monday signed into law a bill phasing out the manufacture of facewash, toothpaste and shampoo containing plastic microbeads by July 1, 2017 and the sale of these products by July 1, 2018.
The Microbead-Free Waters Act (H.R. 1321), introduced in the House by Congressmen Frank Pallone, a New Jersey Democrat, and Fred Upton, a Michigan Republican, and by Senators Kirsten Gillibrand, a New York Democrat, and Rob Portman, an Ohio Republican in the Senate, was unanimously approved by both chambers earlier this month.
"These microbeads are tiny plastic, but make for big-time pollution," said Upton, who chairs the House Energy and Commerce Committee. "As someone who grew up on Lake Michigan and represents a large chunk of Michigan coastline, I understand firsthand how important it is to maintain the beauty and integrity of our Great Lakes."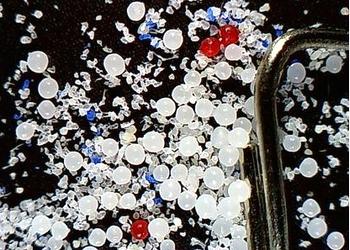 Microbeads are minuscule scrubbers found in cleansers, body scrubs, and toothpaste. On their own, they are nearly invisible, smaller than a pinhead. But once they go down the drain, problems begin.
Plastic microbeads, designed to be washed down the drain and too small to be reliably captured by wastewater treatment facilities, pollute lakes, rivers and oceans. One tube of exfoliating facewash can contain more than 350,000 microbeads. Some 2.9 trillion microbeads are estimated to enter U.S. waterways annually.
The types of plastic most commonly used as microbeads are: polyethylene, polymethyl methacrylate, nylon polyethylene terephthalate and polypropylene.
Microbeads are known to absorb pollutants and are often mistaken as food by fish and wildlife.
Once in the environment, plastic microbeads concentrate toxins such as pesticides and flame retardants on their surfaces. These toxic substances may then transfer to the tissue of fish that mistake microbeads for food. A recent study found that one-quarter of fish purchased at California markets had ingested plastic.
"The President's signature on this legislation is a major victory for U.S. waterways and the environment," said Congressman Pallone. "Without the ban, an estimated eight trillion plastic microbeads pollute U.S. waterways each day, threatening the environment and ultimately our health."
Lakes Erie and Ontario have the highest concentrations of microbeads of any U.S. waters. A report by scientists from the State University of New York found Lake Erie averaged about 46,000 particles of plastic per square kilometer, compared to about 6,000 to 8,000 particles over the same area in lakes Superior and Huron and about 17,000 particles in Lake Michigan.
"Plastic microbeads are devastating to wildlife and human health, and I'm pleased our bill will now be law so we can phase them out in a way that's fair to Ohio companies and keeps them on a level playing field with their competitors," said Senator Portman. "Lake Erie is not only a precious natural resource, but also essential for Ohio jobs and tourism and our bill takes appropriate steps to protect this important asset for Ohio."
Following California's landmark microbead ban enacted earlier this year, the Microbead-Free Waters Act bans all plastic microbeads from beauty products, including those made from so-called "biodegradable plastics," as most of them do not biodegrade in marine environments.
"Our oceans are inundated with microplastics that threaten sea birds, turtles and other marine wildlife. Now we can stop adding to the trillions of pieces already out there," said Blake Kopcho, oceans campaigner with the nonprofit Center for Biological Diversity. "This will eliminate a pointless and harmful source of plastic pollution before it ever has a chance to reach the oceans."
This legislation is supported by the Personal Care Products Council, the Alliance for Great Lakes, the American Chemistry Council, Revlon, Proctor & Gamble, Johnson & Johnson, the Plastics Industry Trade Association and the Consumer Healthcare Products Association.
Consumer Healthcare Products Association President and CEO Scott Melville said, "This legislation now puts into law CHPA members' longstanding commitment to discontinue formulating cosmetic OTC [over the counter] products with plastic synthetic microbeads. OTC manufacturers have already begun the process of reformulating cosmetic OTCs, such as acne face washes and toothpastes, to remove plastic microbeads."
Melville said the timeline in the legislation ensures that manufacturers have enough time to remove microbeads from these products or identify and phase in alternative options.
W.R. Grace & Co. already is offering an alternative made with odorless, tasteless, and chemically inert synthetic micronized silica. "Grace exfoliating silica gels do not bioaccumulate, are not biopersistent, and can be engineered to provide exceptional exfoliating properties," the company said in a statement.
Other alternatives are also in the works. In June, TerraVerdae BioWorks, an industrial biotechnology company headquartered in Canada with operations in the United States and the UK, announced a line of biodegradable, natural microspheres for use in personal care and cosmetic products, as a direct replacement for plastic microbeads that are the subject of restrictive legislation.
Until the ban takes effect, avoiding products with microbeads is not difficult. Check ingredient labels for polyethylene and polypropylene.
An app has been released which allows shoppers to scan a bar code with a smartphone camera to determine if a product has microbeads.
The Beat the Microbead app is easy to use and informative.  Download it for free here.
Products That Contain Plastic Microbeads:
– Aveeno Active Naturals Positively Radiant Skin Brightening Daily Scrub (Aveeno is a Johnson & Johnson brand)
– Aveeno Active Naturals Positively Ageless Resurfacing Scrub with Vitamin C
– Aveeno Active Naturals Clear Complexion Cream Cleanser
– Bath & Body Works Pure Paradise 2-in-1 Body Scrub and Wash
– Clean & Clear Advantage 3-in 1 Exfoliating Cleanser
– Clean & Clear Morning Burst Facial Scrub – Oil Free
– Clean & Clear Blackhead Eraser Scrub – Oil Free
– Clean & Clear Deep Action Exfoliating Scrub – Oil Free
– Clean & Clear Daily Pore Cleanser – Oil Free
– Clearasil Reckit Benckiser Daily Clear – Refreshing Superfruit Scrub
– Clinque Estée Lauder Companies 7 Day Scrub Cream Rinse-Off Formula
– Clinque Estée Lauder Companies Exfoliating Scrub
– CVS Pharmacy Oil-free acne scrub
– Dermalogica Clear Start – Blackhead Clearing Pore Control Scrub
– Hempz Sandalwood & Apple Herbal Body Scrub
– Kiehl's Facial Fuel-Energizing Scrub – Skin Buffer for Men
– Kiehl's Clearly Corrective – Skin Brightening Exfoliator
– Olay Treatment, a Procter & Gamble product
– Olay Moisturizer, a Procter & Gamble product
– Olay Prof. Exfoliating Renewal Cleanser, a Procter & Gamble product
– Rite Aid Renewal DIY Regenerating Cleanser
– Rite Aid Renewal Regenerating Micro Refining Cream
– Rite Aid Renewal Acne Body Scrub Clear
– Rite Aid Renewal Acne Wash Daily Scrub Oil-Free
– Rite Aid Renewal Bright Skin Daily Face Scrub
– Rite Aid Renewal Exfoliating Cleanser
– Up & Up (Target Brand) Exfoliating Body Wash – Pomegranate Seeds
– Up & Up (Target Brand) Blackhead Facial Scrub with Salicylic Acid
– Up & Up (Target Brand) Acne Wash Oil-Free Pink Grapefruit Foaming Scrub
– Up & Up (Target Brand) Renewing Cleanser
– Victoria's Secret 2-in-1 Wash and Scrub
– Walgreens Blackhead Clearing Scrub
Toothpaste (Crest is a a Procter & Gamble brand)
– Crest Pro Health
– Crest Pro Health for Me
– Crest Sensitivity
– Crest Complete Multi Benefit
– Crest 3D White
– Crest 3D White Luxe
Copyright Environment News Service (ENS) 2015. All rights reserved.