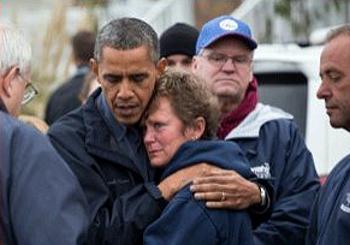 WASHINGTON, DC, December 10, 2012 (ENS) – President Barack Obama has asked Congress to appropriate $60 billion to help in the rebuilding of the states and cities from North Carolina to Maine devastated by superstorm Sandy in late October.
In a letter Friday to House Majority Leader John Boehner, the President wrote, "In total, the Administration requests $60.4 billion in Federal resources for response, recovery and mitigation related to Hurricane Sandy damage in all affected States. This includes efforts to repair damage to homes and public infrastructure and to help affected communities prepare for future storms."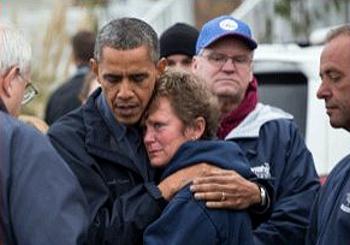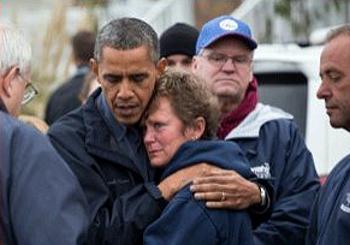 To manage the recovery effort, Obama established the Hurricane Sandy Rebuilding Task Force by Executive Order on Friday, "to provide the coordination that is necessary to support these rebuilding objectives." The task force will be chaired by Housing and Urban Development Secretary Shaun Donovan.
On October 29, Hurricane Sandy made landfall in New Jersey. Stretching more than 1,000 miles in diameter, the superstorm's high winds and storm surge caused widespread flooding, loss of life, displacement of persons, and damage to private property, public infrastructure, and federal government facilities. A dangerous nor'easter followed nine days later causing more damage and undermining the recovery effort.
"As a result of these events," Obama wrote, "thousands of individuals were displaced, and millions lost power. Thousands of stores and businesses were damaged or closed, and fuel distribution was severely disrupted, further complicating the recovery effort. New York and New Jersey – two of the Nation's most populous States – were especially hard hit by these storms, Recovery efforts continue today throughout the region."
The President's request to Congress is the result of weeks of discussions with lawmakers and officials from New York, New Jersey and other hard-hit states who requested billions more. Still, they praised the President's supplemental appropriations request and urged Congress to adopt it immediately.
"It's not everything we wanted, but it's close enough," said Senator Charles Schumer, a New York Democrat, told reporters.
New York Mayor Michael Bloomberg said, "Over the last few weeks, we have worked closely with the Obama Administration, particularly with the President's point person for the disaster, HUD Secretary Donovan, and we've had an open and productive dialogue. While the total funding request released by the White House today is not everything requested, we have always been realistic about the fiscal constraints facing the Federal government."
"Now it's up to Congress to come together and work in a bi-partisan fashion, and I know that our Congressional delegation will work extremely hard to deliver the maximum possible aid, without any spending offsets," said Bloomberg. "We need a full recovery package to be voted on in this session of Congress. Any delay will impede our recovery."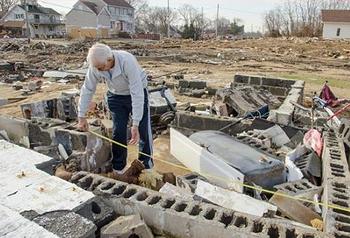 Although the House Republicans and President Obama are at odds over tax rates and tax cuts on January 1, 2013, nicknamed the "fiscal cliff" Mayor Bloomberg is hopeful that Congress will quickly approve the money for storm recovery.
"The conversations we have had with leaders from both sides of aisle on Capitol Hill have been positive, as they recognize the extraordinary needs and the importance of quickly helping the communities most impacted by Hurricane Sandy," said Mayor Bloomberg. "Governor Cuomo has been a forceful advocate and as the appropriations process moves forward, we will continue to work in close concert with the Governor and his team to make the case for federal aid to New York."
New York Governor Andrew Cuomo, a Democrat, and New Jersey Governor Chris Christie, a Republican, who are responsible for the two states that suffered the greatest damage, issued a joint statement Friday supporting the President's $60 billion request.
"Today's agreement on the Administration's request to Congress would authorize more than $60 billion in funding that will enable our states to recover, repair, and rebuild better and stronger than before," the two governors said. "This package also includes funding to invest in essential mitigation and prevention efforts that will better protect our region against the devastating impacts of future superstorms."
"The request is crafted to afford maximum flexibility to state governments and we will continue to work with the Administration and Congress as our needs arise. We thank President Obama for his steadfast commitment of support and look forward to continuing our partnership in the recovery effort," said the governors.
Governor Cuomo today announced that starting today the MTA Long Island Rail Road will operate full morning and evening rush hour service for the first time since superstorm Sandy struck six weeks ago. The restoration is the result of Amtrak restoring the signal system capacity in one of its two flood-damaged East River tunnels.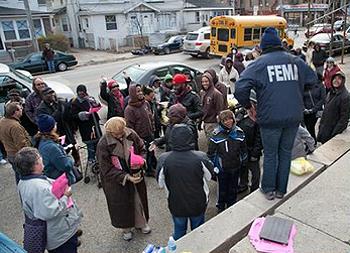 "The second tunnel signal system is expected to be restored to full capacity in time for the Christmas holiday," said the governor. "I would like to acknowledge the efforts of the Long Island Rail Road and Amtrak in restoring this crucial LIRR service."
Mayor Bloomberg said the New York Sanitation Department already has removed roughly 350,000 tons of storm debris from the coastal communities of the Rockaways, Breezy Point, Coney Island and the southern shore of Staten Island. "If you look carefully, you'll notice there's no electricity yet, and people had enormous damage from floods inside, but outside the Sanitation Department has done a wonderful job," the mayor said.
"There were 200 homes that were destroyed or are beyond repair, in addition to more than 500 other homes that really have major structural damage and need real repairs. The rebuilding process will be an enormous undertaking, and not just for homeowners, but for entire communities," said Bloomberg.
As of mid-November, approximately 16,300 Con Edison electricity customers in flood-ravaged areas of Brooklyn, Queens and Staten Island still could not get electrical service until their own internal equipment is repaired, tested and certified by an electrician as ready for service. Mayor Bloomberg has waived city fees related to the testing and certification.
Across all states hit by Sandy, the Federal Emergency Management Authority has deployed 7,099 personnel. A total of 502,016 assistance registrations have been received by the federal government, which has approved $1.07 billion in assistance.
As for the President's $60 billion proposal, Senate Majority Leader, Democrat Harry Reid, said he does not believe the recovery appropriation needs to be financed with savings elsewhere in the government's budget.
A spokesman for House Majority Leader, Republican John Boehner, said he is "reviewing" it.
Copyright Environment News Service (ENS) 2012. All rights reserved.