Obama Rejects TransCanada's Keystone XL Tar Sands Pipeline
WASHINGTON, DC, January 18, 2012 (ENS) – President Barack Obama has denied Transcanada's application for the construction of the Keystone XL Pipeline that would have carried oil from the Canadian tar sands to refineries on the Gulf Coast. Because the pipeline would have crossed an international border, a Presidential Permit was required before it could be built.
Environmentalists on both sides of the border are claiming victory, saying that the pipeline would have allowed some of the world's dirtiest oil to travel from the tar sands in northern Alberta through America's heartland, putting air, water, land and climate at risk.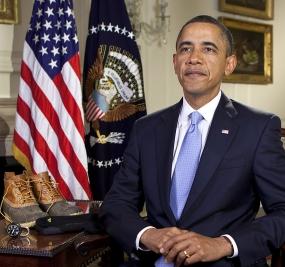 President Barack Obama (Photo by Lawrence Jackson courtesy The White House)
The President blamed Republicans in Congress for attaching to the short-term payroll tax cut extension passed late last year a provision compelling the Obama administration to make a decision on the pipeline within 60 days.
"This announcement is not a judgment on the merits of the pipeline, but the arbitrary nature of a deadline that prevented the State Department from gathering the information necessary to approve the project and protect the American people," Obama said in a statement. "I'm disappointed that Republicans in Congress forced this decision, but it does not change my Administration's commitment to American-made energy that creates jobs and reduces our dependence on oil."
President Obama called Canadian Prime Minister Stephen Harper today to personally convey his administration's decision on the Keystone XL pipeline. The President also reaffirmed the close alliance and friendship between the United States and Canada.
President Obama said that under his administration, domestic oil and natural gas production are up, while imports of foreign oil are down.
"In the months ahead, we will continue to look for new ways to partner with the oil and gas industry to increase our energy security – including the potential development of an oil pipeline from Cushing, Oklahoma to the Gulf of Mexico – even as we set higher efficiency standards for cars and trucks and invest in alternatives like biofuels and natural gas," the President said.
"And we will do so in a way that benefits American workers and businesses without risking the health and safety of the American people and the environment," he said.
TransCanada Corporation immediately announced that it would submit a new permit application.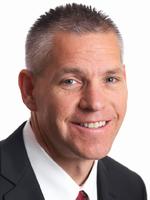 TransCanada CEO Russ Girling (Photo courtesy TransCanada)
"While we are disappointed, TransCanada remains fully committed to the construction of Keystone XL. Plans are already underway on a number of fronts to largely maintain the construction schedule of the project," said Russ Girling, TransCanada's president and chief executive officer.
"We will re-apply for a Presidential Permit and expect a new application would be processed in an expedited manner to allow for an in-service date of late 2014," Girling said.
Meanwhile, said Girling, "TransCanada will continue to work collaboratively with Nebraska's Department of Environmental Quality on determining the safest route for Keystone XL that avoids the Sandhills. This process is expected to be complete in September or October of this year."
In Congress, Senator Barbara Boxer, a California Democrat who chairs the Environment and Public Works Committee, said President Obama made "the right decision given the serious questions that remain unanswered about this proposal."
"Congressional Republicans' insistence that the permit be issued in 60 days did not provide sufficient time to adequately review the Keystone pipeline project or to address a broad range of concerns related to human health and the environment," said Boxer. "Any future proposals must be subject to a rigorous and independent review that will ensure the health and safety of the American people."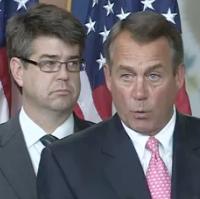 House Speaker John Boeher, right, with Republican Congressman Terry Lee of Nebraska, and other House Republicans, denounces the President's decision. (Image courtesy Office of the Speaker)
House Speaker John Boehner, an Ohio Republican, and other House Republicans criticized the Obama administration's decision "to deny new jobs to tens of thousands of Americans and surrender America's energy security to China by rejecting the Keystone XL pipeline."
"The unions support it," said Boehner. "The states along the proposed route support it. And it has bipartisan support here in the Congress of the United States – and yet the President decided to reject it anyway."
"Now Canada is going to have to look to other nations like China to sell its oil reserves to," Boehner said, "Republicans in Congress will continue to push this because it's good for our country, and it's good for our economy, and it's good for the American people – especially those who are looking for work."
U.S. environmental organizations have campaigned vigorously against the pipeline – sending letters, making calls, protesting and getting arrested for weeks in front of the White House and standing up at Obama for America campaign offices.
They called the President's decision "heroic" and "brave."
Frances Beinecke, president of the Natural Resources Defense Council, said, "His decision represents a triumph of truth over Big Oil's bullying tactics and its disinformation campaign with wildly exaggerated jobs claims."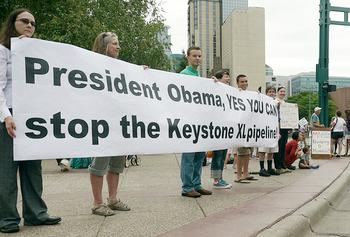 Anti-pipeline demonstrators in Minneapolis, Minnesota, August 30, 2011 (Photo by linebreakmedia)
"Six months ago the pipeline project was considered a foregone conclusion. Today – against all odds – the project has been rejected. That is a heroic political shift, which is the result of massive grassroots opposition that spanned from First Nations in Alberta to farmers in Nebraska to people like you," said Beinecke.
Bill McKibben, the 350.org leader who organized the anti-pipeline demonstrations in front of the White House in August and September 2011, today emailed supporters in the United States and Canada, saying the President had made "a brave decision."
"For years, the knock on the President Obama was that he backed down too easily in the face of opposition. Not here," said McKibben. "When Republicans in Congress forced the issue again by passing a 60-day time limit on the President's final decision, he stood strong and denied the permit. And that was despite the most explicit threats from Big Oil: that they would exact 'huge political consequences' if he did the right thing on Keystone."
McKibben warned that "Big Oil" would try to overturn that decision, with their "one weapon – money."
"They've used it to buy the allegiance of many Representatives and Senators and now they'll use Congress to try and get their dirty work done," he wrote. "That's what happened when the President delayed the permit last November, and we should expect them to try again now."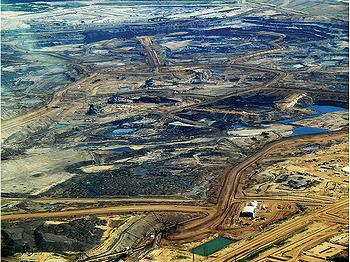 A portion of northern Alberta's tar sands (Photo by Dru Oja Jay, Dominion courtesy Howl Montreal)
Last November, after three years of evaluations, the U.S. State Department ordered another environmental assessment, citing concerns over the portion of the proposed route crossing the Nebraska Sand Hills, which lie over the Oglalla aquifer.
Concerns over whether the State Department's environmental review was tainted by conflicts of interest has gone to the State Department's Office of the Inspector General for a Special Review. The IG will probe the State Department's relationship with Cardno Entrix, a Houston-based environmental consulting firm that calls TransCanada a "major client." Cardno Entrix helped the State Department prepare the pipeline's Environmental Impact Statement and maintains the department's Keystone XL website.
To counteract the influence of the oil industry, McKibben is organizing a demonstration beginning Tuesday January 24 on the West Lawn of the Capitol.
Demonstrators will wear referee's shirts. "We're going to 'blow the whistle' on the corruption that passes for business as usual on Capitol Hill, where people take money from companies whose interests they vote on," McKibben said. "If this happened at the Super Bowl it would be a national scandal; we've got to make sure it's seen that way in our political life too."
Rebecca Tarbotton, executive director of the Rainforest Action Network, said, "The State Department is allowing Transcanada, the company behind the pipeline, to propose an alternative route for the pipeline through Nebraska. Our response to that: we've stopped the project once and we'll stop it again. We will continue to ensure that President Obama feels the full weight of our opposition to this project, and keeps the Keystone XL pipeline off the map forever."
Environment Illinois spokesman Bruce Ratain said, "While Congressional Republicans work tirelessly for Big Oil, President Obama is taking concrete steps to reduce our dependence on oil and to build a cleaner, healthier future for American families."
"The pipeline would have been a disaster for our climate, the quality of the air we breathe, and critical water resources across our country," Ratain. "It would have deepened our dependence on dirty oil from Canada's tar sands, producing catastrophic levels of global warming pollution."
Sierra Club Executive Director Michael Brune said, "The Sierra Club and our 1.4 million members and supporters applaud the President today for delivering a decisive victory to Americans who want clean air to breathe and safe water to drink. Today's decision represents another down payment on the Administration's plan to move our country beyond oil."
"President Obama's announcement is an outright rejection of Speaker Boehner's cynical attempt to play political football with Americans' health," said Brune. "Unfortunately, we know that Big Oil and their cronies in Congress will not give up their endless pursuit of profits at the cost of Americans' health and prosperity."
The Labor Network For Sustainability said it is "deeply encouraged" by the President's decision.
LNS Executive Director Joe Uehlein said, "It's an encouraging development. Oil companies and other pipeline advocates argued that the nation must choose between jobs and the environment. But in an era of climate crisis, this is a false choice: there will be no jobs on a dead planet. Building the Keystone pipeline will throw open the spigot to the tar sands in Canada, considered the dirtiest oil on the planet, and drive us ever closer to climate catastrophe."
"But at the same time, workers need jobs now," said Uehlein. "That's why LNS believes it is urgent and essential that we begin investing in a new sustainable economy that puts people to work mitigating climate change. Rather than polluting pipelines, we need to create climate jobs that retrofit buildings, green our eroding water and transportation systems, and build a new alternative infrastructure for the future."
In Canada, Gillian McEachern, deputy campaign director with Environmental Defence, congratulated U.S. environmentalists for their successful campaign against the pipeline.
"TransCanada's proposed Keystone XL pipeline would have carried roughly 150 million tonnes of carbon pollution from the tar sands to the U.S. each year, the equivalent of over 26 million more cars on the road, or nearly eight billion tonnes over the life of the project," McEachern said. "It also would have locked Canada into a reckless pace of tar sands expansion, and the U.S. into decades more of dirty fuel use."
"In Canada, the federal government and oil industry are trying to scare us away from voicing our concerns about another big tar sands pipeline – Enbridge's proposed Northern Gateway," said McEachern. "Perhaps they are afraid that Canadians will come together to stop Gateway just as Americans did with Keystone XL."
Copyright Environment News Service (ENS) 2012. All rights reserved.