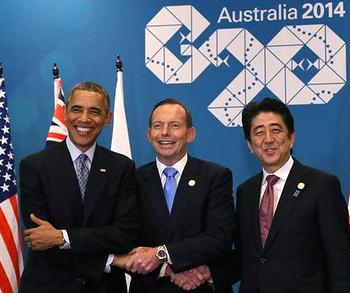 WASHINGTON, DC, November 17, 2014 (ENS) – The United States will contribute up to US$3 billion to the Green Climate Fund to help developing countries respond to climate change, and Japan will give up to US$1.5 billion, the leaders of both nations announced at the G20 Summit in Brisbane, Australia on the weekend.
"Along with the other nations that have pledged support, this gives us the opportunity to help vulnerable communities with an early warning system, with stronger defences against storm surge, climate resilient infrastructure, to help farmers plant more durable crops" said Obama at a G20 event.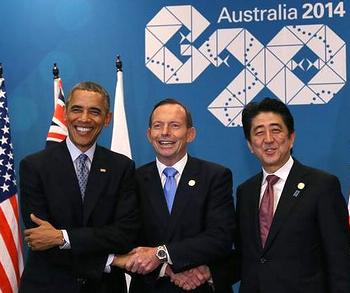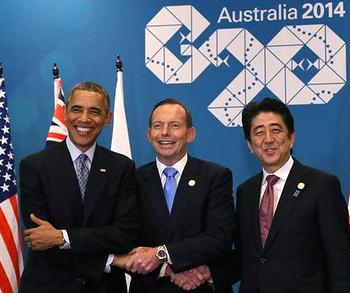 Obama said "no nation is immune, and every nation has a responsibility to do its part."
He said the fund "allows us to help developing countries to break out of the false choice between development and pollution" and that it will help "leap-frog some of the dirty industries that powered our development, go straight to a clean energy economy that allows them to grow, create jobs, and at the same time reduce their carbon pollution."
The new commitments were jointly announced by President Obama and Japanese Prime Minister Shinzo Abe in Brisbane on Sunday.
"Our pledges will be reiterated at the GCF's pledging session on November 20 in Berlin, Germany, where additional countries are expected to announce pledges," the two leaders said. "We encourage all countries that are able to join us in pledging to the Green Climate Fund."
"By announcing significant pledges promptly and at the leader level, we aim to provide great momentum to the ongoing climate change negotiations toward a post-2020 agreement that is applicable to all, in which countries make ambitious and transparent commitments to reduce their emissions," said Obama and Abe.
The new Green Climate Fund, GCF, with headquarters in Songdo, South Korea, has received early pledges from 13 nations, totaling US$7.5 billion equivalent. The pledges have come from Germany, France, and other donors, including developed and developing countries.
Héla Cheikhrouhou, executive director of the Fund, said, "This early Japanese announcement of its very significant contribution to the Green Climate Fund is another testimony of Japan's historic leadership in the global action to tackle climate change."
Heads of state used the G20 Summit to engage in deliberations on climate change and confirmed they will support strong and effective action. In their final communique leaders reaffirmed their "support for mobilizing finance for adaptation and mitigation, such as the Green Climate Fund."
"This week's announcements will be a legacy of U.S. President Obama. It will be seen by generations to come as the game‐changing moment that started a scaling‐up of global action on climate change, and that enabled the global agreement," said Cheikhrouhou.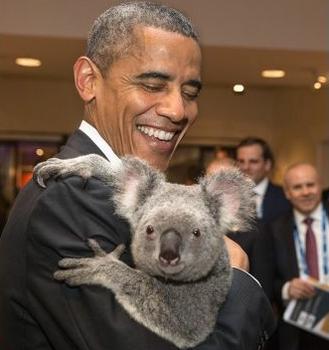 "With the U.S. pledge, we are more confident than ever that an increasing number and volume of contributions to the Fund will be announced in the days and weeks ahead," she said. "The GCF will mobilize investment from the private sector, whose resources and expertise will be essential to meet the climate challenge."
Back in Washington, President Obama needs the Republican Congress to approve U.S. contributions to the Green Climate Fund, a position that puts him at odds with the strengthened Republican leadership.
Republicans won enough Senate seats in the midterm elections earlier this month to seat a majority in both houses.
Incoming Senate Majority Leader Mitch McConnell, a Kentucky Republican, powered his re-election campaign with a pledge of his own – to protect Kentucky from what Republicans term Obama's "war on coal."
For years McConnell has fought regulations imposed on coal-fired power plant emissions by the U.S. Environmental Protection Agency. To date he has been unsuccessful as the courts, including the U.S. Supreme Court, have upheld the agency's authority to impose limits on greenhouse gases responsible for climate change.
"As I read the agreement, it requires the Chinese to do nothing at all for 16 years, while these carbon emission regulations are creating havoc in my state and in other states across the country,"said McConnell at a photo session with newly elected Republican senators on the first day of a "lame-duck" session of Congress."
Much of McConnell's support comes from the coal producers of Kentucky, a state where coal generates nearly all of the electricity.
"I have heard from Kentuckians across the commonwealth about the pain being inflicted on them by EPA's unilateral actions," McConnell said in a statement after his re-election victory. "I fully intend to do everything I can do to fight these onerous EPA regulations."
He could attempt to cut the EPA's budget to hobble its environmental enforcement. And he could tack such amendments onto crucial budget bills as he has in the past, raising the spectre of a government shutdown.
And McConnell is unlikely to support a U.S. contribution of $3 billion to the Green Climate Fund.
McConnell spokesman Don Stewart, said in an e-mail to Bloomberg News earlier this month, "On the president's desire to send the UN a ton of money, I've never heard the leader endorse that approach."
China's vow to fight climate change kills a basic Republican argument against U.S. climate action – that if the world's biggest CO2 emitter won't curb emissions, the United States should not do anything either.
On the looming fight with Congress over the Green Climate Fund, Counselor to the President John Podesta told reporters today, "I think we're going to have to get up there and explain why those funds are necessary and in the US national interest. The Department of Defense has already said that if communities are not prepared for climate chante it will be "a force multiplier with respect to our national security."
"The money being proposed will be managed carefully by USAID and the State Department," said Podesta. "It will go to build seed capital for the Green Cliamte Fund to attract private
money to do the work that is needed to be done. We think we can convince the Congress that their support should be forthcoming."
The Green Climate Fund pledging event coming up on Thursday happens just 10 days before the annual United Nations climate summit in Lima, Peru. There world leaders are expected to draft the global, legally-binding agreement that will limit greenhouse gas emissions to avert the worst consequences of climate change.
Copyright Environment News Service (ENS) 2014. All rights reserved.
Environment News Service (ENS) © 2014 All Rights Reserved.