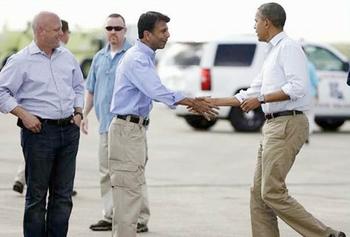 NEW ORLEANS, Louisiana, September 3, 2012 (ENS) – No lives were lost as a result of Hurricane Isaac, "because of the great work of law enforcement, National Guard, Coast Guard, making sure that folks were out in rescue mode rapidly, even in some cases at risk of their own lives," President Barack Obama said today after visiting damaged areas of Louisiana.
The President met today with politicians of both parties – Louisiana Governor Bobby Jindal, a Republican; Senator Mary Landrieu, a Democrat and her brother Mayor Mitch Landrieu of New Orleans, also a Democrat; Senator David Vitter a Republican; and Congressman Cedric Richmond, a Democrat. From St. John the Baptist Parish 30 miles west of New Orleans, Parish President Natalie Robottom and Sheriff Mike Tregre were also at the meeting.
"When disasters like this happen, we set aside whatever petty disagreements we may have," said Obama. "Nobody is a Democrat or a Republican – we're all just Americans looking out for one another. And I couldn't be prouder of this group right here that's around me for the great work that they've done."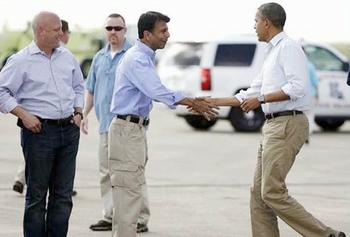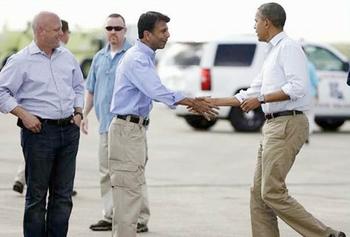 When Isaac struck New Orleans as a Category 1 hurricane Thursday, the reinforced, $14 billion levy system kept the city dry, but Plaquemines Parish and St. John the Baptist Parish suffered flooding and power outages. Some low-lying areas are still under water.
"It's something I've never seen before," said Plaquemines Parish President Billy Nungesser. "Listen, I rode out Katrina, and my home has more damage now. The roof, part of it is gone. The back wall, the water is coming through the wall. The back wall has moved two feet in my house."
Inspectors from the Federal Emergency Management Agency are on the Gulf Coast tonight assessing the damage, which could top $2 billion. More than 125,000 homes and businesses are still dark, down from nearly 240,000 customers without power as of Monday morning.
Referring to the slow federal response during Hurricane Katrina almost exactly seven years ago, Obama said, "I want to particularly thank FEMA and the state and local authorities, because sometimes in the past we haven't seen the kind of coordination that is necessary in response to these kinds of disasters. This time we've seen it."
"We made sure that we had the disaster declarations happen quickly so that we weren't behind the eight ball," Obama said. "We've approved individual assistance for this area, which means that these folks, if they've suffered additional losses beyond what they're insured for, that they are potentially eligible for some help."
"The good news is," said Obama, "that the Army Corps levees that were built around New Orleans and Jefferson Parish and some of these other areas worked very well and they were done expeditiously."
"But we've got a larger issue involved here," said Obama, "and that is how do we anticipate these storms and how do we make sure that an area like St. John's is protected when you have these kinds of disasters."
The President pledged to get federal agencies "figuring out what exactly happened here, what can we do to make sure that it doesn't happen again, and expediting some of the decisions that may need to be made to ensure that we've got the infrastructure in place to protect people's property and to protect people's lives."
U.S. Coast Guard assessment teams in the field have discovered oil in Bayou St. Denis, Myrtle Grove and near Port Sulphur, Louisiana. Teams are investigating reports of sheening in Breton Sound. Responders are in contact with facility owners and operators and have taken steps to contain and clean up oil spills.
"We are conducting overflights, ground assessments, airboat and small boat operations to seek out and recover any impacted wildlife and to find any oil or hazardous materials so we can recover them as quickly as possible to minimize the impact to residents and the environment," said Lt. Cmdr. Lushan Hannah, incident commander at Coast Guard Sector New Orleans.  
Overflights of Lake Pontchartrain showed no signs of spilled or leaked oil, but there are multiple displaced drums and containers.
The Plaquemines Parish Sheriff's Office ordered the evacuation of homes within a half-mile of the storm-damaged Stolthaven chemical plant in Braithwaite, Lousiana, which was heavily damaged and flooded during the storm.
Coast Guard representatives, teams from the U.S. Environmental Protection Agency and the state Department of Environmental Quality as well as Stolthaven representatives are on scene to assess the chemicals stored at the Stolthaven facility. Officials say there is no immediate public health concern and Mississippi River traffic is not affected.
Plaquemines' east bank is already under a mandatory evacuation order, but officials worked the area Monday to move residents near the Stolthaven plant who had stayed regardless of the evacuation order.
The Louisiana National Guard has 6,660 soldiers and airmen on duty in support of the response to Isaac. The Guard has assisted in the rescue and/or evacuation of 5,227 citizens throughout the state.
FEMA reports that there are five Disaster Recovery Centers open. To date, 64,861 people have registered for individual assistance, with $1,660,570 approved for housing assistance and $219,428 for other needs.
In Plaquemines Parish, the state Department of Transportation and Development will begin clearing state route 23, which is currently impassable due to flooding, marsh grass and other debris.
In St. John the Baptist Parish, DOTD crews have cleared and opened all state routes and will begin clearing debris pushed from roadways as soon as water subsides.
On Friday, Republican Presidential candidate Mitt Romney visited Louisiana to view the damage from Hurricane Isaac. Senator Landrieu said, "I welcome Governor Romney to Louisiana today so he can see firsthand the devastation caused by Hurricane Isaac. I hope as he witnesses recovery in action, he will reflect upon his party's approach to funding disaster response."
"Had the plan advocated by his running mate Congressman Paul Ryan and Congressman Eric Cantor prevailed, there would be no money readily available to provide assistance for this, or any other disaster," Senator Landrieu said. "Congress would have to debate and agree upon cuts to other priorities. My hope is that Governor Romney will leave Louisiana realizing that such an approach is overly bureaucratic, unworkable, and terribly unfair."
Due to the disaster relief reform Senator Landrieu negotiated last August and executed in December, FEMA estimates that there was $1.4 billion in the Distance Relief Fund as of August 31 to respond to disasters such as Hurricane Isaac through the end of the fiscal year.
Copyright Environment News Service (ENS) 2012. All rights reserved.
Environment News Service (ENS) © 2012 All Rights Reserved.