Obama: 'Outdoors More Precious Than Ever'
WASHINGTON, DC, February 16, 2011 (ENS) – President Barack Obama today announced the administration's action plan, under the America's Great Outdoors initiative, to achieve lasting conservation of the outdoor spaces that power our nation's economy, shape our culture, and build our outdoor traditions.
The plan released today would fully fund the Land and Water Conservation Fund; establish a 21st century Conservation Service Corps to engage young Americans in public lands and water restoration; and extend the tax deduction for conservation easement donations on private lands beyond 2011, among other measures.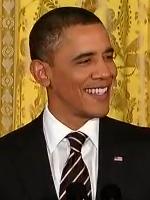 President Barack Obama introduces the America's Great Outdoors action plan. (Photo courtesy The White House)
"Today, our open spaces are more precious than ever, and it's more important than ever that we come together to protect them for the next generation," said President Obama in a news conference at the White House.
"To make it easier for families to spend time outside no matter where they live, we're going to work with cities and states to build and improve urban parks and waterways, and make it easier to access public lands," said Obama, complimenting First Lady Michelle Obama on her Let's Move initiative to help kids stay active and healthy.
"To encourage young people to put down the remote or the video games and get outside, we're going to establish a new Conservation Service Corps so they can build a lifelong relationship with their natural heritage," said the President.
"To help set aside land for conservation and to promote recreation, we're proposing to fully fund the Land and Water Conservation Fund, for only the third time in our history," Obama said. "And we're intending to pay for it with existing oil and gas revenues, because our attitude is if you take something out of the Earth, you have a responsibility to give a little bit back to the Earth."
The new plan is outlined in a report based on 51 listening sessions across the country held by senior administration officials last summer to gather input about the outdoor places and activities people value most.
These sessions drew more than 10,000 participants and more than 105,000 written comments, "shaping an action plan that, based on local initiatives and support," administration officials said today.
The plan includes:
A new generation of great urban parks and community green spaces
Newly-restored river restorations and recreational "blueways" that power economic revitalization in communities
Stronger support for farmers, ranchers, and private landowners who help protect rural landscapes and provide access for recreation
The reinvestment of revenues from oil and gas extraction into the permanent protection of parks, open spaces, wildlife habitat, and access for recreational activities
A 21st century conservation ethic that builds on local ideas and solutions for environmental stewardship and connecting to America's historic, cultural, and natural heritage
The President's Fiscal Year 2012 budget proposal released Monday includes a request of $2.9 billion for the National Park Service that includes funding for the administration's America's Great Outdoors initiative.
The budget proposal represents an increase of about $140 million over the FY 2010 enacted, targeted to park operations and Land and Water Conservation Fund programs.
The proposed increase in the Land and Water Conservation Fund, from $126 million in 2010 to $360 million, will mean more grants to support local projects that increase access to outdoor recreation and conservation in large urban centers and other areas through restoration of open space and waterways.
The nonprofit National Parks Conservation Association today expressed its support for the administration's America's Great Outdoors initiative.
"The administration should embrace this great opportunity to craft a robust national centennial parks agenda to ensure they are better protected and preserved for their second century starting in 2016," said NPCA President Tom Kiernan.
David Yarnold, president and CEO of the nonprofit National Audubon Society says the administration's outdoors initiative dovetails with what his group has done for more than a century. "We share the administration's commitment to bridging the gap between people and nature – a gap that that is widening under the pressures of urbanization and increasingly complicated lives," said Yarnold.
"We've learned that the best way to inspire a conservation stewardship is by first making sure that people of all backgrounds have the opportunity to discover and enjoy nature," he said.
Agriculture Secretary Tom Vilsack emphasized the job creation impact of the new plan. "America's farmlands and woodlands help fuel our economy and create jobs across the rural areas of our country," he said today. "This plan seeks to work in partnership with landowners, conservation groups, states and others to conserve our working lands and our public lands and to reconnect Americans – especially our nation's youth – with opportunities to stay active."
"This initiative is an effort to reconnect Americans with the valuable resources all around them and shape a 21st century plan for protecting our great outdoors," said EPA Administrator Lisa Jackson. "It is important that our waters, lands and greenspaces are brought back into our daily lives. President Obama's initiative will help make these critical resources a national focus once again, and involve people of every background in conservation of the places that we hold dear."
Copyright Environment News Service (ENS) 2011. All rights reserved.