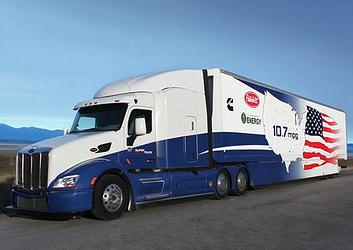 UPPER MARLBORO, Maryland, February 18, 2014 (ENS) – President Barack Obama today set the wheels in motion for the next phase of vehicle fuel efficiency and greenhouse gas standards for medium-duty and heavy-duty trucks as he pledged to do in his State of the Union address in January.
Speaking at a Safeway distribution center in Upper Marlboro, the President directed the U.S. Environmental Protection Agency and the National Highway Traffic Safety Administration to develop and issue the next phase of standards by March 2016. The agencies are expected to issue a Notice of Proposed Rulemaking by March 2015.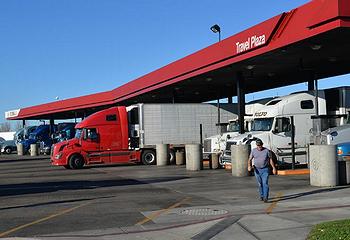 This second round of fuel efficiency standards will build on the first-ever standards for medium-duty and heavy-duty vehicles, covering model years 2014 through 2018.
Proposed by the Obama Administration and finalized in September 2011, these standards took effect on January 1. They are estimated to save vehicle owners and operators a total of $50 billion in fuel costs and save a projected 530 million barrels of oil.
Today the President also renewed his call for Congress to end federal government subsidies to oil and gas companies and create an Energy Security Trust Fund to fund research and development for advanced vehicle technologies.
Obama is proposing to support investment in advanced vehicles and infrastructure through a new tax credit and an extension of tax credits to support cellulosic biofuels, liquid fuels refined from agricultural waste and other biomass.
To develop standards that provide long-term certainty and promote innovation, EPA and NHTSA will work closely with stakeholders, both large and small, to explore further opportunities for fuel consumption and emissions reductions beyond the model year 2018.
The two federal agencies will work with the California Air Resources Board with the goal of ensuring that the next phase of standards "allow manufacturers to continue to build a single national fleet," The White House said in a statement.
The second round of truck fuel efficiency standards is expected to spur manufacturing innovation and lead to the adoption of new fuel-efficient technologies on trucks and semi-trailers.
In developing the new standards, EPA and NHTSA will assess advanced technologies that may not yet be in production for trucks but are found on many new fuel-efficient cars, such as: engine and powertrain efficiency improvements, aerodynamics, weight reduction, improved tire rolling resistance, hybridization and automatic engine shutdown when the vehicle is stopped.
Class 8 combination trucks, usually called 18-wheelers, serve as the backbone of the U.S. domestic freight transportation, hauling about 70 percent of all freight tonnage and over 70 percent of the value of all goods shipped.
Today, leaders of the American Trucking Associations, the largest national trade association for the trucking industry, expressed support for the goal of improved fuel efficiency of large trucks, but urged the Obama Administration to proceed cautiously with the new standards.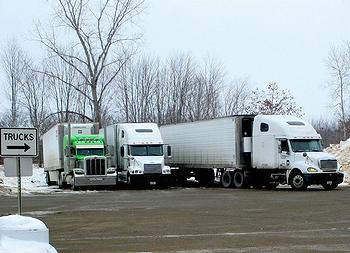 "Trucking is a very diverse industry," said ATA Chairman Phil Byrd, president of Bulldog Hiway Express of Charleston, South Carolina. "And as such, whatever standards the administration sets should reflect that diversity, and whatever tests are devised should accurately reflect what drivers face on the roads every day."
ATA President and CEO Bill Graves said, "We stood shoulder-to-shoulder with the President and his administration in 2011 when the historic first fuel efficiency standards were set for heavy-duty vehicles. As we begin this new round of standards, ATA hopes the administration will set forth a path that is both based on the best science and research available and economically achievable."
"Fuel is one of our industry's largest expenses, so it makes sense that as an industry we would support proposals to use less of it," Graves said. "However, we should make sure that new rules don't conflict with safety or other environmental regulations, nor should they force specific types of technology onto the market before they are fully tested and ready."
Because diesel powers more than 90 percent of all heavy duty trucks in the United States, advancements in clean diesel technology will play a major role in helping meet future efficiency, environmental and climate goals, says Allen Schaeffer, executive director of the nonprofit Diesel Technology Forum.
"Today's announcement sets up the next challenge for clean diesel technology to further improve fuel efficiency and reduce greenhouse gas emissions from commercial vehicles including medium and heavy duty trucks and buses," Schaeffer said. "Engine and vehicle makers have all met the first set of Phase I standards for higher fuel efficiency in the current 2014 products that are now certified and for sale."
"Currently, 2.86 million of the 8.8 million heavy duty trucks in the U.S. (32.5 percent) meet the first-generation clean diesel standards for model year 2007 engines. Of all trucks on the road today, 1.29 million (14.7 percent) meet the even more stringent clean diesel standards for 2010 and later model year engines," he said.
"The good news is clean diesel technology is already delivering significant environmental and climate benefits," said Schaeffer. "Over the last 10 years, emissions from heavy-duty diesel trucks and buses have been reduced by 99 percent for nitrogen oxides, an ozone precursor, and 98 percent for particulate emissions."
New clean diesel commercial vehicles emit near zero levels of particulates and nitrogen oxides. "It would take 60 new clean diesel trucks to produce the same level of emissions as a truck manufactured in 1988," said Schaeffer, "due to the billions of dollars in investments made by engine and truck manufacturers, fuel suppliers and emissions control technology companies."
Under its SuperTruck program, the Obama Administration has been working with truck manufacturers to demonstrate that, by 2015, the freight hauling efficiency of heavy-duty Class 8 trucks can be improved by 50 percent compared to 2010 levels.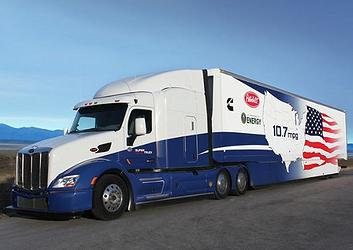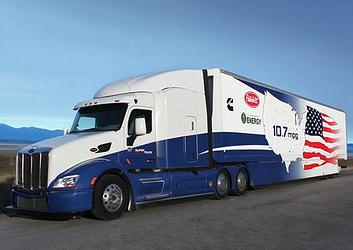 Through the program, the Department of Energy has partnered with four major engine and truck manufacturers – Cummins, Volvo, Navistar and Daimler Truck North America – to increase engine efficiency and overall fuel economy from about 6.5 miles per gallon to about 9.75 miles per gallon.
Class 8 vehicles have a total weight, including freight, of up to 80,000 pounds, so every mile per gallon gained in fuel economy is worth thousands of dollars in fuel cost savings per truck per year.
Today, partners Cummins Inc. and Peterbilt Motors Co. announced that the latest version of their SuperTruck demonstration tractor-trailer achieved 10.7 mpg last month under real-world driving conditions.
"Cummins supports standards that deliver environmental benefits and help our customers in the form of increased fuel efficiency and cost savings," said Rich Freeland, Cummins vice president and president, engine business.
"The first phase of these regulations provides a strong foundation that recognizes the needs of business while offering clear direction to create innovative technologies," said Freeland. "With the announcement today, it is clear that the government will again take a collaborative approach."
The other three SuperTruck partner teams also are on their way to achieving a 50 percent fuel economy increase, using aerodynamics and engine efficiency technologies.
Environmental groups came out in support of President Obama's new directive in part because it will reduce pressure on the global climate.
The Energy Information Administration projects that climate-damaging CO2 emissions from U.S. long and short-haul freight trucks will increase by more than 130 million tons between now and 2040 – the largest increase from any single end-use.
"We applaud President Obama's vision for a new generation of cleaner freight trucks based on advanced technologies," said Vickie Patton, general counsel to the nonprofit Environmental Defense Fund. "A new generation of more efficient diesel freight trucks will cut climate pollution, reduce our oil consumption, and provide considerable fuel cost savings for America's businesses and families."
Patton cited a recent report by the Consumer Federation of America that found rigorous truck fuel efficiency standards could lower fuel consumption by almost 50 percent and yield a net household savings to consumers of more than $250 per year, rising to more than $400 per year by 2035.
Said Michelle Robinson, director of Union of Concerned Scientists' Clean Vehicles Program, "The President's announcement today highlights how important it is to rein in the oil consumption of the trucks that transport our food and other household goods across the country. Virtually every item in our daily lives was once transported on a truck, and these standards will ensure that these vehicles are an important part of our country's oil saving efforts."
"According to the analysis in our 'Half the Oil' plan," said Robinson, "improving the fuel efficiency of all types of heavy-duty trucks could reduce oil consumption by one million barrels a day in 2035, more than the maximum capacity of the Keystone XL pipeline."
Sierra Club Executive Director Michael Brune said, "We have the technology to nearly double the fuel economy of tractor trailers, and now we need to put it to work. By setting a next round of strong heavy-duty vehicle standards, the Obama Administration can slash oil use, save consumers money, and cut dangerous pollution."
Copyright Environment News Service (ENS) 2014. All rights reserved.