Obama Offers 'Maximum Federal Help' on Visiting Tornado-Hit Alabama
TUSCALOOSA, Alabama, April 29, 2011 (ENS) – President Barack and First Lady Michelle Obama today toured the devastation left by tornadoes that hit Alabama earlier this week and the President approved a Major Disaster Declaration for the stricken state.
In Alabama alone, there have been 210 confirmed fatalities; 1,724 injuries and six persons reported missing.
A loss of power was reported at the Browns Ferry Nuclear Power Plant. Power is currently being supplied by emergency backup generator.
At least 388,000 electricity customers – 16 percent of Alabama – were still without power as of Thursday afternoon. Crews are out clearing roads of fallen trees, power poles and other debris, and more than 300 Alabama State Troopers are assisting with search and rescue.
Visiting the hard-hit communities of Alberta and Tuscaloosa this morning with Alabama Governor Robert Bentley and Tuscaloosa Mayor Walter Maddox, President Obama expressed "deepest condolences to not just the city of Tuscaloosa but the state of Alabama and all the other states that have been affected by this unbelievable storm."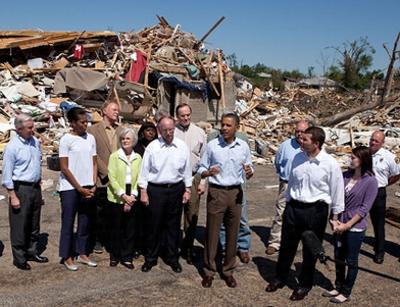 President Barack Obama, center, with Alabama Governor Robert Bentley, next left, and local officials and residents view tornado damage. (Photo by Pete Souza courtesy The White House)
"We just took a tour, and I've got to say I've never seen devastation like this," the President said. "It is heartbreaking. We were just talking to some residents here who were lucky enough to escape alive, but have lost everything. They mentioned that their neighbors had lost two of their grandchildren in the process."
After touring the hard-hit Alberta neighborhood where many houses were completely crumpled or had doors blown off, President Obama and an accompanying group of state and local officials went to the Holt Elementary School outside the city limits.
At the school, Alabama Senator Jeff Sessions said that the Alberta area and the neighborhood near the school suffered "the most violent winds and the most damage," including fatalities.
The school was severely damaged and is now being used as a distribution center for aid supplies. The fire, police and emergency management assets of the city have been damaged by the tornadoes, making it even more difficult for communities to cope.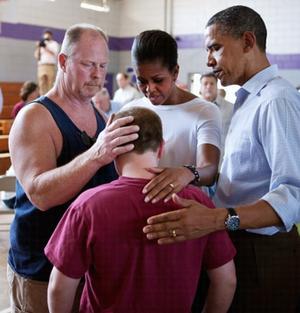 President Barack Obama and First Lady Michelle Obama comfort people at Holt Elementary School, Alabama. (Photo by Pete Souza courtesy The White House)
As the First Lady hugged survivors, President Obama greeted several residents. "In addition to keeping all the families who've been affected in our thoughts and prayers, obviously our biggest priority now is to help this community recover," said the President.
"Fortunately the governor has done an extraordinary job with his team in making sure that the resources of the state are mobilized and have been brought in here," said Obama, who also praised the efforts of Federal Emergency Management Agency Director Craig Fugate.
"We've already provided the disaster designations that are required to make sure that the maximum federal help comes here as quickly as possible," Obama said.
"Craig is working with the teams on the ground to make sure that we are seamlessly coordinating between the state, local and federal governments," he said. "And I want to just make a commitment to the communities here that we are going to do everything we can to help these communities rebuild."
We can't bring those who have been lost back. They're alongside God at this point," said the President. "We can help maybe a little bit with the families dealing with the grief of having a loved one lost. But the property damage, which is obviously extensive, that's something that we can do something about."
"What you're struck by is people's resilience and the way that the community has come together. And obviously that's testimony to the leadership of the governor and the mayor, but it's also inherent as part of the American spirit," Obama said. "We go through hard times, but no matter how hard we may be tested, we maintain our faith and we look to each other to make sure that we're supporting each other and helping each other. I'm sure that that spirit is going to continue until this city is all the way back."
Copyright Environment News Service (ENS) 2011. All rights reserved.