Obama Marks 40th Earth Day With America's Great Outdoors Initiative
WASHINGTON, DC, April 20, 2010 (ENS) – The 40th anniversary of Earth Day will be celebrated across the United States and around the world on Thursday, and here in Washington, President Barack Obama's Earth Day message is a challenge to Americans to take action on behalf of the environment.
"I want you to take action – in your home or your community; at your school or your business – to improve our environment," the President said. "It can be as simple as riding the bus or the subway to work, making your home more energy efficient, or organizing your neighbors to clean up a nearby park."
"Just go to whitehouse.gov/earthday to learn how you can help. And then tell us your story about what you're doing to make a difference," Obama said. To share your story or your ideas on how to protect the places you love, click here.
"In the end, it's people like you – the small business owners and community leaders; the teachers and the students; the young people and the grandparents – who have made Earth Day so successful," said Obama. "And it's going to be up to you to make an even bigger difference over the next 40 years," he said.
On Friday in Washington, President Obama held a conference to kick off his America's Great Outdoors initiative to promote and support innovative community-level efforts to conserve outdoor spaces and to reconnect Americans to the outdoors.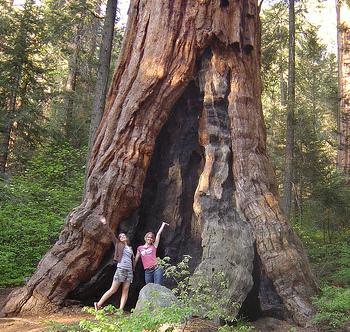 Visitors to California's Sequoia National Park enjoy the General Sherman Tree, the largest tree in the world. (Photo by Troy Dutton)
Speaking at the conference, President Obama said, "Even in times of crisis, we're called to take the long view to preserve our national heritage – because in doing so we fulfill one of the responsibilities that falls to all of us as Americans, and as inhabitants of this same small planet."
In the coming months members of the Obama administration will host regional listening sessions across America to gather ideas for what the President called "a 21st century strategy for America's great outdoors to better protect our natural landscape and our history for generations to come."
"Understand, we're not talking about a big federal agenda being driven out of Washington," Obama assured leaders representing the conservation, farming, ranching, sporting, recreation, forestry, private industry, local parks and academia communities from all 53 states and territories.
"We're talking about how we can collect best ideas on conservation; how we can pursue good ideas that local communities embrace; and how we can be more responsible stewards of tax dollars to promote conservation," the President said.
"First, we're going to build on successful conservation efforts being spearheaded outside of Washington – by local and state governments, by tribes, and by private groups – so we can write a new chapter in the protection of rivers, wildlife habitats, historic sites, and the great landscapes of our country," Obama said.
"Secondly, we're going to help farmers, ranchers, property owners who want to protect their lands for their children and their grandchildren," he said.
"Third, we'll help families spend more time outdoors, building on what the First Lady has done through the Let's Move initiative to encourage young people to hike and bike and get outside more often," said Obama.
"And fourth, we want to foster a new generation of community and urban parks so that children across America have the chance to experience places like Millennium Park in my own Chicago," he said.
Obama signed a Presidential Memorandum Friday establishing the America's Great Outdoors Initiative. The Memorandum calls on the Secretaries of the Interior and of Agriculture, the Administrator of the Environmental Protection Agency, and the Chair of the Council on Environmental Quality to lead the Initiative, in coordination with the Departments of Defense, Commerce, Housing and Urban Development, Health and Human Services, Labor, Transportation, Education, and the Office of Management and Budget.
Secretary of the Interior Ken Salazar said, "President Obama's America's Great Outdoors Initiative will start a much-needed dialogue about conservation in our country so that we can hear directly from Americans about the places they care about and how they are working to protect them."
"Too many of our cities have limited access to parks for children, low-income residents and communities of color," said EPA Administrator Lisa Jackson. "Improving access to open areas and green space in our urban communities should be a focus of a 21st century conservation strategy."
"Today, with 80 percent of Americans living in cities and suburbs, it is more important than ever for people to have access to outdoor space," said CEQ Chair Nancy Sutley. "Just as we cherish our childhood memories of hiking and sledding, fishing and camping, and just as we enjoy spending time outdoors with our families, we must guard these places and traditions for new generations."
On Wednesday morning, the State Department will commemorate the 40th anniversary of Earth Day as well as the first anniversary of Secretary of State Hillary Rodham Clinton's Greening Diplomacy Initiative.
At the event, the State Department will formally launch the D.C. Forum for Greening Embassies, which will convene foreign missions to exchange ideas on environmental issues and operational practices.
Also Wednesday, Vice President Biden will make an announcement related to the American Recovery and Reinvestment Act's $80 billion investment in clean energy and initiatives promoting energy efficiency.
The Vice President will be joined by Secretary of Energy Steven Chu as he delivers remarks to environmental leaders and state and local officials at the White House.
Copyright Environment News Service (ENS) 2010. All rights reserved.