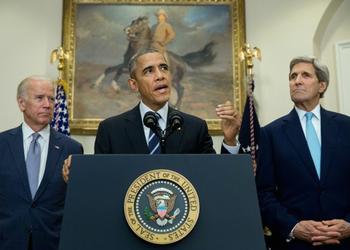 WASHINGTON, DC, November 6, 2015 (ENS) – TransCanada's Keystone XL tar sands pipeline is dead, at least for the remainder of President Barack Obama's term in office. Today, after six years of research and protest demonstrations, Obama denied the project the Presidential Permit it needed to cross the Canada-U.S. border.
Speaking from the White House, the President said, "Several years ago, the State Department began a review process for the proposed construction of a pipeline that would carry Canadian crude oil through our heartland to ports in the Gulf of Mexico and out into the world market."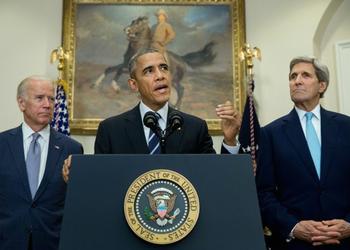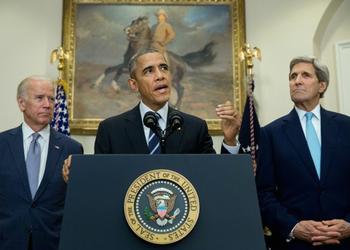 "This morning, Secretary Kerry informed me that, after extensive public outreach and consultation with other Cabinet agencies, the State Department has decided that the Keystone XL Pipeline would not serve the national interest of the United States. I agree with that decision."
The Keystone XL pipeline, as proposed by the Alberta-based company, would have run 1,179-miles (1,897km) from the oil sands in Alberta to Steele City, Nebraska, where it would have joined an existing pipeline. TransCanada had planned for it to carry 830,000 barrels of oil a day.
Carrying diluted bitumen from Alberta, the pipeline would have entered the United States at Morgan, Montana, and traveled through Baker, Montana, where American-produced crude oil would have been added. It would have then run through South Dakota and into Nebraska, where it would have joined the existing Keystone pipelines at Steele City.
President Obama said approval of the pipeline would have undercut U.S. efforts to combat climate change, just ahead of the UN climate talks in Paris that open November 30. There, world leaders are expected to signed a universal, legally-binding deal to limit the greenhouse gases responsible for unprecedented planetary warming.
The deal will require all nations to reduce their fossil fuel pollution rather than only the developed nations covered by the 1997 Kyoto Protocol, a pact that the U.S. did not ratify.
Tar sands crude oil is considered to be dirty oil because, considering all emissions – from extracting the fuel from the ground, to refining it and burning it in automobiles, tar sands oil produces 15 to 20 percent more greenhouse gas emissions than other oil.
The President pointed to the effect of burning tar sands oil on the climate as the basic reason his administration rejected the Keystone XL pipeline today.
"We've got to come together around an ambitious framework to protect the one planet that we've got while we still can," Obama said. "If we want to prevent the worst effects of climate change before it's too late, the time to act is now. Not later. Not someday. Right here, right now."
"America is now a global leader when it comes to taking serious action to fight climate change. And frankly, approving this project would have undercut that global leadership. And that's the biggest risk we face – not acting," said Obama.
"Today, we're continuing to lead by example," Obama said, stressing that the need to act is urgent. "Because ultimately, if we're going to prevent large parts of this Earth from becoming not only inhospitable but uninhabitable in our lifetimes, we're going to have to keep some fossil fuels in the ground rather than burn them and release more dangerous pollution into the sky."
"As long as I'm President of the United States," he said, "America is going to hold ourselves to the same high standards to which we hold the rest of the world. And three weeks from now, I look forward to joining my fellow world leaders in Paris, where we've got to come together around an ambitious framework to protect the one planet that we've got while we still can."
This morning, President Obama spoke with newly elected Canadian Prime Minister Justin Trudeau, who said he is disappointed by the U.S. decision.
"While he expressed his disappointment, given Canada's position on this issue, we both agreed that our close friendship on a whole range of issues, including energy and climate change, should provide the basis for even closer coordination between our countries going forward," Obama said.
Prime Minister Trudeau said, "We are disappointed by the decision but respect the right of the United States to make the decision."
"The Canada-U.S. relationship is much bigger than any one project and I look forward to a fresh start with President Obama to strengthen our remarkable ties in a spirit of friendship and co-operation," said the Canadian leader..
"We know that Canadians want a government that they can trust to protect the environment and grow the economy," said Trudeau. "The Government of Canada will work hand-in-hand with provinces, territories and like-minded countries to combat climate change, adapt to its impacts, and create the clean jobs of tomorrow."
The environmental community was delighted with President Obama's decision.
Natural Resources Defense Council trustee and actor Robert Redford, a long-time environmental activist with deep involvement in the campaign against the pipeline, said, "Today marks a huge turning point in our fight to leave a better future for our children and generations to come. People all over the country banded together to demand a stop to this short-sighted, destructive fossil fuel project. Thank you, to the President and all those who rallied against the pipeline."
The Rosebud Sioux Tribe responded by holding a celebration in its council chambers today and plans a bigger event later this month. Tribal President William Kindle said, "The Rosebud Sioux Tribe is extremely grateful and honored by President Obama's decision to reject Keystone XL. This is a monumental victory to protect Unci Maka [Grandmother Earth.]"
"Our unified efforts at the state and national level have come to fruition with the rejection. The Rosebud Sioux Tribe has stood in the forefront opposing the devastating Keystone XL pipeline project. We affirm our rights as the original caretakers of the land."
Copyright Environment News Service (ENS) 2015. All rights reserved.