Obama Invests $2 Billion in High-Speed Intercity Rail
WASHINGTON, DC, May 9, 2011 (ENS) – The Obama administraton today announced awards worth $2 billion for high-speed rail in the Northeast, Midwest, the South, Texas and California.
The Federal Railroad Administration has selected 15 states and Amtrak to receive a total of $2 billion for 22 high-speed intercity passenger rail projects as part of a nationwide network that is intended to connect 80 percent of Americans to high-speed rail in 25 years.
Announcing the investment, Vice President Joe Biden said, "Earlier this year, President Obama and I made a commitment to improve and expand America's transportation system, including the development of a modern, national high-speed rail network. And today, we're announcing investments that will continue our progress toward making this vision a reality."
"These projects will put thousands of Americans to work, save hundreds of thousands of hours for American travelers every year, and boost U.S. manufacturing by investing hundreds of millions of dollars in next-generation, American-made locomotives and railcars," Biden said.
The largest amount of these dedicated rail dollars, $795 million total, will be spent in the Northeast Corridor to upgrade some of the most heavily-used sections of this busy corridor. The investments will increase speeds from 135 to 160 miles per hour on critical rail segments, improve on-time performance and add more seats for passengers.
The next largest amount, $404.1 million, will expand high-speed rail service in the Midwest. Newly constructed segments of 110-mph track between Detroit and Chicago will save passengers 30 minutes in travel time and create nearly 1,000 new jobs in the construction phase.
Upgrades to the Chicago to St. Louis corridor will shave time off the trip, enhance safety and improve ridership.
U.S. Transportation Secretary Ray LaHood said, "The investments we're making today will help states across the country create jobs, spur economic development and boost manufacturing in their communities."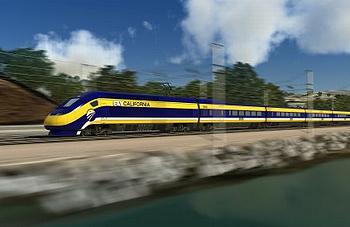 High-speed train in California (Photo courtesy DOT)
"When the Department of Transportation announced the competition for these awards in March, we were inundated with 98 applications seeking more than $10 billion," said LaHood. Twenty-four states, the District of Columbia and Amtrak applied to be part of this historic investment.
The rail dollars will boost U.S. manufacturing through a $336.2 million investment in state-of-the-art locomotives and rail cars for California and the Midwest.
In California, a $300 million investment will extend the current 110 mile segment an additional 20 miles to advance completion of the Central Valley project, the backbone of the Los Angeles to San Francisco corridor.
The nation's first 220-mph high-speed rail system is being built in California. The work funded in this round will extend the track and civil work from Fresno to the Wye junction, which will provide a connection to San Jose to the West and Merced to the North.
A strict Buy America requirement for high-speed rail projects ensures that U.S. manufacturers and workers will receive the maximum economic benefits from this federal investment.
In 2009, Secretary LaHood secured a commitment from 30 foreign and domestic rail manufacturers to employ American workers and locate or expand their base of operations in the United States if they are selected for high-speed-rail contracts.
The American Recovery and Reinvestment Act of 2009 and annual appropriations have, to date, provided $10.1 billion to put America on track towards providing rail access to new communities and improving the reliability, speed and frequency of existing lines. Of that, approximately $5.8 billion dollars has already been obligated for rail projects.
Copyright Environment News Service (ENS) 2011. All rights reserved.
© 2011 – 2012, Jim Crabtree. All rights reserved.