Obama, Hu Agree to Combat Climate Change, Urged to Do More
WASHINGTON, DC, January 19, 2011 (ENS) – Presidents Barack Obama and Hu Jintao of China, who is in Washington on an official state visit, said in a joint statement this afternoon that they "view climate change and energy security as two of the greatest challenges of our time." In an open letter today, U.S. environmental leaders urged the presidents to adopt "a wartime-like mobilization" to cut greenhouse gas emissions.
China is the world's highest emitter of the greenhouse gas carbon dioxide, with the United States a close second.
The two leaders agreed to continue their "close consultations on action to address climate change," and they pledged coordination "to achieve energy security for our peoples and the world."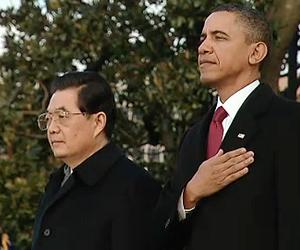 President Hu Jintao, left, and President Barack Obama listen to the U.S. national anthem during a ceremony to welcome the Chinese leader to the White House. (Photo courtesy the White House)
They will "build on existing clean energy cooperation, ensure open markets, promote mutually beneficial investment in climate friendly energy, encourage clean energy, and facilitate advanced clean energy technology development," the presidents said.
Both sides applauded the progress made in clean energy and energy security since the launch of the U.S.-China Clean Energy Research Center, Renewable Energy Partnership, U.S.-China Joint Statement on Energy Security Cooperation, and Energy Cooperation Program.
Both sides reaffirmed their ongoing exchanges on energy policy and cooperation on oil, natural gas (including shale gas), civilian nuclear energy, wind and solar energy, smart grid, advanced bio-fuels, clean coal, energy efficiency, electric vehicles and clean energy technology standards.
The two sides commended the progress made since the launch of the U.S.-China Ten Year Framework on Energy and Environment Cooperation in 2008. They agreed to further strengthen practical cooperation under the Ten Year Framework, carry out action plans in the priority areas of water, air, transportation, electricity, protected areas, wetlands, and energy efficiency, engage in policy dialogues, and implement the EcoPartnerships program on energy and environmental cooperation.
The two sides welcomed local governments, enterprises, and research institutes of the two countries to participate in the Ten Year Framework, and jointly explore innovative models for U.S.-China energy and environment cooperation. The two sides welcomed the cooperation projects and activities which will be carried out in 2011 under the Ten Year Framework.
The two sides welcomed the Cancun agreements reached at December's United Nations climate conference and said they believe "it is important that efforts to address climate change also advance economic and social development."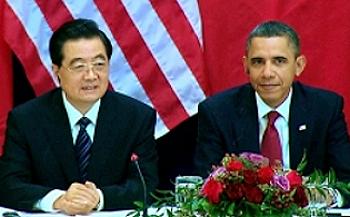 President Hu Jintao, left, and President Barack Obama meet with business leaders (Photo courtesy The White House)
Working together and with other countries, the two leaders agreed to actively promote the comprehensive, effective, and sustained implementation of the United Nations Framework Convention on Climate Change, including the implementation of the Cancun agreements and support efforts to achieve positive outcomes at this year's conference in South Africa.
The statement represents continued incremental progress towards "deeper bilateral engagement and coordination" on "a wide range of security, economic, social, energy, and environmental issues."
But that level of urgency is not enough for U.S. environmental and renewable energy leaders.
In an open letter delivered to the White House this morning, 22 heads of environmental and clean energy organizations called on the presidents of the United States and China to declare a "global climate emergency" and agree to reduce carbon emissions to 350 parts per million in the atmosphere.
"It is with a deepening sense of dread over the fate of future generations that we call on you to acknowledge the severity of the global climate emergency by placing climate stabilization at the top of your policy agendas," the letter states.
"Estimates by the World Health Organization are that the Earth's warming climate contributes to more than 150,000 deaths each year," the environmental leaders said in their letter, reminding the presidents that 2010 tied with 2005 as the warmest year on record.
The environmental leaders warned of:
Crop-withering heat waves
A melting Greenland ice sheet that threatens to raise sea level 23 feet
Fires transforming carbon-storing tropical rainforests into carbon emitters
Ocean acidification imperiling the base of the seafood chain
Melting glaciers in the Himalayas and Tibetan Plateau threatening the dry season irrigation water supplies and food security of hundreds of millions of people
Ever-deadlier storms creating growing numbers of climate refugees
Scientific predictions that 20 percent of all living species driven toward extinction by mid-century
"This is just the beginning. Nature tells us time is running out, but we can't see the clock. As we blindly reach critical climate 'tipping points,' things promise to get worse, much worse," the environmentalists warned.
They called for "a wartime-like mobilization by the governments of the United States and China to cut carbon emissions."
The letter is signed by:
Lester Brown, President, Earth Policy Institute
Rev. Sally Bingham, president, The Regeneration Project and Interfaith Power and Light
Brent Blackwelder, president emeritus, Friends of the Earth
David Blittersdorf, president/CEO, AllEarth Renewables, Inc.
Jan Blittersdorf, president/CEO, NRG Systems, Inc.
Michael Brune, executive director, Sierra Club
Lisa Daniels, executive director, Windustry
Brock Evans, president, Endangered Species Coalition
Ross Gelbspan, author
Paul Hawken, author
Randy Hayes, executive director, Foundation Earth and founder, Rainforest Action Network
Courtney Hight, co-director, Energy Action Coalition
Julia Butterfly Hill, co-founder, The Engage Network
Chuck Kutscher, former chair, American Solar Energy Society and principal engineer, National Renewable Energy Laboratory
Eric Lombardi, executive director, Eco-Cycle
Bill McKibben, founder, 350.org
Phil Radford, executive director, Greenpeace
Kieran Suckling, executive director, Center for Biological Diversity
Rebecca Tarbotton, executive director, Rainforest Action Network
Mike Tidwell, director, Chesapeake Climate Action Network
James Walker, former president, American Wind Energy Association
Tom Weis, president, Climate Crisis Solutions, who delivered the open letter on the same "rocket trike" he rode across 11 states last year promoting 100 percent renewable electricity for the United States in 10 years.
Copyright Environment News Service (ENS) 2011. All rights reserved.
Environment News Service (ENS) © 2011 – 2012 All Rights Reserved.