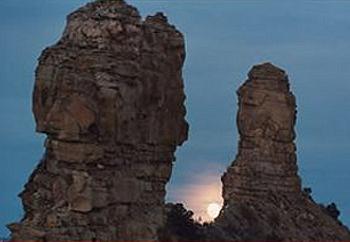 WASHINGTON, DC, September 21, 2012 (ENS) – Today, on the fall equinox, the moonrise is aligned with the two pinnacles at Chimney Rock in southwestern Colorado, one of only four days each year when this alignment occurs.
Timing his action to coincide with this natural alignment, President Barack Obama today signed a Proclamation establishing Chimney Rock as a National Monument.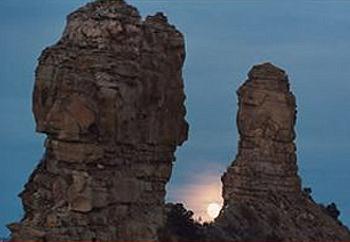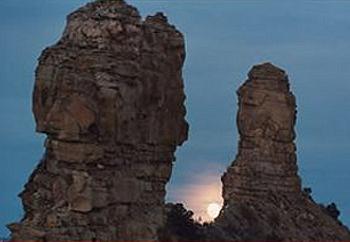 "Chimney Rock draws thousands of visitors who seek out its rich cultural and recreational opportunities," said President Obama. "Today's designation will ensure this important and historic site will receive the protection it deserves."
"The Chimney Rock site in southwestern Colorado incorporates spiritual, historic, and scientific resources of great value and significance," the Presidential Proclamation states. "A thousand years ago, the vast Chaco civilization was drawn to the site's soaring massive rock pinnacles, Chimney Rock and Companion Rock, that rise hundreds of feet from the valley floor to an elevation of 7,600 feet."
Atop these ancient sandstone formations, Ancestral Pueblo People built what Obama termed "exquisite stone buildings," including the highest ceremonial 'great house' in the Southwest. The Chaco-style communal multi-room great house was built in the late 11th century to command observations of the surrounding landscape and astronomical phenomena.
Every 18.6 years, during the northern lunar standstill, the moonrise is aligned with the site's two rock pinnacles, as well as during the summer and winter solstices, and the fall and spring equinoxes.  
At these times, descendants of the Ancestral Pueblo People return to Chimney Rock for spiritual and traditional purposes.
"In 1100 A.D.," the proclamation explains, "the area's cultivated fields and settlements extended from the valley floors to the mesa tops. The pinnacles, Chimney Rock and Companion Rock, dominated the landscape. Today, peregrine falcons nest on the pinnacles and soar over ancient structures, the dramatic landscape, and the forested slopes of the Piedra River and Stolsteimer Creek drainages, which are all framed by the high peaks of the San Juan Mountains."
Migratory mule deer and elk herds pass through the area each fall and spring as they have for thousands of years, and live there during the critical winter months. Merriam's turkeys, river otters, bald eagles, golden eagles, mountain lions, bats, woodpeckers, and many species of migratory birds also live in the area among the Ponderosa Pine, pinon, and juniper, the Proclamation states.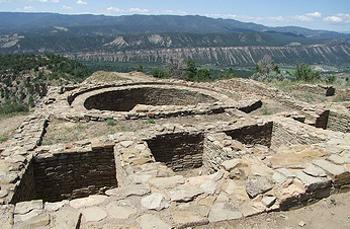 Desert plants usually found farther south grow there, including a species of cholla cactus that does not occur naturally outside the Sonoran Desert, believed to have been cultivated by the Ancestral Pueblo People.
In 1970, Chimney Rock was listed on the National Register of Historic Places, and its spectacular landscape has been open to visitors since then.
President Obama made Chimney Rock a National Monument by using his powers under the Antiquities Act with support from Colorado officials, the Native American community, local businesses and other stakeholders. A 2010 attempt to obtain national monument status for Chimney Rock by Congressional action was blocked on the Senate floor by a minority of senators.
Chimney Rock is the third National Monument designated by President Obama using the Antiquities Act. He previously designated Fort Monroe National Monument in Virginia, a former Army post integral to the history of slavery, the Civil War, and the U.S. military, and Fort Ord National Monument in California, a former military base that is a world-class destination for outdoor recreation.
First exercised by President Theodore Roosevelt in 1906 to designate Devils Tower National Monument in Wyoming, the authority of the Antiquities Act has been used by 16 presidents since 1906 to protect unique natural and historic features in America, such as the Grand Canyon, the Statue of Liberty, and the Northwestern Hawaiian Islands Marine National Monument.
The 4,726 acre Chimney Rock National Monument will be managed by the USDA Forest Service in collaboration with tribal, community, state, and Federal partners. It is the seventh National Monument to be managed by the agency.
"Thousands of people come every year to experience the cultural, and spiritual significance of Chimney Rock," said Agriculture Secretary Tom Vilsack, who has jurisdiction over the Forest Service. "With President Obama's action and the strong support of the Native American community and others throughout the region, this new monument will bring new economic opportunity to Archuleta County and the Four Corners region as more visitors from around the world come to see this national treasure."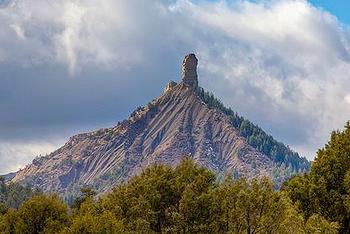 While visitors are welcome, the protected status of the National Monument will keep motorized vehicles out of the back country. The proclamation directs the secretary of agriculture to "limit all motorized and mechanized vehicle use to designated roads, except for emergency or authorized administrative purposes."
U.S. Senator Michael Bennet of Colorado today said, "This is the culmination of years of hard work and team work by Coloradans who recognize Chimney Rock for the spectacular site that it is. When the local communities asked me to engage in these efforts, I was thrilled to take their message to Washington.
"Chimney Rock is more than an amazing geologic formation," said Bennet. "It is full of extraordinary cultural, historical and archeological significance.  The President's proclamation will help preserve, protect, and restore the site and will help boost Colorado's tourism at a critical time."
Gene Karpinski, president of the League of Conservation Voters and Pete Maysmith, executive director of Colorado Conservation Voters, applauded President Obama's leadership in protecting Chimney Rock for future generations. "Recognizing and preserving a spectacular place that evokes Colorado's heritage of unique landscapes boosts local economies by driving tourism and recreation, which is why people all across Colorado support the decision to make Chimney Rock a National Monument," they said.
Sierra Club Executive Director Michael Brune said, "We commend President Obama for using his authority to protect this important piece of America. National monument designation honors and benefits this important cultural site, the local economy and regional tribes. Protecting public lands is good for communities, good for business and good for nature. We hope that President Obama will continue to secure these benefits for other natural wonders that are worthy of national monument status and still in need of protection."
Copyright Environment News Service (ENS) 2012. All rights reserved.
Environment News Service (ENS) © 2012 All Rights Reserved.