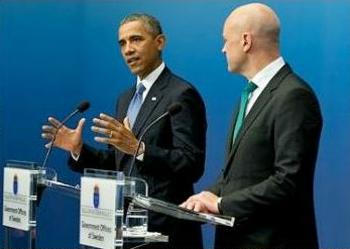 STOCKHOLM, Sweden, September 5, 2013 (ENS) – President Obama is now in St. Petersburg, Russia at the G20 economic meeting, but he woke up this morning in Stockholm, where he agreed with Nordic leaders to cooperate on international climate negotiations and clean energy.
This morning, President Obama met with the King Carl XVI Gustaf and Queen Silvia of Sweden before flying to St. Petersburg for the G-20 Summit.
His visit was an historic event – the first bilateral visit by a President of the United States to Sweden.
President Obama and leaders from Denmark, Finland, Iceland, Norway and Sweden said they share the goal of reaching a binding global climate agreement by 2015, noting that taking action on climate change, domestically and internationally, "requires mobilizing scaled up climate finance."
In a Joint Statement, the Nordic leaders said they will "join the United States in ending public financing for new coal-fired power plants overseas, except in rare circumstances."
They agreed on the importance of reaching "an ambitious, comprehensive, fair, and inclusive climate agreement under the United Nations Framework Convention on Climate Change in 2015 that is consistent with science, mindful of the two degree target, and applicable to all."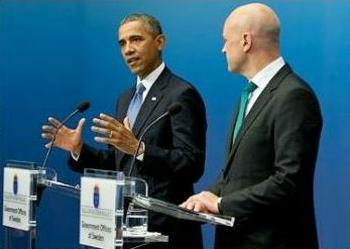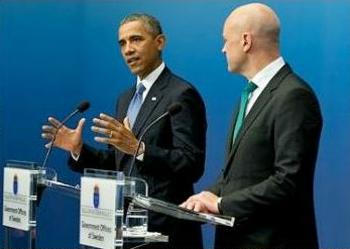 The six countries agreed to continue their work to reduce the use of domestic fossil fuel subsidies globally and work together to secure the support of other countries and multilateral development banks to adopt similar policies.
Prime Minister Fredrik Reinfeldt told a press conference Wednesday that climate change and its consequences are "one of the most important challenges to our societies."
"Sweden has reduced greenhouse gas emissions by 20 percent since 1990, while GDP at the same time has increased by 60 percent. So there is no contradiction between economic growth and the protection of environment," said Reinfeldt.
"We have agreed to work together in the international climate negotiations to make sure that other countries also are prepared to cut their emissions," said the Swedish leader. "This is the only way that we can protect our environment."
"I welcome President Obama's ambitious new Climate Action Plan," said Reinfeldt. "U.S. emissions have, in recent years, already fallen substantially, and your new plan will help United States to make even further reductions."
President Obama told the reporters, "Mindful of the jobs that are supported by trade between our two countries, we discussed ways to partner more, including creating a clean energy partnership that creates jobs and combats climate change effectively."
"Sweden is obviously an extraordinary leader when it comes to tackling climate change and increasing energy efficiency, and developing new technologies," said Obama. "The goal of achieving a carbon-neutral economy is remarkable, and Sweden is well on its way. We deeply respect and admire that and think we can learn from it."
"In the United States," Obama said, "we've taken some historic steps – doubling our electricity from wind and solar, improving the fuel efficiency of our cars, reducing our carbon pollution to the lowest levels in nearly 20 years – but we all know we need to do more."
"So my new Climate Action Plan – more clean energy, more energy efficiency, less emissions – will allow us to do even more in the years to come," said Obama. "And we look forward to a close partnership with Sweden on what is going to be a global challenge."
In their Joint Statement the Nordic countries and United States recognized the positive reaction among nations to the 18-month-old Climate and Clean Air Coalition to Reduce Short-Lived Climate Pollutants.
The main short lived climate pollutants are black carbon, methane and tropospheric ozone, which are the most important contributors to the human acceleration of the global greenhouse effect after CO2. These short-lived climate pollutants are also air pollutants, with harmful impacts on human health, agriculture and ecosystems.
In Oslo, Norway on Tuesday, ministers of the environment, CEOs and senior officials of governments and nonprofit organizations released a communique laying out an ambitious agenda for the future in the fight to reduce short-lived climate pollutants. The communiqué emerged from the High Level Assembly of the Climate and Clean Air Coalition to Reduce Short-Lived Climate Pollutants, which met in an intensive day-long session of discussion and negotiation.
"We want to see other countries act. We want to enable those with the will, but not necessarily the resources, to act," said Norway's Minister of Environment Bard Vegar Sohjell, announcing an additional 110 million Norwegian kroner (US$20 million) to reduce emissions of short lived climate pollutants in developing countries."
The United States and Nordic countries expressed their support for the "Sustainable Energy for All" initiative of the UN Secretary-General.
"We recommit to protecting the Arctic environment, working to improve living conditions and encouraging sustainable development in the Arctic region, particularly with respect to indigenous peoples, and ensuring that the Arctic remains a peaceful region of cooperation," promised the six nations.
They pledged, "We will pursue opportunities in future Arctic Council meetings and other international fora to promote prosperity, foster scientific cooperation, and reduce emissions of black carbon in the Arctic region."
In Stockholm, the United States also agreed to work in parallel with the Nordic members of the Friends of Fossil Fuel Subsidy Reform to undertake peer reviews of domestic fossil fuel subsidies. The Friends group was launched informally in June 2010 and currently includes Denmark, New Zealand, Norway, Sweden and Switzerland.
In 2009 and again in 2010, G-20 and APEC Leaders signaled their political commitment to the reform of inefficient fossil-fuel subsidies, and set out their intentions in communiqués.
Tucked away in the corners of the G-20 meeting hall, separate from the consuming debate on what to do about Syrian chemical weapons, the G-20 leaders may be talking about climate change and fossil fuel subsidies.
Research suggests that reform of fossil-fuel subsidies could reduce global greenhouse emissions up to 10 percent by 2050 and make a substantial contribution to keeping global warming below two degrees Celsius in 2050.
Reforms to fossil-fuel subsidies would remove an existing disincentive to the development and greater uptake of renewable sources of energy.
Late Wednesday, President Obama and Prime Minister Reinfeldt visited the Royal Institute of Technology,  where they saw the Sleipner hydrogen-powered car, named after Norse god Odin's steed and developed at the Institute's School of Chemical Science and Engineering.
Copyright Environment News Service (ENS) 2013. All rights reserved.