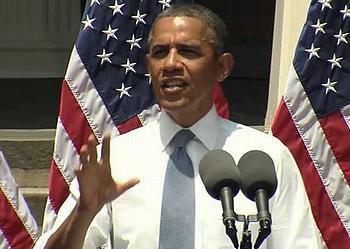 WASHINGTON, DC, November 1, 2013 (ENS) – To prepare the United States for the impacts of climate change already being felt across the country, President Barack Obama today established an interagency Council on Climate Preparedness and Resilience, chaired by the White House and composed of more than 25 federal agencies.
In his Executive Order establishing the council, the President also created the State, Local, and Tribal Leaders Task Force on Climate Preparedness and Resilience to advise the administration and the new interagency council on how the federal government can respond to the needs of communities coping with the impacts of climate change.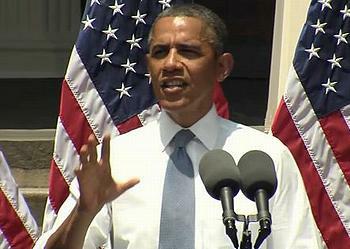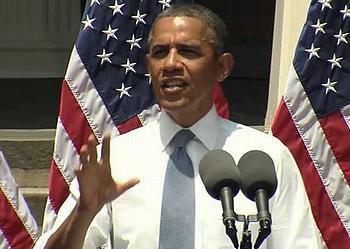 "The impacts of climate change – including an increase in prolonged periods of excessively high temperatures, more heavy downpours, an increase in wildfires, more severe droughts, permafrost thawing, ocean acidification, and sea-level rise – are already affecting communities, natural resources, ecosystems, economies, and public health across the Nation," said the President in today's Executive Order.
"These impacts are often most significant for communities that already face economic or health-related challenges, and for species and habitats that are already facing other pressures," he said.
"Managing these risks requires deliberate preparation, close cooperation, and coordinated planning by the Federal Government, as well as by stakeholders, to facilitate Federal, State, local, tribal, private-sector, and nonprofit-sector efforts to improve climate preparedness and resilience; help safeguard our economy, infrastructure, environment, and natural resources; and provide for the continuity of executive department and agency operations, services, and programs."
Many see the President's moves in relation to Superstorm Sandy that devastated the Atlantic coast on October 29, 2012.
Energy Secretary Ernest Moniz said, "The recent anniversary of Superstorm Sandy serves as a stark reminder of how disruptions to our nation's critical infrastructure have far-reaching economic, health, safety and security impacts. As a country, we have a shared responsibility to prepare for storms of increasing intensity and frequency by improving the resilience of our communities to better withstand these events."
U.S. Senator Barbara Boxer, a California Democrat who chairs the Environment and Public Works Committee, said, "Superstorm Sandy, wildfires in California, floods in Colorado, and other serious disasters across the nation demonstrate that we are already living with the effects of climate change, and it is costing taxpayers billions of dollars to respond. I commend the President for taking new steps to ensure that the federal government can help communities moderate or even avoid the expensive and dangerous impacts of extreme weather resulting from climate change."
Congressional Republicans offered no comments at all.
Reaction from environmental groups was immediate and supportive.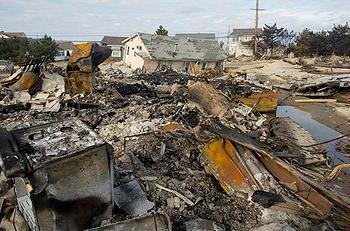 Frances Beinecke, president of the Natural Resources Defense Council, commented, "Coming on the first anniversary of Hurricane Sandy, the President's order could not be more timely. This also is a call for action by state and local governments, as well by businesses and individuals. We must all work together to address the greatest environmental challenge of our time. As we have all learned – from the storm-battered shores of the Northeast to the bone-dry farms of the Southwest – we must address climate change for the sake of our communities and our children. Climate change knows no borders, nor should our country's response."
Michael Brune, executive director of the Sierra Club, applauded the President's move, saying, "As Superstorm Sandy taught us, the costs of climate inaction are too high.  The President recognizes this and his action today underscores the dire need for moving quickly to climate solutions like wind, solar, and energy efficiency to stem the climate crisis and protect our children's future."
Trip Van Noppen, president of the nonprofit environmental law firm Earthjustice, said, "We particularly appreciate the Executive Order's direction to take federal actions that promote the health of watersheds and natural systems, at the same time we reduce carbon pollution. While we invest in safeguarding our communities from storms, floods, wildfire, and drought that are intensifying year after year, we have to address the climate threat head on by investing in clean energy instead of fossil fuels."
Since President Obama took office in 2009, more than 30 federal agencies have developed their first-ever Climate Change Adaptation Plans, outlining strategies to protect their operations, programs, and investments to safeguard public resources in the face of climate change.
In the wake of Hurricane Sandy, which struck the Atlantic coast on October 29, 2012, the administration has provided resources to rebuild the affected area to be more resilient than before, including support for more climate-resilient roads and infrastructure, and projects that protect drinking water and buffer communities from flooding.
Now under the new interagency council and task force, agencies will examine their policies and programs and find ways to make it easier for cities and towns to build smarter and stronger.
Agencies will identify and remove any barriers to resilience-focused actions and investments, offering grants and technical assistance in sectors from transportation and water management to conservation and disaster relief.
The Executive Order directs agencies to identify changes that must be made to land and water policies, programs, and regulations to strengthen the climate resilience of  watersheds, natural resources, and ecosystems, and the communities and economies that depend on them.
Federal agencies will also evaluate how to better promote natural storm barriers such as dunes and wetlands, as well as how to protect the carbon sequestration benefits of forests and lands.
The Executive Order instructs federal agencies to work together and with information users to develop new climate preparedness tools and information that state, local, and private-sector leaders need to make smart decisions. Agencies will make federal climate data accessible to the public through an online portal.
The Executive Order builds on the first-ever set of federal agency climate adaptation plans, released earlier this year, and directs federal agencies to develop and implement strategies to evaluate and address their most significant climate change related risks.
State, local and tribal leaders across the country are already contending with more frequent or severe heat waves, droughts, wildfires, storms and floods, and other impacts of climate change. The Task Force will provide recommendations to the President on removing barriers to resilient investments, modernizing Federal grant and loan programs to better support local efforts, and developing the information and tools they need to prepare.
Task Force members are governors, mayors, county officials and tribal leaders, representing communities large and small from all areas of the country. However, most are Democrats.
The members of the Task Force are:
State Officials:
Governor Neil Abercrombie (HI) – Democrat
Governor Jerry Brown (CA) – Democrat
Governor Eddie Calvo (GU) – Republican
Governor Jay Inslee (WA) – Democrat
Governor Jack Markell (DE) – Democrat
Governor Martin O'Malley (MD) – Democrat
Governor Pat Quinn (IL) – Democrat
Governor Peter Shumlin (VT) – Democrat
Governor O'Malley said, "Maryland is among the states most vulnerable to the impacts of climate change, including severe weather and sea-level rise. We have an obligation to do all we can to protect our land, infrastructure, and most importantly our citizens, and to make sure we are safe and prepared. … President Obama has been a strong leader on emphasizing renewable energy, improving air quality, and mitigating the effects of severe weather. It is an honor to serve on his task force."
State of Hawaii Sustainability Coordinator Jacqueline Kozak Thiel said today, "The task force established by President Obama gives Hawaii a direct line to provide recommendations on removing barriers to federal resources, identifying opportunities for collaboration, and developing tools to better support our unique needs and local efforts. Governor Abercrombie's congressional experience, particularly on the Armed Forces Subcommittee on Air and Land Forces, as well as a senior member on the Natural Resources Committee, was cited as a factor in his selection, along with his ability to provide insight into the needs of the Asia-Pacific region."
Local Officials:
Mayor Ralph Becker (Salt Lake City, UT) – Democrat
Mayor James Brainard (Carmel, IN) – Republican
Commissioner Paula Brooks (Franklin County, OH) – Democrat
Supervisor Salud Carbajal (Santa Barbara County, CA) – Democrat
Mayor Frank Cownie (Des Moines, IA) – Democrat
Mayor Bob Dixson (Greensburg, KS) – No political party identified. After a hurricane leveled the town in 2007, it was rebuilt and now uses 100% renewable energy.
Mayor Eric Garcetti (Los Angeles, CA) – Democrat
Mayor George Heartwell (Grand Rapids, MI) – No political party identified. In 2012 Mayor Heartwell won the top Climate Protection Award from the US Conference of Mayors.
Mayor Kristin Jacobs (Broward County, FL) – Democrat
Mayor Kevin Johnson (Sacramento, CA) – Democrat
Mayor Michael Nutter (Philadelphia, PA) – Democrat
Mayor Annise Parker (Houston, TX) – Democrat
Mayor Patsy Parker (Perdido Beach, AL) – No political party identified. Mitigating the BP oil spill of April 2010 has been her the biggest challenge.
Mayor Madeline Rogero (Knoxville, TN) – Democrat
Mayor Karen Weitkunat (Fort Collins, CO) – Republican
Mayor Dawn Zimmer (Hoboken, NJ) – Democrat
In Grand Rapids, Mayor Heartwell said, "Across America, many states, cities, and communities such as Grand Rapids are planning, innovating, and preparing for the impacts of climate change by taking steps to protect themselves from extreme weather. Grand Rapids is already contending with extreme weather events, and the impact from severe heat waves and floods. Grand Rapids has distinguished itself among American cities for our aggressive work on climate protection and climate change resiliency. Appointment by the President to the Task Force will ensure that our experience influences the national agenda on climate change and resiliency."
Tribal Officials:
Karen Diver, Chairwoman, Fond du Lac Band of Lake Superior Chippewa (MN) – No political party identified
Reggie Joule, Mayor, Northwest Arctic Borough (AK) – Democrat
Copyright Environment News Service (ENS) 2013. All rights reserved.