Obama Cabinet Secretaries Sign Environmental Justice Agreement
WASHINGTON, DC, August 5, 2011 (ENS) – Heads of a host of federal agencies agreed Thursday to develop environmental justice strategies that will protect the health of people living in communities "overburdened" by pollution.
Environmental justice, they agreed, means that all communities facing pollution – particularly minority, low income and tribal communities – deserve the same degree of protection from environmental and health hazards, equal access to the federal decision-making process, and a healthy environment in which to live, learn, and work.
Agency heads across the administration signed the "Memorandum of Understanding on Environmental Justice and Executive Order 12898," agreeing to make environmental justice part of their mission and to work with the other agencies on environmental justice issues.
The MOU advances agency responsibilities outlined in the 1994 Executive Order 12898, "Federal Actions to Address Environmental Justice in Minority Populations and Low-Income Populations, originally signed on February 11, 1994 by then President Bill Clinton.
Signing the environmental justice memo were the heads of the U.S. Environmental Protection Agency, the White House Council on Environmental Quality, the Departments of Health and Human Services, Justice, Agriculture, Commerce, Defense, Education, Energy, Homeland Security, Housing and Urban Development, Interior, Labor, Transportation, and the Department of Veterans Affairs, as well as the General Services Administration and the Small Business Administration.
EPA Administrator Lisa Jackson said, "All too often, low-income, minority and Native Americans live in the shadows of our society's worst pollution, facing disproportionate health impacts and greater obstacles to economic growth in communities that can't attract businesses and new jobs."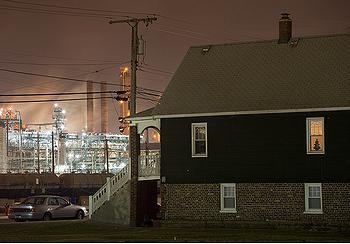 Residence next to a refinery in Whiting, Indiana (Photo by David Schalliol)
"Expanding the conversation on environmentalism and working for environmental justice are some of my top priorities for the work of the EPA, and we're glad to have President Obama's leadership and the help of our federal partners in this important effort," Jackson said. "Every agency has a unique and important role to play in ensuring that all communities receive the health and environmental protections they deserve. Our broad collaboration will mean real progress for overburdened communities."
Attorney General Eric Holder said, "Today's memorandum will reinforce the federal government's commitment to the guiding principles of environmental justice – that the wealth, poverty, or race of any people should not determine the quality and health of the environment in which they live their lives. These are important steps to ensure that environmental justice is an integral part of our work."
"Today, we understand better than ever that our health is not just determined by what happens in the doctor's office. It is affected by where we live, work, go to school and play, by what we eat and drink, and by the air we breathe," said Health and Human Services Secretary Katherine Sebelius.
"Every community deserves strong federal protection against pollution and other environmental hazards," said Interior Secretary Ken Salazar. "The Department of the Interior is committed to ensuring environmental justice for all populations in the United States – including American Indians, Alaska Natives and rural communities who may be among the most vulnerable to health risks."
"This agreement is an important step in furthering the administration's commitment to ensuring healthy communities for all Americans – free from environmental and health hazards," said Energy Secretary Steven Chu. "The Department of Energy is aggressively investing in clean energy in order to improve the environment, strengthen the economy, save families money, and create the clean technology jobs of the future here at home."
"No one should have to work in unhealthy or hazardous conditions," said Labor Secretary Hilda Solis. "The Department of Labor is pleased to be part of this important initiative to ensure that vulnerable workers have access to information and can voice their concerns about their working environment."
"Like so many things, environmental justice starts in the home, where families spend most of their time," said Housing and Urban Development Secretary Shaun Donovan. "Whether it's removing potentially dangerous lead-based paint from homes or helping to redevelop polluted brownfields, HUD is a critical part of the President's plan to protect the health of people living in environmentally challenged parts of our country."
"All Americans deserve the opportunity to enjoy the health and economic benefits of a clean environment," said White House Council on Environmental Quality Chair Nancy Sutley. "Too many low-income and minority communities shoulder an unacceptable burden of pollution, affecting the health of American families and the economic potential of American communities, and the country as a whole."
Specific areas of focus include considering the environmental justice impacts of climate adaptation and commercial transportation, and strengthening environmental justice efforts under the National Environmental Policy Act and Title VI of the Civil Rights Act of 1964.
Copyright Environment News Service (ENS) 2011. All rights reserved.