Obama Boosts Michigan's Advanced Battery Industry
HOLLAND, Michigan, July 16, 2010 (ENS) – The official groundbreaking of a new advanced battery manufacturing plant in Holland on Thursday attracted both President Barack Obama and Michigan Governor Jennifer Granholm.
"Just a couple of years ago," President Obama said at the event, "American businesses manufactured only two percent of the world's advanced batteries for electric and hybrid vehicles. But because of what's happening at places like this, in just five years, we'll have up to 40 percent of the world's capacity."
Compact Power, the North American subsidiary of Korea-based LG Chem Ltd., won a $151.4 million U.S. Department of Energy grant last August to begin production of lithium-ion battery cells for electric vehicles.
The award was one of 13 Michigan-based projects awarded more than $1.35 billion in Recovery Act funding to support advanced battery and electric vehicle manufacturing and development.
"For years, we've heard about manufacturing jobs disappearing overseas," Obama said. "You are showing us how manufacturing jobs can come back."
The $303 million Compact Power plant is already slated to produce batteries for the new Chevy Volt and the new electric Ford Focus.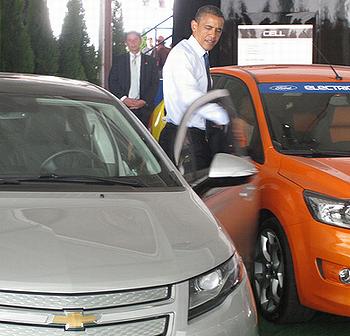 President Barack Obama checks out Chevy Volt and Ford Focus electric cars at the site of the new battery plant in Holland, Michigan. July 15, 2010. (Photo by TRN)
Obama said, "That means that by 2012, the batteries will be manufactured in Holland, Michigan, instead of South Korea. So when you buy one of these vehicles, the battery could be stamped Made in America – just like the car."
Today most of the world's advanced batteries come from Korea, Japan and China.
The Compact Power facility, expected to create approximately 440 direct jobs and more than 800 spin-off jobs in west Michigan by 2015, is part of the state's long-term strategy to make Michigan a center for advanced battery research and production. The strategy includes creation of the first state battery tax credits in the nation.
Governor Granholm projects that 62,000 new jobs will be created in Michigan in the advanced battery industry in the next 10 years.
"We're well on our way to becoming the advanced battery capital of the world. It's the result of our aggressive state strategy combined with Recovery Act investments through our partnership with President Obama and his administration," said Granholm, a Democrat.
Obama told the audience at Holland that the goal of his $787 billion Recovery Act, signed early last year, "has never been to create a government program, but to encourage private-sector growth."
"This is the ninth advanced battery plant to begin construction because of our economic plan," the President said, "plants that will put thousands of people to work. This includes folks working at a couple of facilities being built in Michigan by another battery technology company called A123."
"In every case, we've been guided by a simple idea. Government cannot generate the jobs or growth we need by itself. But it can lay the foundation for small businesses to expand and hire, for entrepreneurs to open up shop and test new products, for workers to get the training they need, and for families to achieve some measure of economic security."
Obama pointed to a report from his Council of Economic Advisers issued Wednesday showing that the administration's tax credits leverage nearly three private dollars for every public dollar credited to advanced energy manufacturing, loan guarantees for small businesses, and financing for infrastructure projects.
"That's an incredible bang for our buck," he said. "By making critical seed money available, we have attracted more than $280 billion dollars in investment … for industries of the future."
Because of advances in the manufacture of these batteries, Obama said their costs are expected to come down by nearly 70 percent in the next few years, which will make electric and hybrid cars and trucks more affordable for more Americans. "That, too, will mean more jobs – not to mention less dependence on oil."
The Compact Power facility in Holland will be able to manufacture up to 20 million battery cells a year, enough for about 150,000 vehicle battery packs.
In addition to Compact Power's Holland facility, five other lithium-ion battery cell manufacturing plants are either under construction in Michigan or soon will be. They are: A123 Systems in Livonia, Dow Kokam in Midland, fortu PowerCell in Muskegon, Johnson Controls-Saft in Holland and Sakti3 in Ann Arbor.
Copyright Environment News Service (ENS) 2010. All rights reserved.