Obama Administration Promotes Renewable Energy and Energy Efficiency Exports
WASHINGTON, DC, December 7, 2010 (ENS) – The Obama administration today launched an all-out effort to export American renewable energy and energy efficiency products and services.
The heads of eight federal government agencies jointly introduced the Renewable Energy and Energy Efficiency Export Initiative to meet President Barack Obama's challenge to become the world's leading exporter of clean energy technologies.
Energy is a $6 trillion global market, and clean energy is the fastest growing sector, said Commerce Secretary Gary Locke.
"Expanding U.S. clean technology exports is a critical step to ensuring America's economic competitiveness in the years ahead," said Energy Secretary Steven Chu. "The initiatives we are announcing today will provide us with a better understanding of the global clean energy marketplace and help boost U.S. exports."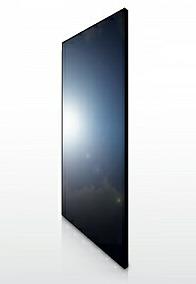 Advanced thin-film solar panel made by San Jose, California-based Stion. (Photo courtesy Stion)
The federal government will support renewable energy and energy efficiency exporters by offering new financing products, enhancing market access, increasing trade promotion and improving the delivery of export promotion services to current and future RE&EE companies.
The federal government is also launching a new online portal as part of the initiative to provide renewable energy companies easy access to government export resources.
In addition, the Commerce Department is committing to an increased number of renewable energy and energy efficiency trade and trade-policy missions.
The initiative is the federal government's first coordinated effort to support renewable energy and energy efficiency exports. Through the implementation of 23 interagency actions, the initiative aims to facilitate an increase of renewable energy and energy efficiency exports during the next five years.
The prospects for U.S. technology exports focusing on this industry are vast, said Secretary Chu. "More than 100 countries now have policies to encourage the deployment of renewable energy and energy efficiency technologies. Many of these countries have substantial deployment targets that will drive demand for renewable energy and energy efficiency for years to come."
The initiative was developed through the Trade Promotion Coordinating Committee Working Group on Renewable Energy and Energy Efficiency, which includes representatives from the departments of Commerce, Energy, State, and Agriculture, as well as the Export-Import Bank of the United States, the Overseas Private Investment Corporation, the U.S. Trade and Development Agency, and the Office of the United States Trade Representative.
Ex-Im Bank Chairman and President Fred Hochberg said today, "The bank has significantly increased its support of renewable energy, energy efficiency and other environmentally beneficial exports. Over the past two years, our financing in these sectors has more than doubled to approximately $500 million in fiscal year 2010, and we look forward to continuing this growth."
A top priority of Ex-Im Bank is to increase its support for renewable energy and energy efficient exports by offering enhanced financing under its Environmental Exports Program, said Hochberg. The bank can provide repayment terms up to 18 years for renewable energy projects, offer capitalization of interest during construction, and support local costs up to 30 percent of the U.S. scope of supply.
The bank also provides streamlined financing for U.S. exporters of solar energy equipment for small solar energy projects.
"In addition to increasing the role that exports of American products and services can play in strengthening our economy and creating U.S. jobs," Hochberg said, "the RE&EE initiative promotes environmentally responsible development throughout the world."
Copyright Environment News Service (ENS) 2010. All rights reserved.