Obama Administration Creates National Water Trails System
WASHINGTON, DC, March 4, 2012 (ENS) – President Barack Obama said Friday that his personal experiences with America's national parks – both as an 11-year-old with his mother and grandmother and later as a father – have made a conservationist out of him.
The President was speaking at a conference hosted by the White House linking conservation with strong local economies through tourism, outdoor recreation, and healthy lands, waters and wildlife.
The conference, Growing America's Outdoor Heritage and Economy, attracted boaters, hunters, anglers, farmers, ranchers, land conservationists, historic preservationists, outdoor recreationists, small business owners, local governments, tribal leaders and other key stakeholders from around the nation to strengthen partnerships and identify next steps.
In connection with the conference, Secretary of the Interior Ken Salazar announced the National Water Trails System, a new network intended to increase access to water-based outdoor recreation, encourage community stewardship of local waterways, and promote tourism that fuels local economies.
Salazar signed a Secretarial Order that establishes national water trails as a class of national recreational trails under the National Trails System Act of 1968.
"Rivers, lakes, and other waterways are the lifeblood of our communities, connecting us to our environment, our culture, our economy, and our way of life," Salazar said. "The new National Water Trail System will help fulfill President Obama's vision for healthy and accessible rivers as we work to restore and conserve our nation's treasured waterways."
Young canoeists explore a creek near the Chattahoochee river (Photo by jenwcom)
Salazar announced that the Chattahoochee River Water Trail in Georgia is the first river to be designated as a National Water Trail under the new system.
The water trail travels through 48 miles of river within the Chattahoochee River National Recreation Area. The park serves 3.2 million visitors annually, most from the local Atlanta metropolitan region. In addition to providing over 65% of the public greenspace in this urban region, the river provides most of Atlanta's drinking water.
The park and new water trail contain 18 developed public access points and connects with other local city and county parks. The river is heavily used by anglers, tubers, kayakers, canoers, and rafters.
"The Chattahoochee River Water Trail provides clean water, green space, and river access for millions of Americans every year," Salazar said. "As our nation opens a new chapter on rivers – one where we value our waterways for their recreational, economic and ecological importance – it is fitting that the Chattahoochee River Water Trail leads the way."
Jo-Ellen Darcy, Assistant Secretary of the Army for Civil Works, said the U.S. Army Corps of Engineers will be one of many partners developing the water trail system. "The Corps will actively participate, working with many local partners, to and connect people to the water resources close to their homes," she said. "The National Water Trails System will recognize and promote local efforts at a national level."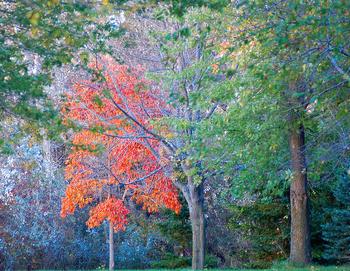 Children's Forest at Badger Lake, Webster County, Iowa. (Photo by kaleidescope)
The U.S. Forest Service is developing a different program aimed at getting children outdoors.
At the conference, Agriculture Secretary Tom Vilsack announced that the Forest Service will contribute $1 million in cost-share funding to enhance children's programs in 18 states.
Vilsack said the Forest Service grants align with President Obama's America's Great Outdoors initiative and First Lady Michelle Obama's Let's Move! initiative.
America's Great Outdoors seeks to engage the public to work together to conserve and restore our lands and to connect to the outdoors. Let's Move! focuses on solving the problem of childhood obesity, part of which is building physical and mental health through outdoor activities.
"These programs provide an essential connection to our great outdoors, which we hope can be a key part of growing up for children from all walks of life," said Vilsack. "We need kids to experience the wonders of the great outdoors and take ownership of the future of natural resources. Today's children are tomorrow's stewards of the land."
The $1 million will add funding to two existing programs – More Kids in the Woods and Children's Forests.
More Kids in the Woods is a cost-share program where thousands of partners contribute their time, energy and resources to help connect kids and families with the natural world.
Children's Forests activities are centered around developed outdoor spaces on national or state forests, in urban parks or at schools. The core mission of a Children's Forest is to give young people a voice in caring for the land, encouraging them to take a leadership role in forest management.
"These grants strengthen our bonds with communities with a bottom line goal of getting kids to explore and appreciate America's great outdoors," said U.S. Forest Service Chief Tom Tidwell. "There are few things more gratifying for me than seeing our youth gain an appreciation for the amazing landscapes we have in this country."
Copyright Environment News Service (ENS) 2012. All rights reserved.
Environment News Service (ENS) © 2012 All Rights Reserved.