Nuclear Security Draws World Leaders to Seoul Strategy Session
SEOUL, South Korea, March 26, 2012 (ENS) – Nuclear material in the hands of "terrorists and criminal gangs" could "spark a global crisis," President Barack Obama told an audience of students at Hankuk University in Seoul today.
The need to ensure terrorists never get their hands on nuclear material has brought President Obama and more than 50 world leaders to the South Korean capital for their second nuclear security summit.
Russian President Dmitry Medvedev, Chinese President Hu Jintao and UN Secretary-General Ban Ki-moon are among those attending the two-day meeting to consider how best to safeguard nuclear material.
"We're under no illusions," President Obama told the Hankuk students. "We know that nuclear material, enough for many weapons, is still being stored without adequate protection. And we know that terrorists and criminal gangs are still trying to get their hands on it – as well as radioactive material for a dirty bomb. We know that just the smallest amount of plutonium – about the size of an apple – could kill hundreds of thousands and spark a global crisis."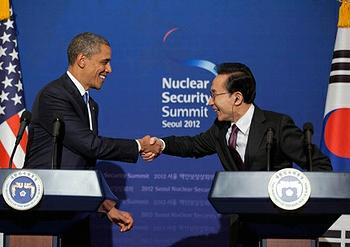 President Barack Obama and President Lee Myung-bak participate in a press conference at the Blue House in Seoul, Republic of Korea, March 25, 2012. (Official White House Photo by Chuck Kennedy)
In his opening remarks Monday, South Korean Foreign Minister Kim Sung-hwan called the Seoul summit "an investment made today to leave our children a more peaceful and safe world tomorrow."
"The Seoul Nuclear Security Summit is expected to serve as an opportunity to create a turning point where these commitments crystallize into concrete actions," he said.
The Seoul communique, to be adopted Tuesday, reaffirms international commitments to minimize the use of highly-enriched uranium and plutonium and expands upon nuclear safety and security in view of the ongoing nuclear disaster in Japan.
"The communique will include 11 key tasks and more detailed action plans aimed at prevention of nuclear and radioactive terrorist attacks," Kim said. "The summit will reaffirm the political will at the highest level for strengthening nuclear security."
The troublesome nuclear programs of North Korea and Iran will be discussed bilaterally on the sidelines of the summit, Kim told reporters.
"Of great importance to us is the situation in North Korea, the situation in Iran," President Obama said today during a joint press conference with China's President Hu.
Obama said that the United States and China share an interest in "making sure that international norms surrounding non-proliferation" are observed, because "preventing destabilizing nuclear weapons is very important."
President Obama told the Hankuk students today that he and other world leaders are building an "international architecture" to help ensure nuclear safety.
In a speech in the Czech capital, Prague, in April 2009, President Obama first detailed his plans to reduce the global threat from nuclear weapons. The following year, he hosted the first nuclear security summit in Washington, DC, where he set the goal of securing the world's loose nuclear materials by 2014.
Since then, nations, including the United States, have tightened security at nuclear facilities, he told the Hankuk students.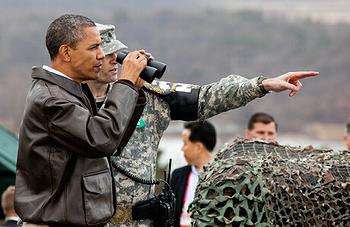 President Barack Obama is briefed by Lt. Col. Ed Taylor as he views the Demilitarized Zone between North and South Korea from Camp Bonifas, South Korea, March 25, 2012. (Official White House Photo by Chuck Kennedy)
"South Korea, Japan, Pakistan and others are building new centers to improve nuclear security and training. Nations like Kazakhstan have moved nuclear materials to more secure locations. Mexico, and just yesterday Ukraine, have joined the ranks of nations that have removed all the highly enriched uranium from their territory," Obama said.
"All told, thousands of pounds of nuclear material have been removed from vulnerable sites around the world," he said. "This was deadly material that is now secure and can now never be used against a city like Seoul."
The international community has made it harder for terrorists to acquire nuclear weapons, said Obama, but, he warned, "The danger of nuclear terrorism remains one of the greatest threats to global security."
To combat this threat, world leaders are breaking up black markets for nuclear material, Obama told the students.
"Countries like Georgia and Moldova have seized highly enriched uranium from smugglers. And countries like Jordan are building their own counter-smuggling teams, and we're tying them together in a global network of intelligence and law enforcement," Obama said. "Nearly 20 nations have now ratified the treaties and international partnerships that are at the center of our efforts."
He said that with the death of Osama bin Laden and other strikes against al Qaeda, "a terrorist organization that has actively sought nuclear weapons is now on the path to defeat."
"We're expecting dozens of nations to announce over the next several days that they've fulfilled the promises they made two years ago," said President Obama.
Chilean President Sebastian Pinera, left, and South Korean President Lee Myung-bak enter the presidential office in Seoul, March 26, 2012. (Photo by Yonhap courtesy Seoul Nuclear Summit)
"And we're now expecting more commitments – tangible, concrete action – to secure nuclear materials and, in some cases, remove them completely. This is the serious, sustained global effort that we need, and it's an example of more nations bearing the responsibility and the costs of meeting global challenges."
Obama said, "This is how the international community should work in the 21st century. And Korea is one of the key leaders in this process."
"The United States will continue to do our part – securing our own material and helping others protect theirs," he said. "We're moving forward with Russia to eliminate enough plutonium for about 17,000 nuclear weapons and turn it instead into electricity."
Australian Prime Minister Julia Gillard told a separate audience of students at Yonsei University in Seoul that the leaders gathered in Seoul to continue the "work begun by President Obama two years ago, to secure all vulnerable nuclear materials within four years."
"There is progress to report," Gillard said.
"Toward legally binding commitments to the highest standards of protection," the Prime Minister said, as well as "Special precautions for the most sensitive nuclear materials, such as highly enriched uranium and separated plutonium."
Gillard mentioned progress toward ensuring the secure transit of nuclear materials and toward, "securing radioactive sources and guarding against the possibility that terrorists could develop a radiological dispersal device – a so called dirty bomb."
Securing medical radioisotopes is the subject of a new agreement among the United States and several European partners to sustain the supply of isotopes used to treat cancer and heart disease without the use of highly enriched uranium, Obama announced.
President Obama said the United States is working with industry and hospitals and research centers at home and around the world, "to recover thousands of unneeded radiological materials so that they can never do us harm."
The governments of Mexico, the United States, and Canada today announced the completion of a joint nuclear security project to convert the fuel in Mexico's research reactor from highly enriched uranium to low enriched uranium. The project was initiated at the first Nuclear Security Summit in Washington in 2010, and was carried out by the three countries, working with the International Atomic Energy Agency.
President Calderon said, "With this decision, Mexico reaffirms its commitment to building a world free of the nuclear threat. Each country must do its share to reach a safer North America and a safer planet. This is a clear example of the significant work we can do together in the North American region."
The conversion will extend the length of time the Mexican reactor can operate with low enriched uranium fuel, and it makes the reactor eligible for further program engagement under the IAEA. With the provided fuel, Mexico's National Institute for Nuclear Research has the potential to increase the reactor power output, which would improve its capabilities for medical and industrial isotope production, silicon doping, neutron radiography, and nuclear physics research such as neutron activation analysis.
Copyright Environment News Service (ENS) 2012. All rights reserved.