No Meltdown After Explosion at Japanese Nuclear Reactor
TOKYO, Japan, March 12, 2011 (ENS) – In a near disaster Saturday, an explosion blew away the nuclear reactor building of Tokyo Electric Power Co.'s Fukushima Daiichi nuclear plant and injured four workers, but left the nuclear fuel undamaged. The explosion occured as workers struggled to stablize falling water levels within the reactor's core after power to the cooling system failed during Friday's disastrous 8.9 magnitude earthquake.
The Japanese government has mobilized thousands of troops, more than 300 planes and 40 ships for a massive emergency response to the initial quake off the east coast of Japan's main island Honshu. The total number of people killed or missing topped 1,700, authorities said.
Up to three-meter (10-foot) high waves continue to hit the coast. There have been at least 79 aftershocks and 16 of them have been greater than 6.0 including one of 7.1 magnitude.
The explosion at the Daiichi power plant was caused by one of those subsequent earthquakes, TEPCO officials said. "Saturday at approximately 3:36 pm, a big quake occurred and there was a big sound around the Unit 1 and white smoke."
White smoke from the explosion at TEPCO's Fukushima Daiichi nuclear power plant (Photo credit unknown)
"In addition, a vertical earthquake hit the site and big explosion has happened near the Unit 1 and smoke broke out around 3:36 pm," the company said in a statement.
Two TEPCO employees and two subcontractors working to secure Daiichi Unit 1 were injured and transported to hospital. Another employee working in Unit 1 was irradiated at over the permitted dose. He received a medical treatment by a special physician.
The nuclear reactor itself and the steel container housing the reactor are not damaged, TEPCO said.
Chief Cabinet Secretary Yukio Edano told an urgent news conference that the explosion blew away the roof and the walls of the building surrounding the reactor's container.
The earthquake linked to the explosion at the Daiichi plant was recorded at 3:36 pm by the U.S. Geological Survey and measured at magnitude 5.0.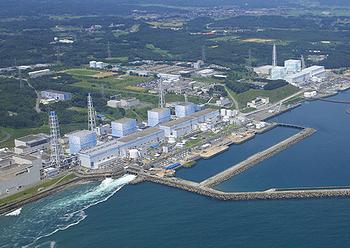 TEPCO's Daiichi Nuclear Power Plant on the Pacific Ocean near the town of Okuma in Fukushima prefecture. (Photo courtesy TEPCO)
The quake occurred 28.5 km (17.7 miles) beneath the ocean floor approximately 300 km east northeast of the town of Okuma in Fukushima prefecture where the Daiichi nuclear plant is located.
TEPCO officials began venting radioactive steam from the Daiichi unit Saturday morning to relieve pressure inside Daiichi's Unit 1 reactor, which automatically shut down during Friday's 8.9 magnitude quake. Electric cables snapped by that initial quake had to be reconnected before the venting could begin.
TEPCO said that workers had been cooling steam in the reactor by isolation condenser, but they had stopped before the explosion because of increasing pressure within the containment vessel.
"Because pressure level in reactor containment vessel is increasing, following the national government instruction, we have done the measure to reduce the pressure of the reactor containment vessels in order to fully secure safety and we understand that we have succeeded it at 2:30 pm," the company said.
But the struggle to stabilize the troubled reactor was not over event before the explosion occurred. "At present, reactor water level is becoming lower and we are injecting water accordingly," the company said at 2:30 pm.
Japan's Nuclear and Industrial Safety Agency said radiation levels had soared 1,000 times normal inside Daiichi's Unit 1 and were measured at eight times normal outside the plant near the main gate Saturday morning.
Map showing the location of the 8.9 undersea earthquake that struck Japan March 11, 2011. The yellow "X" marks the location of the Fukushima Daiichi nuclear power plant. (Map courtesy USGS)
Japanese authorities have extended the evacuation zone around the Fukushima Daiichi plant to a 20 km radius from the previous 10 km. At the nearby Fukushima Daini nuclear power plant, the evacuation zone has been extended to a 10 km radius from the previous three kilometers. In total, approximately 14,000 people have been evacuated.
The authorities say they are making preparations to distribute iodine to residents in the area of both the plants. A saturated solution of potassium iodide may be used in nuclear accidents to block the thyroid's uptake of radioactive iodine released by the accident.
Tokyo Electric Power told reporters on Saturday that nuclear fuel may have been damaged by falling water levels at Daiichi Unit 1.
Workers are also scrambling to keep meltdowns from happening at two other Daiichi reactors. Units 2 and 3 were also shut down automatically by the initial earthquake. Crews are continuing to inject water to cool the fuel in the reactor cores.
"Current reactor water level is lower than normal level, but the water level is steady," said TEPCO. "Following the national government instruction, we are preparing to implement a measure to reduce the pressure of the reactor containment vessels in order to fully secure safety."
Japan is the third largest nuclear power user in the world with 53 nuclear reactors, which provide 34.5 percent of Japan's electricity.
Meanwhile, the search for survivors intensifies all along the Honshu coast. About 9,500 people are unaccounted for in the town of Minamisanriku in Miyagi Prefecture, officials said Saturday. The figure is more than half of the population of the Pacific coastal town.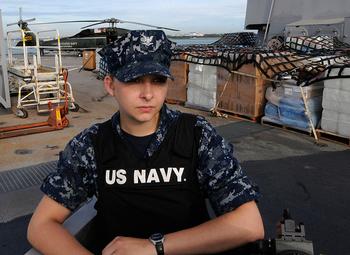 Sailor Jenna Welsh stands watch as the U.S. 7th Fleet command ship USS Blue Ridge leaves Singapore for Japan to render earthquake relief. (Photo courtesy U.S. Navy)
The United Nations Office for the Coordination of Humanitarian Affairs, OCHA, quotes media reports stating that more than 59 out of 207 fires have been extinguished but 148 still rage out of control. Some 215,000 people are seeking shelter in emergency centers across the country but it is reported that there are not enough blankets, food and water.
The government of Japan has accepted offers of assistance from Australia, United States, South Korea, New Zealand, Germany, Singapore and Mexico. It has also agreed to the deployment of a United Nations Disaster and Assessment team.
The U.S. team includes 200 rescue and medical specialists including USAID staff. Teams from South Korea, Mexico, New Zealand, Germany and Singapore include in total 145 search and rescue specialists and 30 dogs. Australia is sending 72 specialists and 22 tons of rescue and medical equipment. China and the European Union are preparing for deployment. Emergency search-and-rescue teams from 39 other foreign countries remain on standby.
Japan has received offers of assistance from: Argentina, Australia, Azerbaijan, Belgium, Canada, Chile, China, Denmark, Ecuador, European Union, France, Germany, Greece, Hong Kong, Hungary, Iceland, India, Indonesia, Iran, Israel, Italy, Jordan, Kosovo, Kyrgyz Republic, Malaysia, Mexico, Mongolia, New Zealand, Norway, Pakistan, Philippines, Poland, Romania, Russia, Serbia, Singapore, Slovakia, Slovenia, South Korea, Spain, Sweden, Switzerland, Taiwan, Thailand, Turkey, Ukraine, United Arab Emirates, United Kingdom, United States and Uruguay.
The Pacific-wide tsunami warnings have now been withdrawn. Despite the predicted threat no major damage was reported in most places. OCHA reports that in northeast Papua New Guinea, unusually high tides caused minor flooding in low lying areas. The Boram hospital in Wewak is reportedly badly damaged when it was flooded by waves and 50 patients had to be evacuated.
Copyright Environment News Service (ENS) 2011. All rights reserved.
Environment News Service (ENS) © 2011 – 2012 All Rights Reserved.