No Endangered Species Status for Dunes Sagebrush Lizard
WASHINGTON, DC, June 15, 2012 (ENS) – A rare lizard once proposed for listing as endangered under federal law must now rely for survival on voluntary conservation agreements between the U.S. government and the states of Texas and New Mexico.
Secretary of the Interior Ken Salazar says voluntary conservation agreements will be used to keep other species off the federal Endangered Species List, but conservationists warn that such agreements are unenforceable and do not actually protect species.
In December 2010, the U.S. Fish and Wildlife Service proposed to list the dunes sagebrush lizard, Sceloporus arenicolus, as endangered under the Endangered Species Act. The Service said then that the lizard "faces immediate and significant threats due to oil and gas activities, and herbicide treatments."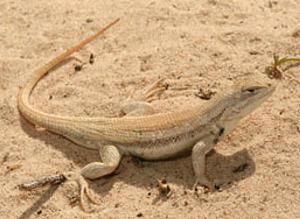 The dunes sagebrush lizard (Photo courtesy USFWS)
Native to southeastern New Mexico and west Texas, the dunes sagebrush lizard occurs only in sand dunes associated with shinnery oak.
In 2010, the Service said, "Habitat loss and fragmentation due to oil and gas development is a measurable factor impacting the species due to the removal of shinnery oak and creation of roads and pads, pipelines, and power lines."
But now the Service has determined that the species does not need protection under the Act.
On Wednesday, Fish and Wildlife Service Director Dan Ashe said that state-led voluntary conservation efforts to protect existing shinnery oak dune habitat and reduce the impact of oil and gas development across the species' range now cover over 650,000 acres in New Mexico and Texas, totaling 88 percent of the lizard's habitat.
In New Mexico, where 73 percent of total lizard habitat is located, the Service partnered in 2008 with the state, the federal Bureau of Land Management and the nonprofit Center of Excellence for Hazardous Materials Management. Together they developed conservation agreements for the dunes sagebrush lizard that allow the oil and gas and ranching industries to participate and have their activities covered under these agreements.
In March 2012, the New Mexico State Land Office enrolled all lizard habitat on State Trust lands under these agreements.
At the same time, the Service says "scores" of ranching and oil and gas interests operating on private and BLM lands in New Mexico enrolled in the agreements, and BLM removed prime lizard habitat from eligibility for oil and gas leasing. As a result, 95 percent of the total dunes sagebrush lizard habitat in New Mexico is now protected under the conservation agreements.
In Texas, where about 27 percent of total lizard habitat is located, the Service signed a conservation agreement in February 2012, with the Texas Comptroller of Public Accounts that provides for the conservation of the dunes sagebrush lizard while ensuring regulatory predictability for landowners.
The Texas plan includes input from federal, state, and private partners representing interests in natural resources, oil and gas, ranching, and agricultural industries.
Enrollment in the plan commits participants to a set of conservation measures over 30 years that are intended to avoid and minimize adverse effects to lizard habitat and restore previously developed habitat. An estimated 71 percent of the lizard's habitat in Texas is now enrolled under the Texas Plan and $800,000 has been earmarked for lizard habitat restoration.
"This is a great example of how states and landowners can take early, landscape-level action to protect wildlife habitat before a species is listed under the Endangered Species Act," said Secretary Salazar announcing withdrawal of the proposed Endangered Species Act listing.
"The voluntary conservation efforts of Texas and New Mexico, oil and gas operators, private landowners and other stakeholders show that we don't have to choose between energy development and the protection of our land and wildlife," said Salazar. We can do both."
But the nonprofit Center for Biological Diversity, which petitioned for the animal to be listed for federal protection in 2002, says the decision "ignores science and blatantly sidesteps the intentions of the Endangered Species Act … leaving one of the nation's most imperiled lizard species to rely on unenforceable, voluntary conservation plans."
The ruling comes after lobbying by the oil and gas industry and what the Center calls "a Republican-fueled misinformation campaign exaggerating potential job losses."
"This decision by the Obama administration to toss aside the Endangered Species Act and bow to the wishes of the oil and gas industry is not only bad news for this rare lizard but sets a dangerous precedent for other declining species," said Taylor McKinnon with of Center for Biological Diversity. "In denying the lizard protection, Secretary Salazar is sticking his head in the sand and ignoring science."
McKinnon says there is no guarantee the agreements will ever be implemented or that they would be effective at saving the lizard from extinction. Earlier this year, the Center produced an analysis of the Texas plan, finding that it is unlikely to be effective because it lacks definite funding, is voluntary and prescribes vague measures lacking accountability.
"The Texas Oil and Gas Association told federal biologists that its members will not voluntarily conserve lizard habitat because it is too expensive," McKinnon said. "They want to use the agreement as a get-out-of-jail free card."
But Secretary Salazar told reporters on a teleconference Wednesday that objecting conservation groups "want to keep conflict going for conflict's sake."
"I think this is a great template for how we deal with Endangered Species Act issues in other parts of the country," said the secretary, pointing out that sage grouse habitat goes into 11 states in West and the increasingly rare bird may be subject to similar voluntary conservation agreements.
Ashe said, "Voluntary conservation is voluntary conservation, but we will hold the parties accountable, and if they don't live up to the agreements we can again propose to list the lizard under the Endangered Species Act."
Copyright Environment News Service (ENS) 2012. All rights reserved.