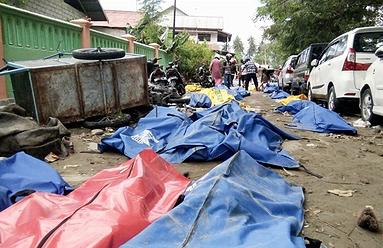 JAKARTA, Indonesia, October 9, 2018 (ENS) – Rescuers are still searching for bodies and survivors after a 7.5 magnitude earthquake and tsunami hit the island of Sulawesi over a week ago. Indonesian officials announced Tuesday that the official death toll has risen to just over 2,000.
Most of those confirmed dead have been in the small city of Palu, 1,500 km northeast of Jakarta. But  more remote areas have been out of contact for days and officials fear the death toll could rise sharply when losses in those areas become known.
The quake triggered tsunami waves as high as six meters (19.6 feet) that roared onto the Palu beachfront, while hotels and shopping malls collapsed.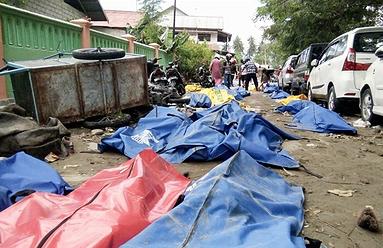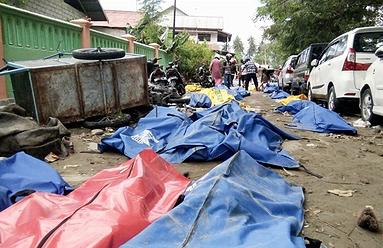 As the full scale of Friday's earthquake and tsunami disaster begins emerge, Indonesian Red Cross rescue teams tell of terrified survivors huddled in the devastated city rocked by aftershocks, and of entire houses being sucked into the ground.
Rescue workers are struggling to reach survivors buried under collapsed buildings and there are severe shortages of food, water, medicine and other essentials.
A prison wall collapsed during the quake, setting free more than half of the prisoners.
Indonesian President Joko Widodo ordered more rescuers to search for victims of the devastating earthquake and tsunami on the island of Sulawesi, saying on Tuesday that everyone must be found.
Rescuers from the Indonesian Red Cross (Palang Merah Indonesia or PMI) and government authorities have reached the outskirts of Donggala district, the area that was closest to the epicentre of the earthquake and that is believed to have suffered the worst damage.
Jan Gelfand, head of the International Federation of Red Cross and Red Crescent Societies (IFRC) Country Cluster Support office in Jakarta, said, "The situation in the affected areas is nightmarish. The city of Palu has been devastated and the first reports out of Donggala indicate that it has also been hit extremely hard by the double disaster."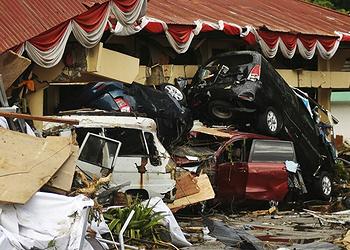 "Red Cross and other teams are working round the clock but the biggest challenge at the moment is getting access to all communities, and then bringing large quantities of vital relief supplies into the disaster zone, "said Gelfand. "Transport links, power and communications are still down."
Red Cross volunteers have reported incidents of "liquefaction" where saturated soil has turned liquid and swallowed whole houses.
Indonesia has said it would accept offers of international aid, although it declined outside help earlier this year when an earthquake rattled the island of Lombok.
More than 175 volunteers and staff from the Indonesian Red Cross are currently on the ground and conducting search and rescue activities, providing medical support, distributing relief goods, and comforting the terrified survivors.
Twenty-two Red Cross water trucks and 15 ambulances with medical teams have been deployed, along with boats to bring supplies to Palu city. Five regional Red Cross warehouses have been emptied in an effort to bring response efforts quickly to scale.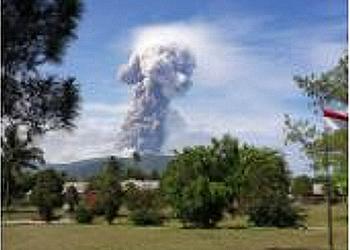 Located in the middle of the Australian plate, Eurasian plate, Pacific plate and the Philippine Sea plate, Indonesia is a seismic and volcanic-prone area and the country suffers from floods, landslides, droughts, tsunamis, earthquakes and volcanoes.
In fact, Mount Soputan, located in North Sulawesi Province, began to erupt on Wednesday, October 3. The height of the volcanic ash column was observed around 4,000 meters above the crater peak or 5,809 meters above sea level.
Disaster management officials are warning residents near Mount Soputan not to be active to avoid the potential threat of lava and hot clouds. Communities around Mount Soputan are advised to prepare a mask covering the nose and mouth, in case there is a rain of ash.
The community has been warned of the potential threat of lava flows that can occur after an eruption, where the lava is carried by water, especially in the rivers upstream around the slopes of Mount Soputan.
Copyright Environment News Service (ENS) 2018. All rights reserved.